Investors in kiwi subprime disaster Credit Sails to get back NZ$60mln from Forsyth Barr and Credit Agricole after Commerce Commission settlement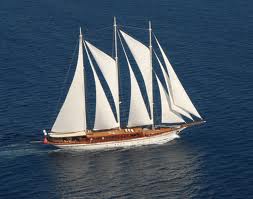 The companies behind the disastrous Credit Sails bond, including Forsyth Barr, have agreed to cough up NZ$60 million in a settlement with the Commerce Commission - without admitting liability - for the mostly retail investors who tipped in NZ$91.5 million in 2006 and stood to lose almost all their money after their bonds became a spectacular victim of the global financial crisis (GFC).
The Commerce Commission says companies involved in establishing the settlement fund include both Forsyth Barr Limited and Forsyth Barr Group Limited, France's Credit Agricole Corporate and Investment Bank, the Cayman Islands-registered Credit Sail Limited and Calyon Hong Kong Limited. In an announcement of its own Forsyth Barr says the contributions to the settlement are confidential.
The Commission says it concluded Credit Sails was marketed and sold in a way that is likely to have breached the Fair Trading Act in that:
• The representations that Credit Sails were "capital protected" were misleading and deceptive;
• Credit Sails were marketed to the average investor;
• Credit Sails were highly complex and unsuitable for the average investor;
• And the companies who marketed and sold Credit Sails ought to have known that the product was unsuitable for the average investor.
'Grounds for legal action'
"The companies have not admitted liability and do not accept the Commission's views on matters arising out of its investigation," Commerce Commission chairman Mark Berry says.
"In our view there were sufficient grounds to file legal proceedings under the Fair Trading Act against the companies who promoted and sold Credit Sails. While the Commission could have issued proceedings, those proceedings would likely have been lengthy, costly and with no absolute certainty of a successful outcome," Berry says.
"We believe that a settlement fund of NZ$60 million, available to investors from March next year, is an excellent outcome. We expect this settlement to restore eligible investors to around 85% of their original investment in Credit Sails."
The Commission says Credit Sails investors eligible to carve up the NZ$60 million include anyone who purchased Credit Sails before November 1, 2008 and who still holds their notes, and anyone who purchased Credit Sails before November 1, 2008 and have since sold them for less than 85 cents per note. On the information available to it, the Commission estimates the total loss for investors' eligible for a share of the settlement fund is about NZ$70 million.
"A trustee will be appointed to distribute the settlement fund to eligible investors. Investors do not need to contact Credit Sail Limited, the Commerce Commission or the other companies – the trustee will write to all investors within the next 30 working days," the Commission says.

"The payments to be made to eligible investors under the settlement arrangements described above do not affect the final maturity payment payable under the notes, which is due on Saturday, 22 December 2012, and will be paid on the next business day, 24 December 2012. The notes have been placed in trading halt from 17 December 2012 in anticipation of the final maturity date and will cease to be listed from close of trading on 21 December 2012." See the full Commerce Commission statement here.
Charities, church groups, hospices among investors
The settlement comes after the Commission confirmed an investigation two years ago. The Commission says it has agreed not to take legal action against the companies or any individual advisers, advisory services or other parties arising out of its investigation.
The Forsyth Barr managed, NZX listed and Credit Agricole organised Credit Sails bonds raised NZ$91.5 million from the public in 2006 before crashing spectacularly during the GFC.
Among the about 3,000 Credit Sails investors, enticed by the prospect of 8.5% annual interest over the six and a half year life time of the notes, capital protection, and an AA credit rating from Standard & Poor's, were several charities and community groups including the Hospice Southland Charitable Trust, the New Zealand Methodist Trust Association, the Youth Development Endowment Trust, the Roman Catholic Bishop of the Diocese of Dunedin, the Congregational Christian Church in Samoa and Dunedin Orphan's Club. Investors' had to stump up a minimum of NZ$5,000.
"Most of these were retail investors with a limited understanding of complex financial products like Credit Sails. A significant number of investors are now over 70 years of age," Berry says. "Under this settlement, investors will now receive about NZ$850 for every NZ$1,000 they invested in Credit Sails. Without this settlement, investors could expect to get about NZ$20 from their NZ$1,000."
"It is crucial in relation to complex financial products that investors are provided with accurate information, particularly about the risks of a product. We believe these mostly elderly investors bought Credit Sails because they were told that their capital was protected," said Dr Berry. "Consumers must be able to rely on representations made," adds Berry.
The proceeds raised in the Credit Sails, or Credit Saleable Index Linked Securities, offer were invested into notes known as the Momentum CDO (collateralised debt obligations) Europe Limited Series 2006-16. Credit Sail also entered into a total return swap with Credit Agricole Corporate and Investment Bank, formerly Calyon, so it could - in theory - pass the return from any capital gain at maturity and interest, to Credit Sail.
Forsyth Barr has 'worked tirelessly' since the Credit Sails demise
Credit Agricole acted as arranger of both the Credit Sails and Momentum notes issues, was counterparty to the swap, and calculation agent. Forsyth Barr was the lead manager and underwriter of Credit Sails.
Forsyth Barr managing director Neil Paviour-Smith says since Credit Sails bit the dust in 2009, his firm had "worked tirelessly" and applied considerable resources to work with the Trustee (New Zealand Permanent Trustees Ltd), Calyon and subsequently Credit Agricole Corporate and Investment Bank, the Commerce Commission and "other regulatory authorities" to examine why the product failed and also whether anything could be done to restore investors' capital. 
"It is a generous pay-out that recognises the extraordinary market turmoil during the Global Financial Crisis, a desire to find a timely solution to the Commission's investigation and the risks investors assumed by subscribing to the offer," says Paviour-Smith.
"We have always believed that we have complied with the Fair Trading Act and do not accept the Commission's views that some representations may have been construed as having breached the Act. Nevertheless as the Commission has stated, proceedings arguing the case would have taken a considerable amount of time and would have come at considerable cost to all parties. Furthermore it would have prolonged settlement and provided no certainty to investors who, like us, are keen to put Credit Sails behind them," Paviour-Smith adds.
Forsyth Barr paid its share of the settlement last week, which was a "significant" sum.
"Clients all across New Zealand place their trust in Forsyth Barr. We take our responsibilities very seriously. Our role and focus on driving for a settlement, and ultimately our financial contribution to the settlement, demonstrates we are worthy of that confidence," says Paviour-Smith.
Brought down by Lehman Brothers, Iceland's banks & others
In an NZX announcement in May 2009, Credit Sail's then sole director Giles Le Sueur informed investors' they'd effectively lost the shirts off their backs.
"We wish to inform you that the Calculation Agent for the Momentum Collateral Securities has sent a notice to Credit Sail Limited advising that, as of May 11, 2009, the Aggregate Loss Amount in the Reference Portfolio is equal NZ$560,611,787.32 following the occurrence of several credit events," Le Sueur wrote.
These "credit events" included the demise of several companies the Credit Sails portfolio was exposed to including Lehman Brothers and Washington Mutual, Icelandic banks Landsbanki Islands, Glitnir banki and Kaupthing banki, plus the bankruptcy of US phone directory group Idearc.
"As the Aggregate Loss Amount exceeds the Maximum Loss Amount, the nominal amount of the Momentum Collateral Securities will be reduced to zero on the Scheduled Maturity Date," Le Sueur added.
"The holders of Credit Sails will not receive their principal back and the Credit Sails will be redeemed at zero, plus the holder's pro rata share of the residual monies, equal to NZ$1,067,239.14, plus interest which was produced upon the unwind and termination of the Credit Strategy on November 17, 2008. For each note with a denomination of NZ$1,000.00, the pro rata share of the residual monies shall be NZ$11.66, plus interest, due on the Scheduled Maturity Date."
The Commission's investigation has included liaison with the Financial Markets Authority, which Berry says is aware of the Commission's settlement and has agreed not to take action against the companies in light of this settlement.
(Update adds further detail from Commerce Commission press release & link to full release, plus Forsyth Barr's comments).