NZ Post shake-up may see reduction in number of Kiwibank branches with more electronic self service kiosks coming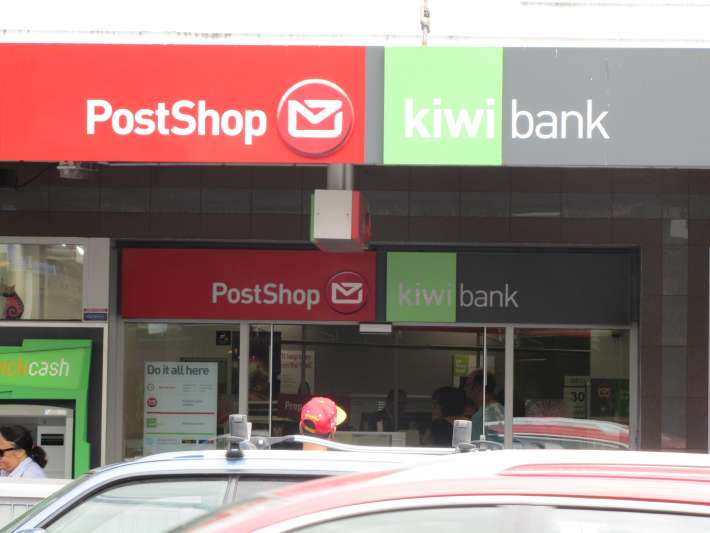 By Gareth Vaughan
Kiwibank, whose branches double as Post Shops run by its parent New Zealand Post, says although it's too soon to say what a major cost cutting exercise by NZ Post will mean for bank branch numbers, its customers will be serving themselves more in the future.
NZ Post, a state owned enterprise, warned yesterday its postal services will be unprofitable by 2016/17 or earlier unless it is allowed to change its Deed of Understanding with the Government to cut mail deliveries to three times a week and to convert more than 70% of its 880 post offices to self-service kiosks. NZ Post CEO Brian Roche said the company needs to update the Deed relating to standard letter delivery and postal outlet services. The last major update to the Deed was in 1998, before both the digital revolution and Kiwibank's 2002 birth.
The bank has become NZ Post's key cash cow, with the NZ Post group, after one-off adjustments, recording annual net profit after tax last year just NZ$700,000 higher than Kiwibank's record NZ$79.1 million at NZ$79.8 million.
Today every Kiwibank branch, of which there are around 280, doubles as a Post Shop, given the bank branches were set up inside existing Post Shops.
NZ Post's proposing it's network will contain no fewer than 880 service points in total, including no fewer than 240 where consumers can, in addition to accessing postal services, use such bill payment services as NZ Post may provide. It says the network may be made up of a combination of outlets owned by NZ Post, services hosted in other businesses and electronic self-service kiosks, with an obviously possibility being a reduction of Post Shops, and therefore Kiwibank branches.
'You're getting ahead of us'
Asked what NZ Post's proposals could mean for Kiwibank, especially in relation to its branch network, a Kiwibank spokesman told interest.co.nz: "You are getting ahead of us."
"The first steps are NZ Post looking for feedback on their request to change their Deed of operation. And then you get to 'will this affect the number of Post/Kiwibank outlets and if so when'?"
 "And so you're getting too far ahead of us for us to be able to answer those questions," the Kiwibank spokesman said.
"As to what the face of retail banking will be in the future, that to is difficult to identify. But certainly (electronic) self serve machines are becoming more prevalent and they're obviously not just glorified ATMs. They are more sophisticated than that."
The spokesman acknowledged the way customers interact with Kiwibank would change over time.
"But the question is when and how and I don't have those answers yet because Post is now taking its first major step in relation to the Deed and I don't want to preempt it."
Any change will require government approval. Submissions on NZ Post's proposals are due by 5 pm on Tuesday, March 12. See full details here.
Kapiti pilot may be expanded
Kiwibank and NZ Post last year released a registration of interest document seeking help with their "retail transformation programme" as they prepared to spend tens of millions of dollars modernising and upgrading ATMs, self service technology and cash management services as they look to reduce queues and spruce up branches deemed "tired" by customers.
A NZ Post spokesman said no single respondent to the registration of interest document was able to provide all the services required within the timeframe sought.
"As a result we revaluated the options and have gone down a different path. Since June last year we have issued a number of closed requests for proposal (RFP). Including:; An RFP for postal kiosks, which we are currently negotiating with a preferred vendor on. We've issued an RFP for ATM and cash management services which is current and underway. Alongside this we've issued an RFP for a teller cash recycler service provider and we are also negotiating with a preferred vendor on this," the NZ Post spokesman said.
Meanwhile, Kiwibank has been running what it calls a "better change" project at five branches in Kapiti. These branches have a significant self service component designed to push high volume, low value transactions away from the counter. Kiwibank has said this will enable staff to spend "quality time" working on high value transactions, including attracting new customers and selling products. Further news on the "better change" project, including potentially rolling it out on a more widespread basis, is likely in Kiwibank's half-year financial results towards the end of February.
This article was first published in our email for paid subscribers. See here for more details and to subscribe.