Boss of BNZ's parent National Australia Bank says major public strategy briefing really all about telling his 44,000 staff what's going on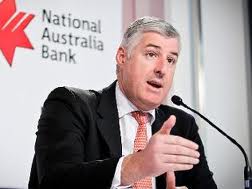 By Gareth Vaughan
When a big sharemarket listed bank holds a lengthy public briefing on what it's touting as a major strategic update, it's doing so to let its shareholders and the world know of the changes right? Well no actually, at least not according to National Australia Bank (NAB) CEO Cameron Clyne.
NAB, parent of New Zealand's BNZ, yesterday held a briefing with analysts on a technology and strategy update. Perhaps picking up on a under whelmed vibe among the assembled analysts, Clyne said his announcements including an executive reshuffle and aim of cutting costs by A$800 million annually, were in fact not really even aimed for his audience's consumption. He was in fact aiming to communicate to his bank's own staff.
"I appreciate that in many cases these strategy updates aren't as informative to the market as you'd like and I look forward to a couple of 'I didn't learn anything' notes tomorrow," Clyne quipped to analysts in the room. "But that's actually not the point. These strategy updates are exceptionally important for providing focus internally which is why you do them. Because we made some clear statements."
NAB shares fell A59 cents, or 2%, to A$30.95 yesterday.
Clyne said a previous strategic update in 2009 had been "hugely" important. That one had told NAB's staff their focus ought to be on balance sheet strength, efficiencies, reputation, Australia and New Zealand and dealing with "legacy issues", which presumably include NAB's troubled British operations.
"So it becomes a very important prioritisation tool internally in terms of how you're prioritising investment focus, resources, how you measure the business and measure success," Clyne said.
'A reset for us internally'

Yesterday's strategy update, which included the news that Andrew Thorburn would remain as BNZ CEO, was about outlining to staff the next phase. Although the bank remained focused on balance sheet strength and its reputation, management was now also keen on simplification, digitisation, standardising products, centralising operations, taking advantage of an ageing population, and having a "compelling offering" into Asia.
"So that really at the end of the day is why this is important. It's very much a reset for us internally to say 'we've made a lot of progress, we're feeling more comfortable about what we've achieved, but there is a changing environment and there is a low credit growth environment.' That is a clear trend and we need to have a strategy that responds to it," Clyne, Thorburn's predecessor as BNZ CEO, said.
"You're a 44,000 person organisation you need to provide focus. Once we've said this publicly it's probably quite possible I'll get one or two questions going forward about progress. That provides exactly the right impetus internally to make progress. So that's really what these things are about."
In terms of Asia, Clyne said NAB was adopting a "pragmatic and organic strategy" with "franchise focused" expansion.
"We're being pragmatic in our engagement with Asia. We continue to open branches and representative offices. We also recognise that Australian banks, NAB included, have a very poor history of offshore expansion," said Clyne.
"We're increasingly finding that our dominant position as a business bank in Australia and New Zealand means we're the bank of choice for many Asian customers seeking to do business in Australia."
Meanwhile, he said NAB would enable more self service for customers as more and more customers migrate to self service or digital channels. And the bank would be reducing its store (branch) footprint in meterage by 25%, although Clyne added this wouldn't see a drop in number from its current level of about 800 branches.
NAB would also look to integrate more business banking centres with branches. Business centres could either relocate with branches, as with some BNZ partner centres, or have branch capability added to existing business banking centres. He noted that in many cases the majority of over the counter transactions in branches stemmed from SME customers.
This article was first published in our email for paid subscribers. See here for more details and to subscribe.