By Gareth Vaughan
Highly favourable global funding conditions and an effective 100 basis points reduction in term deposit funding costs over the past year are highlighted in the Reserve Bank's June Monetary Policy Statement.
"Local banks' funding costs continue to fall," the Reserve Bank says.
"Deposit growth has remained high relative to credit growth, thereby covering much of the funding requirements for new loans. This has reduced the banks' incentives to pay higher rates for this source of funding," says the Reserve Bank.
"For example, despite rising six-month bank bill rates as the market anticipates increases in the Official Cash Rate, the average six-month term deposit rate has remained steady for the past year. This shows up as a reduction of about 100 basis points in the term deposit funding spread over that time. Retail deposits make up more than half of total bank funding, and are a key driver of lower funding costs for banks," the Reserve Bank says.
On top of this New Zealand banks have the opportunity to take advantage of "highly favourable" overseas funding conditions, which have driven down funding spreads for long-term debt issues.
"(New Zealand) banks have issued very little long-term debt over the past couple of months after being fairly active in the market in the first quarter. The credit default spread for Australia's banks' five-year senior debt is a reasonable proxy for the trend in New Zealand banks' long-term wholesale funding costs. Since the beginning of the year, this spread has fallen by about 25 basis points to less than 60 basis points, its lowest level in about six years," the Reserve Bank says.
"Lower New Zealand dollar basis swap spreads have reduced the cost by a further 10-15 basis points for offshore issuance."
Although New Zealand banks haven't yet made much use of current favourable offshore funding conditions, some of their parents have. ANZ Banking Group, for example, has borrowed at margins over benchmark US government debt of between 26 basis points and 60 basis points over the past week or so. The Sydney Morning Herald suggested the European Central Bank's recent move into negative interest rate territory will allow Australian banks to borrow cheaper than at any time since the global financial crisis resulting in either increased bank profits, or lower mortgage rates for home­owners.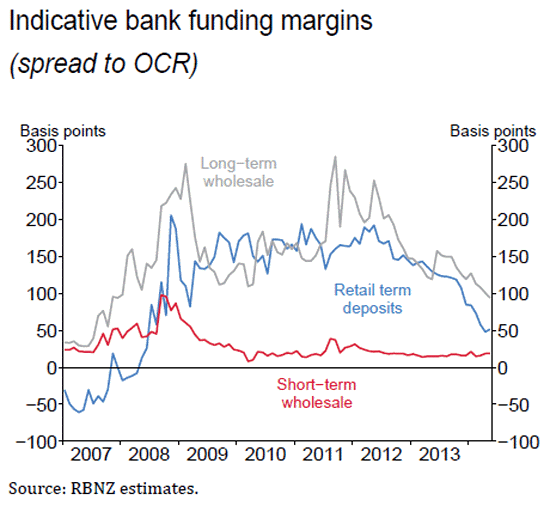 This article was first published in our email for paying subscribers. See here for more details and to subscribe.