Listing of LGFA debt sees NZX's fixed income market grow to NZ$19 bln, giving retail investors greater access to this paper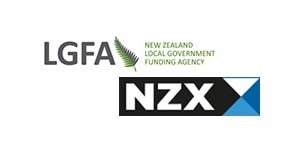 New Zealand Local Government Funding Agency (LGFA) debt is now listed on the NZX Debt Market.
The listings increase the capitalisation of NZX's Debt Market to approximately $19.09 billion or 7.9% of Gross Domestic Product (GDP), an increase of 41%. This is in addition to the $1.99 billion of other new debt that has already been listed this year on the NZX Debt Market.
The Crown holds a 20% shareholding stake in the LGFA through the Ministers of Finance and Local Government. The balance of the agency is owned by 30 New Zealand local authorities.
"Listing on the NZX Debt Market will further extend our retail investor base, provide greater price transparency to all investors and achieve best practice from a governance perspective," said LGFA CEO Mark Butcher. "Listing should also help increase secondary market liquidity in LGFA Bonds and assist retail investors with greater access to a highly rated and liquid fixed income investment."
"New Zealand needs deep, liquid capital markets to fund business growth and drive economic development," said NZX CEO Tim Bennett.
Fitch Ratings has affirmed the LGFA Long-Term Local-Currency Issuer Default Rating at 'AA+' and Long-Term Foreign-Currency IDR at 'AA'. Fitch has also affirmed its Short-Term Foreign- and Local-Currency IDRs at 'F1+'. The Outlook on the long-term ratings is Positive.
These bonds are listed in our Bonds section and included in our daily bonds newsletter.