National commits to 'facilitating negotiations' to keep aluminium smelter at Tiwai Point open, as Rio Tinto says it could stage a longer exit if it gets a 'fixed and fair' electricity transmission price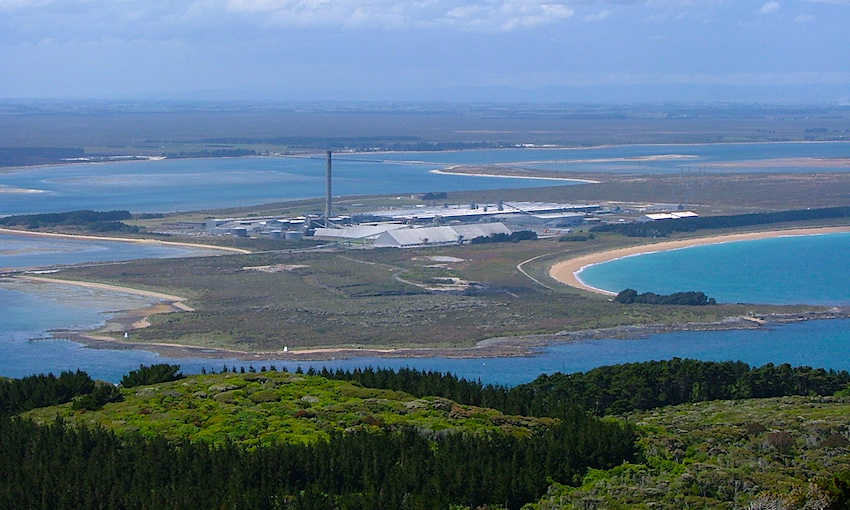 National wants to push Transpower to lower New Zealand Aluminium Smelters' electricity transmission costs to prevent the majority owner, Rio Tinto, from shutting the operation.
Rio Tinto in July announced its intentions to close the smelter by August 2021. Its electricity provider, Meridian Energy, as recently as Wednesday said it was still working towards an August closure.
However, Rio Tinto on Friday said it was open to a "longer staged exit".
It's managing director of Pacific Operations, Kellie Parker, (in a second statement released on Friday) said: "The Government and Southland have made it clear it is their preference for the smelter to exit more slowly over a four to five year period, rather than in 12 months, however in order to achieve that Rio Tinto needs a fair and fixed cost for transmission…
"Rio Tinto welcomes support from all political parties to achieve a fairer transmission cost which better reflects the service we receive at Tiwai."
Transmission pricing in focus
Earlier in the day, National said that if elected to government, it would "facilitate negotiations between Rio Tinto, power companies and Transpower to achieve a more cost competitive environment to keep the Tiwai Point aluminium smelter open".
National's energy spokesperson Jonathan Young told interest.co.nz he maintained work could be done to reduce transmission pricing.
He believed there was a way for what's known as a "prudent discount" under the Transmission Pricing Methodology to be given to New Zealand Aluminium Smelters.
Transpower is of the view that the Electricity Authority would have to change the Electricity Industry Participation Code to enable Rio Tinto to apply to it for a "prudent discount".
'Commercial solutions' not subsidies
Asked whether National would rule out taxpayers subsidising costs in any way, shape or form, Young said: "We are convinced commercial solutions are possible."
The National Government in 2013 contributed $30 million towards the smelter to keep it operating. Finance Minister at the time, Bill English, ruled out further subsidies.
Energy and Resource Minister Megan Woods on Friday reaffirmed the Government has ruled out a "direct subsidy" to Rio Tinto.
Govt in talks with Rio Tinto
However, Woods said the Government was in talks with Rio Tinto, as a closure could see 1000 direct, and 1600 indirect, jobs go.
"There are a range of discussions taking place, but they are all commercial in nature so I won't be going into any detail about them," Woods said.
National leader Judith Collins said National would aim to keep the smelter open for at least the next five years.
What's more, she said: "It is our understanding that the owners of the Manapouri Power Station - Meridian Energy - have offered a positive electricity price to Rio Tinto, based on Meridian's potential losses of tens of millions of dollars a year if there is a drop-dead date for closure of the smelter. Based on this, we understand that a commercial deal could be reached."
Asked whether having National pledge to step in to try to help ahead of an election gives Rio Tinto even more bargaining power, Young said: "They've got a reputation for being pretty smart players in the international market for electricity. They built refineries where they can get the cheapest electricity. There's no doubt about that."
'National will accelerate Transpower's investment into transmission lines'
Looking further ahead, Collins said: "While creating certainty in the medium term for Southland, National would have an eye to the future.
"Technology upgrades to the smelter could see up to 200MW of electricity available to the grid as dry-year cover. We will look to partner with Rio Tinto on the installation of those upgrades.
"National will accelerate Transpower's investment into transmission lines upgrades to ensure Manapouri power station is not left stranded in the future, allowing the electricity to be available to the wider economy.
"This is a better deal than Labour's $4 billion pumped hydro proposal, which is many years away, and there is no surety that the $30 million investigation will support the project.
"National will also invest in improving Southland's internet connectivity, to allow new industries to locate closer to the renewable energy that Manapouri provides, to ensure the development of other industries and future jobs."