New Zealand's only oil refining company says it's made 'significant progress' toward converting its Northland refinery into an import terminal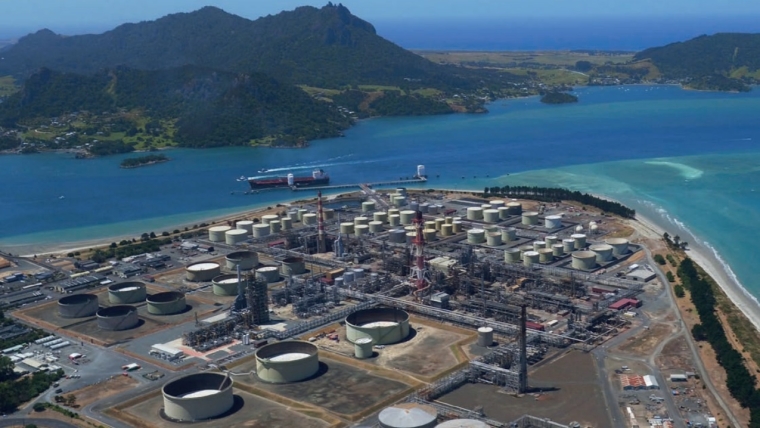 The owner of New Zealand's only oil refinery at Marsden Point in Northland, Refining NZ, seems to be targeting next year to convert the refinery to an import terminal only.
Meanwhile the company has announced a net loss after tax of $198.3 million for the year to December, including the previously announced (after tax) non-cash impairment of the refining assets amounting to about$158 million 
Refining NZ appears to have clearly favoured converting the plant to an import terminal since announcing a strategic review last year, but is still at this point taking the line that no decision has been made - even though it is negotiating with customers over terms for such a conversion.
The refinery has been producing about 70% of the fuel used for transport in this country.
In an update issued to NZX on Wednesday Refining NZ chief executive Naomi James said the company had "made significant progress assessing the potential for a future transition to an import terminal".
"While no decision has been made, we are giving this proposal serious consideration and working closely with our customers, lenders, and our team. Any decision to convert to an import terminal would require approval of non-customer shareholders," she said.
"We are engaged in commercial negotiations with all of our customers to negotiate terms that are both fair to our non-customer shareholders and acceptable to our customers."
Refining NZ said it has reached an in-principle agreement with one of its customers, bp, on the key terms for such a transition. The in-principle agreement is non-binding and subject to a number of conditions.
"Reaching an in-principle agreement with bp is a significant milestone. The in-principle agreement with bp gives me confidence that it is possible to agree commercial terms with all customers, which are both acceptable to customers and fair to our shareholders," James said.
Refining NZ will continue to work with the other refinery users, Z, Caltex and Mobil, to agree commercial terms, with the aim of reaching a final agreement with all customers by the end of the first quarter of 2021, she said.
Converting to an import terminal would result in a 98% reduction in carbon emissions for the Marsden Point site. It would also make an about 5% contribution to New Zealand's total emission reduction commitments, James said.
"There is still a lot of work to be done yet, and the earliest possible time for conversion is currently 2022.
"However, we need to use the time we have now to put in place the plans needed to support a smooth transition. We are working closely with the local community and Government to develop plans, which will minimise the impact of any future change, on our people and the Northland region."
The company says its planning includes the opportunity to "repurpose the Marsden Point site as a fuels and energy hub", with the potential to support future production, storage, handling, import and export of energy sources including biofuels, sustainable aviation fuel, hydrogen, LNG and electricity.
"An import terminal would require a much smaller footprint than our current operations, and opens up the potential to significantly repurpose for a large industrial site strategically located next to a deep-water harbour and close to New Zealand's largest population base," James said.
"We will continue to engage with our staff and stakeholders as we progress this work and we will keep everyone informed as plans develop."
On the annual result, James said: "The results reflect an outstanding effort by the Refining NZ team who responded quickly and decisively to COVID-19 - finding new ways of running the refinery, reducing the year-on-year cost base by c.$80 million, while delivering the Company's best safety performance on record. I am proud of what the team has delivered under such challenging business conditions."