Government to introduce legislation to enable workers to force employers to engage in collective bargaining; Unions over the moon; Businesses worried about compulsory participation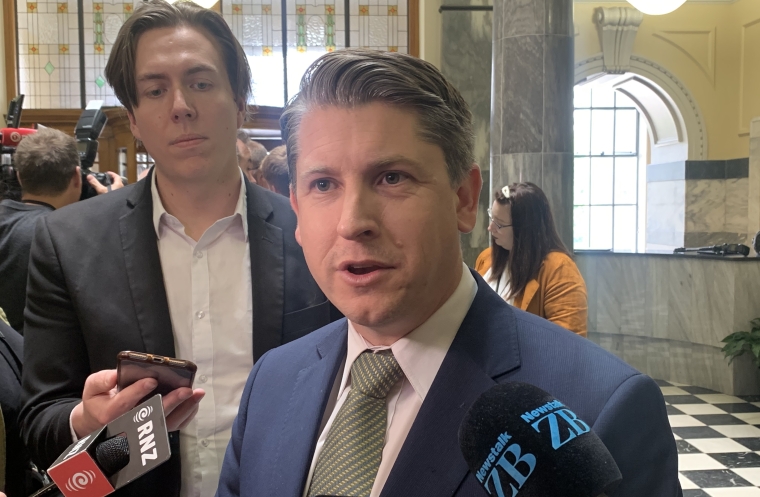 The Government has agreed to introduce legislation that could force employers to engage in collective bargaining. 
The legislation will set out a process for workers and employers to negotiate Fair Pay Agreements (FPA), including minimum standards everyone in the sector has to comply with.
The Government has also agreed to help cover the costs of negotiations for up to four FPAs a year.  
The Council for Trade Unions (CTU) is over the moon, saying the introduction of FPAs signals the biggest change to workplace laws in several decades.
BusinessNZ is outraged, arguing the proposal is "against international law, which says collective agreements should always be negotiated voluntarily".
The Government recognises there will likely be employers and employees bound by the terms of an agreement negotiated by unions or employer organisations they aren't affiliated with.
But it considers applying FPAs to all employees and employers within a particular occupation or industry "necessary" to achieving minimum standards.
Workplace Relations and Safety Minister Michael Wood said FPAs will "improve wages and conditions for employees, encourage businesses to invest in training, as well as level the playing field so that good employers don't get undercut and disadvantaged".
The Government will now draft legislation, which will be introduced later this year, and is expected to pass in 2022.
DETAILS
What will be covered by FPAs?
All FPAs must include certain topics like base wage rates, ordinary hours, overtime and penalty rates. Some other topics must be discussed but don't have to be agreed, like redundancy, leave, and health and safety. Other employment terms can be included if the bargaining sides agree.
Contractors aren't currently included, but the Government plans to bring them under the regime. 
How is the process started?
Unions initiate the FPA process. They need the support of either 10% or 1000 workers in the industry.
Alternatively, they could start the process if the Employment Relations Authority decides they meet a "public interest test".
Employers must engage in the process via their chosen representatives.
A FPA can allow for exemptions for businesses in "significant financial hardship".
What support will the Govt provide?
The Government will give each bargaining side $50,000. Additional funds will also be available for unions or industry groups with low memberships. 
The Government will make this funding available for four FPAs a year. If more pop up, the Employment Relations Authority will decide who gets the funding.
The CTU and BusinessNZ will also each be given $250,000 a year for three years to support their coordination roles in the FPA system.
What needs to be happen for an agreement to be reached?
A majority in favour of the proposal on both sides of the bargaining table is needed for the FPA to be ratified. 
Employers have one vote per employee in coverage, with slightly higher vote weighting for employers with fewer than 20 employees in coverage.
If a first ratification vote fails, parties go back to bargaining.
If a second vote fails, the FPA goes to the Employment Relations Authority for determination
Once finalised, the Ministry of Business, Innovation and Employment will make secondary legislation to bring the FPA into force.
REACTION
Public Service Association
"All too often, employers compete for contracts by holding down pay and undermining conditions in an endless race to the bottom...
"Fair Pay Agreements do not replace existing employment agreements. Instead, they can be the bedrock from which workers negotiate terms and conditions that go beyond those in particular workplaces...
"The PSA argues FPA should be viewed as an extension of previous achievements like 2017's Care and Support Pay Equity Settlement.
"Unions and provider companies are now in broad agreement on the need for a fairly paid and well-trained home support workforce with secure, guaranteed hours."
Employers and Manufacturers Association
"The EMA has no anecdotal evidence from its 7400 member businesses that employers are cutting down their costs to get contracts by paying people less, except where Government procurement has forced this outcome in areas like the provision of bus services.
"Our concern is that FPAs will result in higher wages, and the solution for businesses will be to cut down their workforce, or in the case of already struggling manufacturers and SMEs, they may have to shut up shop.
"Those at greatest risk will be the unskilled, unemployed and inexperienced - particularly our young people, because typically they are the cohorts that are impacted the most by margin pressure or downturns, as evidenced during the last 12 months."
"BusinessNZ had engaged with the Government and unions in good faith in dialogue about the Fair Pay Agreements plan, but the problems raised by BusinessNZ had not been addressed, and business could not support the plan to implement them...
"[T]he plan to implement them should be terminated."
"In the past year we have all clearly seen the essential work that people working in our supermarkets, our cleaners, and security guards do. But they continue to be paid the minimum wage or close to it. Wages have been driven down simply to improve profit margins...
"People working as contractors do need to be covered by Fair Pay Agreements and it's important that the Minister has said they will be 'as soon as possible'. We see this as essential given the figures released this week showing a significant increase in the numbers of people working as contractors."
Canterbury Employers' Chamber of Commerce
"Employee expectations have changed dramatically from when financial remuneration was the only benefit. While small businesses may not be able to compete with big business wages, they can compete in providing an attractive employment package through the ability to engage in meaningful work, flexible work environments and so on...
"With the introduction of FPAs, there could be a wage-price spiral, which we have seen in the past, when compulsory collective bargaining led to wage inflation and higher prices, and FPA settlements impacted other sectors, causing wage relativity pressures and increased prices. There is also the possibility of FPA claims spreading rapidly once enabling legislation is passed.
"Standardising conditions across industries and occupations, makes them less flexible, less resilient and ultimately less productive - which is not what our economy needs and especially not now given many businesses are facing the challenges of a Covid-19 environment as well."
National raised the same issues as the business groups above, and added:
"My concerns are echoed by the Treasury in their statement: "the [Regulatory Impact Statement] acknowledges there is minimal empirical evidence for the problem or policy response.
"Labour's so-called Fair Pay Agreements may be celebrated by unions who are struggling for survival, but they will not improve things for individual workers.
"This will see 90 per cent of a workforce at the mercy of the other 10 per cent and entire industries bound by agreements whether they participate in the FPA bargaining process or not.
"This Labour Government is growing more interventionist by the day. It has not met a problem it doesn't think can be solved through more centralisation, regulation, bureaucracy, and more power in the hands of the Government."
"Today's proposal is far more radical than anything the Government has proposed before. It said it would initially be 'one or two industries'…
"You cannot take a relic of the 1970s, dust it off, and make it stick 50 years on…
"New Zealanders have voted with their [union] membership, 70 percent to 20 percent over the past 30 years. Despite that, Michael Wood and Andrew Little won't listen. They're bringing back compulsory unionism whether we like it or not.
"When creating public policy, ACT always asks what is the problem we're trying to fix? In this case there is no problem. It is a union hit on middle New Zealand who've said by their actions they want nothing to do with unions…
"The current law has a comprehensive range of statutory worker protections. There is a minimum wage, protection for businesses that are sold, non-discrimination laws, and dispute rules."
For more, see this government explainer and this Cabinet paper.