Decision due on Powell or Brainard; supply chain issues easing; Alibaba's share slump; IMF warns on China's economy risks; UST 10yr 1.54%, oil and gold lower again; NZ$1 = 70.2 USc; TWI-5 = 74.7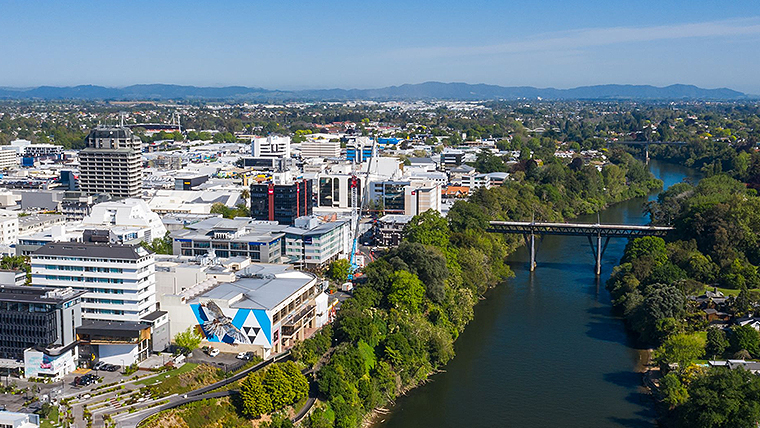 Here's our summary of key economic events overnight that affect New Zealand with news the IMF is highlighting 'downside risks' in the Chinese economy.
But first, we should note that the Biden Administration is about to decide whether to reappoint Jay Powell as head of the US Fed, or switch to one of his deputies Lael Brainard. There is a lot of lobbying underway at present and a decision is promised in the coming week, possibly this weekend. Brainard is viewed as more dovish than Powell, and the financial markets will price that in if she is chosen.
The global supply-chain issues seem to be easing. Not only are key freight rates retreating (slowly) on shipments out of China, but the backlog of ships waiting to unload at key US West Coast ports has halved. And Administration efforts to clear these ports seem to be working, even if there are a few rough edges. Efforts to recycle empty containers with sweeper ship voyages are helping too. The holiday season rush will naturally ease as well, so the worst may be behind us. But the effective closure of Vancouver is a complication, and holiday shopping miscues will still probably happen. These North American resolutions will quickly ease pressures elsewhere in the global chain.
In the US Congress, the House has approved a broad US$2.1 tln social support and climate measure that would, among other things, 'invest' US$500 bln in climate measures, and raise health case and child care support. It faces a difficult path through Senate approval.
Canada's retail sales fell in September from August, but not by as much as was expected. Car sales were the softest category, but that might be because of supply-chain restrictions. Analysts think overall retail sales recovered in October.
In China, Alibaba shares have slumped by more than -11% after the online retail giant warned of a slowdown in consumer spending. But it is still posting double-digit growth year-on-year of +10% in its quarterly results. The company also said it expects its annual revenue to grow by between 20% and 23%, but that is lower than analysts' forecasts.
And China's fiscal revenue fell in October for the second straight month as their economic recovery slows, but fiscal spending returned to growth. In particular, the government's revenue from land sales slid for the fourth consecutive month.
Meanwhile, the IMF is noting that "downside risks are accumulating" in China as it's economy slows.
That doesn't seem to be putting off investors however. Inbound FDI is rising, even if it is off a pandemic-affected base which makes it look better that it otherwise is.
Australia's coal industry is facing a challenge that is undermining its customer base and one that was thought to provide solid demand for decades. The Asian Development Bank (ADB), lender HSBC and the philanthropic foundations of Amazon founder Jeff Bezos and the late John D. Rockefeller, as a group, is offering substantial inducements to governments in south-east Asia to shut their relatively young coal-fired plants and replace them with low-emission alternatives. Coal customers in the Philippines, Vietnam, Indonesia and Pakistan are lining up to be part of the plan.
In Australia Delta cases in Victoria have risen to 1273 cases reported there yesterday. There are now 13,813 active cases in the state and there were another 8 deaths yesterday. In NSW there were another 216 new community cases reported yesterday, another drop, with 2,840 active locally acquired cases, and they had no deaths again yesterday. Queensland is reporting zero new cases again. The ACT has 17 new cases. Overall in Australia, just under 84% of eligible Aussies are fully vaccinated, plus 7% have now had one shot so far.
The UST 10yr yield opens today at 1.54% and -4 bps lower than this time yesterday. The US 2-10 rate curve starts today flatter at +105 bps. And their 1-5 curve is little-changed at +106 bps, while their 3m-10 year curve is a much flatter at +144 bps as short rates rise. The Australian Govt ten year benchmark rate is -4 bps lower at 1.77%. The China Govt ten year bond is still unchanged at 2.94%. The New Zealand Govt ten year is -1 bp softer at 2.59%.
In equity markets, the S&P500 is up another +0.2% on Wall Street in their afternoon Friday session and heading for a minor +0.5% gain for the week. Overnight, European markets were all down about -0.5%. For the week, Frankfurt was down -0.3%, Paris was down -0.3%, but London shed -1.7%. Yesterday the very large Tokyo market closed up +0.5%, to limit its weekly loss to -0.2%. Hong Kong closed down -1.1% to cap a weekly drop of -1.5%. Shanghai closed up +1.1% yesterday ensuring it had a weekly gain of +0.5%. The ASX200 ended with a minor +0.2% gain but a weekly loss of -0.6%. The NZX50 was down another -0.5% yesterday taking the weekly retreat to -1.3%.
The price of gold will start today down another -US$15 to US$1846/oz, an -0.8% dip for the day and almost a -1.0% fall for the week.
And oil prices are -US$2 lower at just under US$76/bbl in the US, while the international Brent price is now just over US$78/bbl. These represent a -4.5% or -US$3.50 fall for the week.
The North American rig count is keeping on its relentless recovery. It is now hack to April 2020 levels when it was starting its collapse. At the start of 2020 800 rigs were in operation. It fell to just 244 in August 2020. But since then it has risen consistently and is now back at 563.
The Kiwi dollar opens today marginally softer at just under 70.2 USc. That is little-changed in a week. Against the Australian dollar we are holding at just under 96.7 AUc. Against the euro we are at 62 euro cents, also little changed since yesterday but up +½c in a week. That means our TWI-5 starts today at 74.7 and very similar to week-ago levels. But it is -60 bps lower since the start of the month.
The bitcoin price has recovered somewhat since this time yesterday, up +1.5% to US$58,337. A week ago however, it was US$64,037, so a -9% net fall since then. Volatility over the past 24 hours has been moderate at just over +/-2.6%.
The easiest place to stay up with event risk today is by following our Economic Calendar here ».