Refining NZ say work 'well advanced' to prepare the Marsden Point site to operate as an import-terminal and to plan for the safe shutdown and decommissioning of the refinery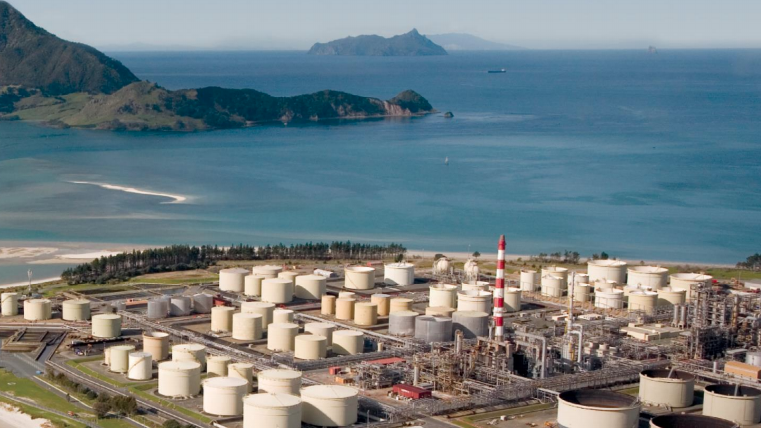 The operator of New Zealand's only oil refinery has confirmed a decision to revert to an import-only terminal from April 2022.
The "final investment decision" made by the Refining NZ board follows approval for the move being given by the company's shareholders in August 2021.
The final decision by the board will see the Marsden Point, Northland, site  transition to an import-only fuel terminal, called Channel Infrastructure, from April 2022. 
Refining NZ said the move follows the signing of long-term terminal services agreements with all three of its customers (bp, Mobil, and Z Energy) on terms approved by shareholders in August.  
Chief executive of Refining NZ Naomi James said this was "a momentous day".
"After 60-years of operations as New Zealand's only oil refinery, we now have certainty about our future, and as we look back on the past with pride, we also look to the future with confidence that our business will be able to continue to contribute to our community, and New Zealand, long into the future." 
The company said work was "well advanced" to prepare the Marsden Point site to operate as an import-terminal and to plan for the safe shutdown and decommissioning of the refinery.  
"In recent weeks we have started the process of making appointments for the team who will be responsible for managing the transition, and decommissioning, as well as longer-term work with Channel Infrastructure," James said.  
"I want to acknowledge the professionalism and dedication of our whole team over the past 18-months throughout the period of our strategic review, refinery simplification, and the past few months, over the latest lockdown.  Our team quickly adapted to ensure that we were able to continue supplying New Zealand with fuel, safely and as planned.
"Today's announcement won't impact most New Zealanders, however, it will have a huge impact on our people, and our community, and we are implementing a range of transition support measures to assist those who will be moving on to other employment after we transition.  
"This is a key focus for me personally, as I know that we have some of the best talent in the country working on our site, who will continue to play a critical role in the ongoing operation of our refinery over the next six-months. 
"I am committed to supporting them through this time to find new jobs, or training opportunities – so they are ready to move to new jobs, when we become Channel Infrastructure, and we are working with other businesses to skills-match our people with their vacancies for the period after we transition." 
The latest statement from Refining NZ made no direct reference to staff numbers.
However, a 160-page explanatory booklet released for the proposal that was distributed to shareholders ahead of the August meeting and deicison said the current Refining NZ workforce of 300 is expected to reduce over the two years following commencement of import terminal operations to approximately 60.
"During this transition period, there will be an ongoing requirement for a workforce to support the shutdown and decommissioning of the refinery site, execution of the capital projects and other transition related activities. Workforce planning remains subject to employee consultation," the booklet said.
It makes no mention, however of contractors, of which there have been large numbers too.
The Refining NZ latest statement said the company had also agreed to provide dedicated private storage to customers.  
"This is the first of several new growth opportunities we have identified for the future of Channel Infrastructure, and we look forward to providing further updates on other site repurposing opportunities in due course."