Investors buoyed by strong holiday retail sales; Japan gets much improved data; Evergrande claims a comeback; lithium price surge extends; UST 10yr 1.48%; oil rises but gold unchanged; NZ$1 = 67.9 USc; TWI-5 = 72.5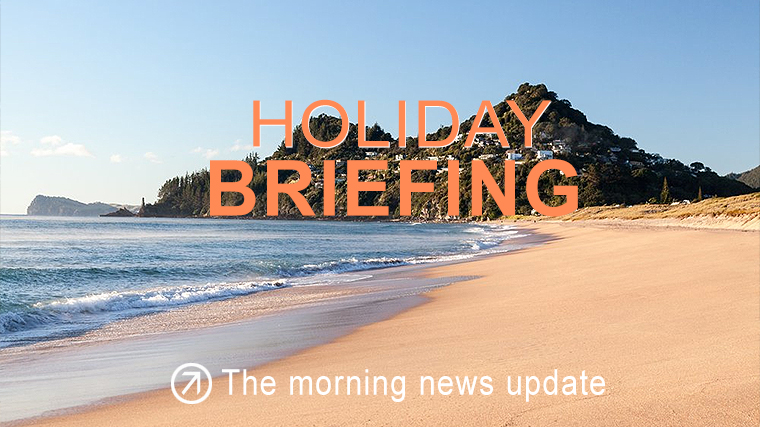 Here's our summary of key economic events over the long holiday weekend that affect New Zealand with news the first-world expansion seems to be gathering momentum.
Wall Street is trading today, little-changed from yesterday, but yesterday the S&P500 hit a record high. Overnight, most European markets did trade and were up +0.5%, but Frankfurt gained +0.8%. Paris and Frankfurt also closed at all-time record highs. London was the exception because it was closed. Yesterday, Tokyo was the day's enthusiast, rising +1.4% yesterday. Hong Kong ended up +0.2% yesterday, and Shanghai was up +0.4%. Both the ASX and the NZX were closed yesterday and will undoubtedly trade with very thin volumes today.
The rise on Wall Street was driven by very strong retail sales reports, with pre-Christmas sales gains as strong as those for Black Friday.
That was backed up by an improving report from the Richmond Fed's factory survey. However, the Dallas Fed's similar survey eased off a little even if it still at a very high level.
Median yields on the US Treasury 2yr bond auction rose to 0.73% (0.58% last time) with strong demand. For the UST 5yr bond auction, median yields were down a fraction to 1.21% compared to 1.25% a month ago.
In Japan, they had their own set of impressive results, especially for industrial production. That was up more than +7% in November from October, up more than +5% from the same month a year ago. For Japan, these are impressive outcomes. Their retail sales also grew at more than expected levels in November. The Tokyo stock market likes what it saw.
In the neighbourhood, South Korean consumer confidence is holding at levels above its pre-pandemic standards.
Over our holiday break, China reported its industrial profits data to November. This data is +9% higher than year-ago levels, and a tailing off from the +38% rise on the eleven month comparative they usually report. Over two years, to remove the pandemic base effects, the November 2021 result is comparable.
Defaulting property developer China Evergrande said construction work has resumed at more than 90% of its stalled residential projects, adding that it has picked up the pace of delivering apartments promised to home buyers across the country. They also claimed more than 80% of its suppliers have resumed cooperating and that it has signed thousands of new contracts with various suppliers. All this is happening despite the company's bond default, as Beijing works behind the scenes to protect it and the customers who bought dwellings off the plans and who stand to lose greatly if they are not completed. Completing existing projects is one thing - starting new ones will be something to watch. The company's share price rose with a minor gain, so investors are still very wary. And more bond payments are due.
We should note the rise and rise of the lithium price. It is high both because of rising demand, but also it is environmentally 'difficult' to produce requiring vast amounts of water in water-depleted regions. The search is on for more sustainable sources.
In Australia, hospitals are facing looming staff shortages as the Omicron surge forces the NSW state government to reintroduce compulsory masks and density limits. There were 6062 new community cases reported yesterday in NSW, and another huge jump, now with 52,459 active locally-acquired cases, but only 1 more death. And 1999 pandemic cases in Victoria were reported yesterday. There are now 16,467 active cases in the state - and there were another 3 deaths there. Queensland is reporting 784 new cases and 7 deaths. The ACT has 85 new cases. Overall in Australia, 90.1% of eligible Aussies are fully vaccinated, plus 3.2% have now had one shot so far.
The UST 10yr yield opens today at 1.48% and marginally lower. The UST 2-10 rate curve starts today very much flatter at +73 bps. Their 1-5 curve is little-changed +95 bps, while their 3m-10 year curve is flatter at +145 bps. The Australian Govt ten year benchmark rate is lower at 1.59%. The China Govt ten year bond is down at 2.82%. The New Zealand Govt ten year is going the other way, firmer at 2.29%.
The price of gold will start today at US$1810/oz and unchanged from its pre-Christmas level.
And oil prices start today higher at just under US$76/bbl in the US and +US$2.50/bbl above where we left them pre-Christmas, while the international Brent price is now just over US$78.50/bbl.
The Kiwi dollar opens today in a general move lower and is now at just over 67.9 USc. Against the Australian dollar we are even softer at just on 94 AUc and a six month low. Against the euro we are soft at 60.1 euro cents. That means our TWI-5 starts the today up at 72.5 and giving up all of the pre-Christmas gains.
The bitcoin price is down at US$47,886 and -5.5% below this time yesterday. Volatility over the past 24 hours has been very high at +/- 4.3%.
The easiest place to stay up with event risk today is by following our Economic Calendar here ».