US jobless claims fall below pre-pandemic levels; blizzard of Omicron infections looms; China's SMEs struggle; India imposes new restrictions; Turkish lira falls again; UST 10yr 1.52%; oil and gold firm; NZ$1 = 68.3 USc; TWI-5 = 72.8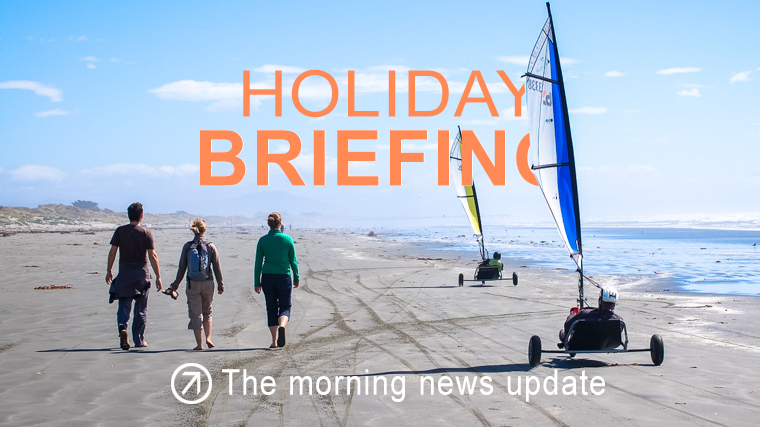 Here's our summary of key economic events overnight that affect New Zealand with news it may be hard to maintain the 2021 economic momentum in 2022.
But first, the US reported +256,000 more initial jobless claims last week, a seasonal rise. On a seasonally adjusted basis, the report is +192,000 new claims. The total number of people on these claims is now only 1.636 mln (actual) which is actually lower than before the pandemic started, in fact the lowest since July 1973, a 48 year record.
That is reinforced by the December Chicago PMI from the American industrial heartland. It rose on the back of stocking up to get ahead of supply chain issues. Firms also said that finding new hires to fill empty positions is challenging. Among the main five indicators, Production and New Orders and were higher. Order Backlogs, Employment and Supplier Deliveries fell across the month. They also reported a small easing of cost pressure.
A combination of the Omicron pandemic spread and winter snowstorms is having a major impact on US travel arrangements, with airlines cancelling thousands of flights daily. A 'blizzard' of Omicron infections is expected there over the next two weeks. Perhaps the US will find it hard to maintain its economic momentum to start 2022.
In China they have momentum issues of their own and the corrosive nature of their slowdown is starting to be revealed. It has been especially hard on SMEs, and for the first time in 20 years, more SMEs were 'deregistered' than formed.
And shares of Evergrande fell -9% yesterday to just NZ$0.28 after the embattled real estate developer did not pay offshore coupons due earlier this week. The decline wiped out gains from earlier this week, when the market cheered the initial progress made by the firm in resuming construction work.
In India they have imposed stricter rules to prevent the pandemic spreading during their festive season. Night curfews have been imposed in all major cities, restaurants are ordered to limit customers, among other new rules.
In Turkey, their currency fell another -6% yesterday, taking the four-day tally to a -20% fall. And it turns out that last week's 'recovery' wasn't from market demand at all - it was all from Turkish authorities using their scarce resources in frantic buying of their own currency. The locals just watched as Ankara wasted its funds.
Russian GDP grew +4.3% in Q3-2021, taking the annual rate to US$1.75 tln in overall economic activity. It grew +5.2% in the year to November. That puts it just a bit smaller than Canada but a bit larger than Brazil or Australia. Russian economic activity is just 12% the size of China, less than 8% the size of the US.
Russia is ending a deadly month with more than 85,000 fatalities from the pandemic there, taking the total toll to 810,000. Life expectancy has fallen to levels last seen in 2012 and is now under 70 years. Lack of trust in their government and its Sputnik vaccine has kept vaccination rates very low.
In Australia, there were 12,226 new community cases reported yesterday in NSW, a doubling in less than a week, now with 70,928 active locally-acquired cases, but only 1 more death. And 5,135 pandemic cases in Victoria were reported yesterday, also a massive jump. There are now 23,833 active cases in the state - and there were another 13 deaths there. Queensland is reporting 2222 new cases but no more deaths. In South Australia, new cases slipped slightly to 1374 yesterday. The ACT has 253 new cases and Tasmania 92 new cases, both big increases. Overall in Australia, 21,254 new cases were reported yesterday and their hospitalisation rates are now back nearly to the peak Delta levels. They will surely pass than in the next 14 days.
Meanwhile, their national government is reducing isolation standards and discouraging people from testing.
The UST 10yr yield opens today at 1.52% and a -2 bps slip. For the record, we started 2021 at 0.93%. The UST 2-10 rate curve starts today little-changed at +79 bps. Their 1-5 curve is marginally flatter +90 bps, while their 3m-10 year curve is also flatter at +150 bps. The Australian Govt ten year benchmark rate is unchanged at 1.62%. The China Govt ten year bond is down -3 bps at 2.79%. The New Zealand Govt ten year is firmer by +3 bps at 2.28%, remembering we started the year at only 0.99%.
On Wall Street, the S&P500 is trading up +0.2% in Thursday afternoon trade and near its record high it set two days ago. Of course they have a day's trading to go to close out the year, but are on track for a +29% annual gain. Overnight, European markets all gained about +0.2% and holding their earlier-in-the-week big rise. The exception is London which lost -0.2%. Tokyo finished its Thursday trade down -0.4%. Hong Kong gained +0.1% and Shanghai recovered +0.6% yesterday. The ASX200 traded flat yesterday but is heading for an annual +12% rise. And the NZX50 Capital Index gained +0.8% yesterday, but is heading for an overall annual retreat of -4.8%.
The price of gold will start today at US$1814/oz and up +US$10 from this time yesterday. The year started with the gold price at US$1891, so the yellow metal has slipped -4.1% since then.
And oil prices start today a US$1 firmer at just under US$77/bbl in the US, while the international Brent price is now just over US$79.50/bbl. We started the year with crude oil at US$52/bbl, so the net rise has been more than +50%.
The Kiwi dollar opens today almost unchanged and is still at just under 68.3 USc. If we end here, that will mean the NZD has devalued by -5.2% since the start of 2021. Against the Australian dollar we are softer at 94.1 AUc. Against the euro we are little-changed at 60.3 euro cents. That means our TWI-5 starts the today still at 72.8. We end the year down just -0.6% on a TWI-5 basis. Essentially it has been the USD that has moved higher over the year rather than the NZD moving lower.
The bitcoin price is virtually unchanged at US$47,551 and just -0.3% below this time yesterday and holding its new lower level. Volatility over the past 24 hours has been modest at +/- 1.9%. However since the start of 2021 the bitcoin price has risen from US$28,769, a gain of +65%.
This is the final daily review for 2021. As it is a long holiday weekend here in New Zealand, we will next return on Wednesday, January 5, 2022. Happy New Year.
The easiest place to stay up with event risk today is by following our Economic Calendar here ».