Dairy prices unchanged; US holiday retail strong; workers changing jobs faster in the US; logistics pressures grow; Toyota bests GM in the US; UST 10yr 1.67%; oil and gold firm; NZ$1 = 68.1 USc; TWI-5 = 72.7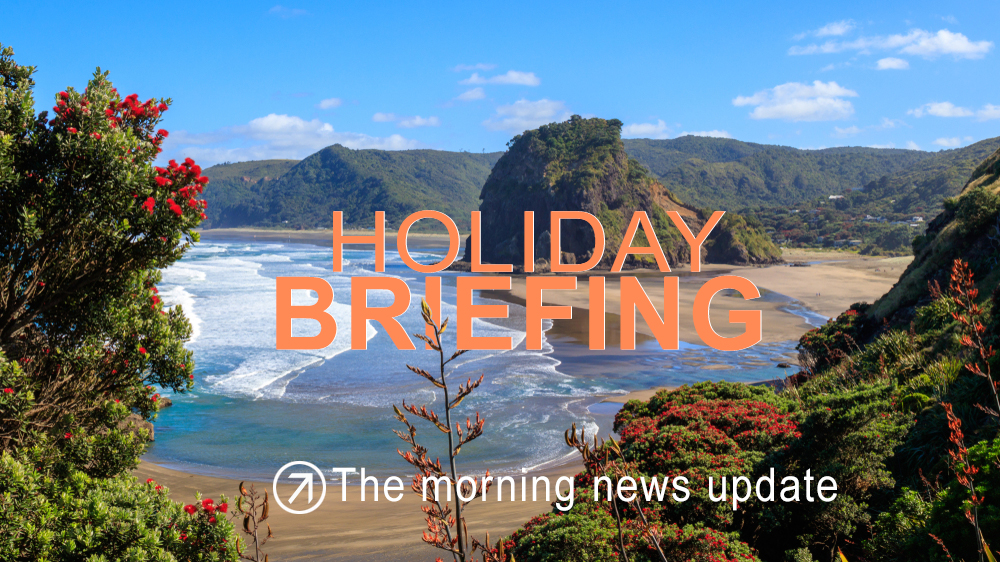 Here's our summary of key economic events overnight that affect New Zealand with news that while Omicron is surging, it is having quite different economic impact than Delta.
But first, the first dairy auction of 2022 was held earlier today and it was a lackluster affair. Overall prices rose a tad less than +0.3% in USD terms, and fell -0.6% in NZD terms from the prior event. The key WMP price was unchanged but there was another strong move higher for cheddar cheese, taking it to over NZ$8000/tonne for the first time ever. The global recovery of foodservice activity is helping. SMP (+1.0%) and butter (+0.3%) also recorded gains and in the case of butter it remains near a record high. However none of this will be shifting farmgate milk payout forecasts.
The Americans have sort of prevailed over Canada in a long-running dispute over Canadian policies aimed at shielding its dairy industry from American competition, according to a ruling published overnight from the first dispute resolution panel under the new US-Mexico-Canada Agreement. But it wasn't all one-way with the Canadians happy that most of their support program can remain intact.
The US retail sector seems to have turned in a very positive holiday selling season with sales gains far higher than can be accounted for by price increases.
US employers are having trouble holding on to staff, despite higher pay levels. The number of job quits there increased by +370,000 to a series high of 4.5 million in November, while the quits rate increased to 3.0%, matching the series high in September. First supply-chain issues, now labour costs; the US inflation rate is on a track higher that will seemingly last.
The widely-watched ISM PMI for December slipped, but the signals remain strongly expansionary. New Orders, Production and Employment are growing. Supplier Deliveries may be slowing but order backlogs are still growing. Raw materials inventories are growing but customers' inventories remain too low. Prices are increasing; exports and imports are growing they report.
The US logistics managers index remains sharply expansionary, reflecting the pressures in their distribution systems.
And the wrap-up of 2021 shows that Toyota overtook GM as the best-selling carmaker in the US. It is the first time in almost 100 years GM hasn't been the largest in that market. The global chip shortage dealt an uneven blow to car businesses. Tesla and Hyundai gained American market share too.
The global manufacturing sector ended 2021 on a positive note. Rates of increase in output, new orders and employment all accelerated, while business optimism data indicated companies expect output to rise further over the coming year. Although the sector remained beset by price inflationary and supply chain pressures, there were at least tentative signs that these were also starting to ease.
In China, the private Caixin PMI improved more than expected and away from a contraction, even if the expansion there is among the weakest globally - and actually calling it an 'expansion' is probably not correct. It remains close to a stall although this latest survey is more positive than the official one.
And staying in China, some brave investors in financial products issued by Evergrande protested outside the cash-strapped company's offices in Guangzhou, with many worried that their returns would be sacrificed to keep real estate projects afloat.
German retail sales offered a small surprise, rising in December when a fall from November was anticipated.
In Poland, their central bank raised its benchmark reference rate by +50 bps to 2.25% overnight in line with market expectations. It was the fourth consecutive increase in response to sharp inflationary pressures. Inflation is approaching 8% there.
In Australia, there were 23,131 new community cases reported yesterday in NSW, another rise, now with 157,8732 active locally-acquired cases (and undoubtedly an undercount), and 2 more deaths. And 14,020 pandemic cases in Victoria were reported yesterday, also another rise. There are now 48,297 active cases in the state - but there were only 2 deaths there too. Queensland is reporting 5,699 new cases but no more deaths. In South Australia, new cases have risen to 3246 yesterday. The ACT has 926 new cases and Tasmania 702 new cases, all big increases. Overall in Australia, 47,202 new cases were reported yesterday and their hospitalisation rates are now above peak Delta levels in some states. And their testing regime is buckling under lengthy wait times and stock shortages.
Worldwide, so many people are now contracting Omicron and having to isolate until it passes, which is affecting workplaces, including schools and hospitals, not to mention airlines, that the economic impact is sure to show up soon. The global surge will probably last for most of January.
The UST 10yr yield opens today at 1.67% and another +4 bps higher that this time yesterday. Bond markets are 'buying' the Fed's signals. The UST 2-10 rate curve starts today noticeably steeper at +91 bps. Their 1-5 curve is steeper +100 bps, while their 3m-10 year curve is also steeper at +162 bps. The Australian Govt ten year benchmark rate is up +9 bps at 1.76%. The China Govt ten year bond is up +2 bps at 2.81%. The New Zealand Govt ten year is unchanged at 2.32%.
Wall Street is lower today, but not by much, down -0.2%. in afternoon trade. Overnight, European markets continued their strong gains, up an average of +1.0%. Yesterday, Tokyo ended up a very strong +1.8% while Hong Kong ended flat, and Shanghai slipped -0.2%. The ASX200 did trade and was up almost +2.0%. The NZX50 didn't trade but is back today.
The price of gold will start today at just under US$1815/oz and back up, recovering the +US$15 it dropped yesterday.
And oil prices start today +US$1 higher at just over US$77/bbl in the US, while the international Brent price is now just over US$80/bbl.
The Kiwi dollar opens today slightly firmer at 68.1 USc. Against the Australian dollar we are softer at 94.1 AUc. Against the euro we are little-changed at 60.3 euro cents. That means our TWI-5 starts the today marginally firmer at 72.7.
The bitcoin price is little-changed today at US$46,653 from this time yesterday. Volatility over the past 24 hours has been moderate at +/- 2.0%.
The easiest place to stay up with event risk today is by following our Economic Calendar here ».