New free trade deal with the UK comes as our exports to them languish, our imports from them grow, and their services drain on our balance of payments builds. It's a deal very like one the Aussies already have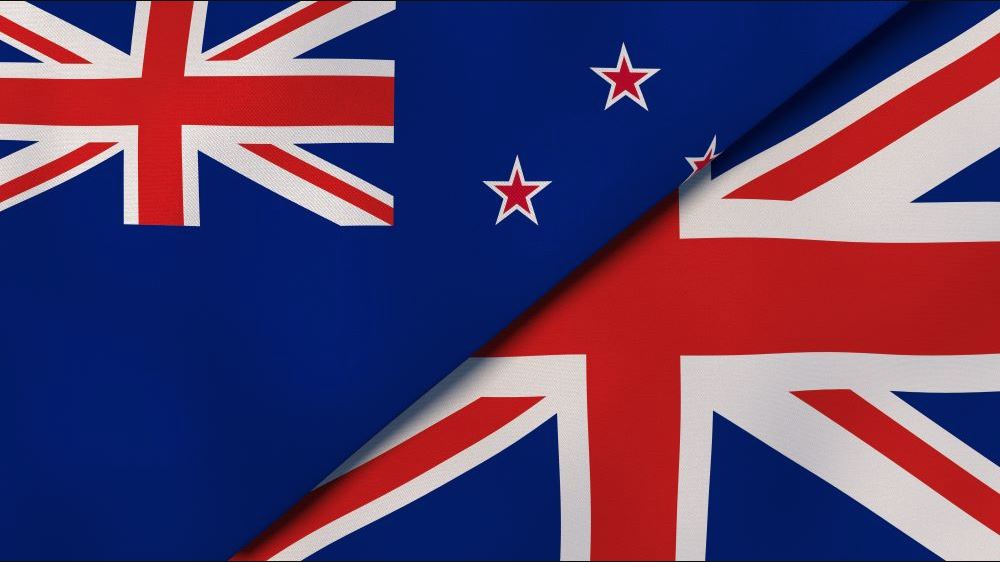 New Zealand has signed a new free trade deal with the United Kingdom. Today's signing completes the announcement made in October 2021.
The British will eliminate all tariffs on almost products it imports from New Zealand as soon as it "enters into force", and that could be by the end of 2022.
"We are aiming for this historic agreement to enter into force by the end of 2022, after both partners have ratified the agreement through our respective parliaments," Trade Minister Damien O'Connor said.
But the tariff-free extensions will still be limited by quotas. Those quotas however are agreed to be released over time in the Agreement.
In 2020, New Zealand exported $1.52 bln in goods to the UK. This fell to $1.4 bln in 2021. In 2020 our imports from the UK were $1.42 bln, and rose to $1.62 bln in 2021. Our merchandise trade went from a +$100 mln surplus in 2020 to a -$222 mln deficit in 2021 with the UK over those two years.
Further, the UK is a large investor in New Zealand and we run substantial services deficits with them.
New Zealand already levies virtually no tariffs on imports from the UK and imposes no quotas on UK goods.
This new deal is expected to save our exporters "$37 mln per year on tariff elimination ... from day one" according to the material released with the deal announcement.
And the deal gives New Zealand traders new duty-free quota access for beef, sheep meat, butter and cheese – with all quotas and tariffs removed after between five and 15 years.
The Government claims (heroically?) that it will "boost our GDP by up to $1 billion, supporting business and jobs across the economy".
In announcing the deal, O'Connor said: "It's estimated New Zealand goods exports to the UK will increase by over 50 percent through the agreement."
"Our largest export to the UK is wine – approximately $500 million. Overnight $14 million of wine tariffs will evaporate. New Zealand's honey exporters will no longer face a $16 duty for every $100 worth of honey they send to the UK."
But these gains are minor compared to the up to 15 year wait our main dairy and meat exports have had extended to them.
Given that we are in a major deficit in our overall trade with the UK, and we have to wait for any meaningful benefits, this deal hardly seems "historic" or "world leading" the parties are claiming. But it is progress, even though we are being forced to wait for that progress.
There are other elements included important to Wellington.
"This is our first bilateral trade agreement to include a specific article on climate change and includes provisions towards eliminating environmentally harmful subsidies, such as harmful fossil fuel subsidies, and prohibiting fisheries subsidies which lead to overfishing," Prime Minister Ardern said.
"It also includes a ground-breaking Māori Trade and Economic Cooperation chapter that will create a platform for cooperation on issues important to Māori."
O'Connor noted: "... over 290 environmentally beneficial products have been prioritised for tariff elimination – the largest environment goods list ever agreed in the world for an FTA."
"This agreement reflects the Government's Trade For All agenda, ensuring this FTA works harder both for our economy and our society.  It includes commitments on SMEs, trade and gender, trade and development, and consumer protection," he said.
The FTA also includes commitments on the movement of business persons, making it easier to do business in the UK.
The New Zealand deal comes ten weeks after the Australians concluded their "deal in principle" with the UK. That earlier deal was also labelled "gold-standard" and "historic". The Australian deal has remarkable similarities to the one New Zealand has just signed.
Compared with our existing trade with China, this new deal is small beer. Compare with our existing trade with Australia, the USA and Japan, it is not large either.