Ardern concerned GIB shortages hurting housing supply; expects Woods to move later this week as critics call for supermarket-style breakup of Fletcher's monopoly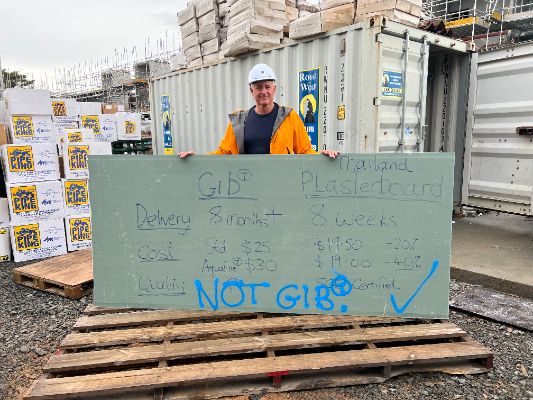 Prime Minister Jacinda Ardern has put Fletcher Building's 95% market share in the plasterboard market on notice over its failure to supply builders with enough GIB to keep the housing supply growing. 
Some shareholders and large builders are calling for Fletcher's control of various building material sectors to be broken up to improve competition, security of supply and to reduce inflation. The Commerce Commission is currently doing a market study of the sector. Its draft report from its market study of supermarkets recommended a breakup of the supermarkets duopoly of Foodstuffs and Woolworths' Countdown, which the Government is now considering. 
Ardern said she spoken to new Building and Construction Minister Megan Woods on Monday about the GIB crisis and expected Woods to make an announcement later in the week. 
"We've already indicated some time ago that we're concerned around the issue of building supplies in New Zealand. That's something that is already on our agenda, but looking specifically at the question of GIB and access to it, yes, I am concerned," Ardern said late on Monday.
"Obviously, we have a focus as a government on building more houses given that we have been tackling a housing crisis, and anything in terms of building supplies that stands in the way of that, yes, we are of a mind to make sure that we play our role in addressing it where it is viable," she said. 
"I was just discussing this with Minister Woods today. I imagine she'll have more say on it this week."
Ardern's comments at this week's post-cabinet news conference came as anger grows at Fletcher Building's Winstone Wallboards' unit failure to keep up with orders for its GIB product, which has been a factor in over 90 small building firms collapsing under the weight of unfinished homes. 
Last week Simplicity Living, which is building 550 build-to-rent apartments in Auckland, cancelled its orders for GIB and said it was importing container loads of plasterboard from Thailand. Parallel importer Container Door also said Sunday it was bringing in dozens of containers of plasterboard from Thailand. 
Simplicity CEO Sam Stubbs and NZ Shareholders' Association CEO Oliver Mander met with Fletcher Building CEO Ross Taylor on Friday to air their criticism of how Winstone Wallboards had failed to keep up with demand. They said immediately after the meeting they remained concerned and had been surprised with Fletcher's lack of humility over the situation.
Mander and Stubbs sent a letter to Fletcher's board Monday calling for the resignation of Chairman Bruce Hassall, for all of the directors to put themselves up for re-election at the next shareholders' meeting, and for independent reviews of the company's culture and risk practices. 
In the letter they said:
"Following the meeting, we observe that the culture of the business remains internally focused, likely as a result of the company having been in a privileged position and as a dominant player for a long time.
• We have yet to see any "mea culpa", or substantial admittance of fault for FBU's role in the current plasterboard supply crisis.
• Your refusal to acknowledge the existence and depth of stakeholder dissatisfaction speaks to a corporate culture based more on hubris than humility.
• There has been poor risk management and business decision-making, exemplified by the management of the current GIB supply crisis provides evidence. At our meeting last week, there was no evidence provided to support the quality of your risk & assurance processes.
• The company does not appear to have learnt the lessons from the past in terms of effective risk management."
Last week Simplicity Living Managing Director Shane Brealey called for Government intervention. 
"It is time for the Government to step in and ensure we have a normal competitive market just like everywhere else in the world," Brealey said. 
"They should be making a level competitive playing field which clearly we don't have at the moment. You can't have a company that has 95% market share in a really basic material like plasterboard," he said.
"There's a cost of building crisis in New Zealand, and the hubris of Fletcher Building is only making it worse."
Fletcher Building is building a new plasterboard plant near Tauranga and was forced earlier in March to stop taking new orders directly until the end of June. It implemented a rationing system for smaller clients. Meanwhile, it continued with long-term supply arrangements with its own distribution chain, Placemakers, and some large clients, including its own Fletcher Living residential development arm. It was also criticised after stockpiles of GIB were discovered at a Fletcher Living site early last week. 
After weeks of criticism from the industry and growing concerns about living costs, which are partly being fuelled by construction costs rising at double-digit rates, Fletcher announced last week it would import 1m square metres of plasterboard to help its clients with shortages. 
Simplicity Living was critical of Fletcher's forecasting and supply arrangements. 
"By looking at building consents, Fletchers must have known there would be a shortage of plasterboard at least 12 months ago. So why aren't they doing what we've just done?," Brealey said.
"Without adequate supplies of plasterboard, it is effectively impossible to finish many homes. We welcome the Commerce Commission enquiry into building suppliers. Something has to happen, because the status quo is so bad."
The Shareholders' Association was also critical of Fletcher Building's underperformance as an investment in the last five years. Its total returns have fallen 20% at a time when the rest of the market has risen 40%, despite a building boom for much of that time. 
Mander and Stubbs concluded in their letter:
"Fletcher Building has, and must maintain, a social license to operate. It has an obligation to customers and stakeholders to maintain supply and competitive pricing to ensure the overall health of the building sector. It is failing in this, and we question the sustainability of the business model to deliver long-term performance for the company.
"We believe the conduct of the company has now created significant regulatory risk and a possible customer revolt. This crisis has highlighted what we see as systemic failures within the company which are ultimately the responsibility of the Fletcher Building Board."
Officials have been scrambling for weeks to break the regulatory logjams stopping builders from using other products, particularly those imported from overseas. MBIE and Auckland Council reassured ministers and the public last week that the largest consenter had begun approving non-Gib plasterboard.