New aggressive goals for New Zealand's relationship with China in the new NZ Inc China Strategy are reviewed by Professor Ang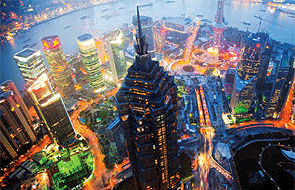 This year, New Zealand and China celebrated 42 years of diplomatic relations.
The latest episode in the increasingly closer ties between China and New Zealand comes in the form of the deal that allows the direct trading of the New Zealand dollar against the Chinese currency, the renminbi or yuan on March 18th this year, providing a platform for further trading between the two countries and facilitates the interactions of businesses from both sides.
A significant milestone in the NZ-China business relationship is the free trade agreement signed in April 2008, which took more than three years and fifteen rounds of negotiation.
The agreement also represents China's first with a developed country.
It was also to be New Zealand's largest free trade ageement after the Closer Economic Relations agreement with Australia, which was signed in 1983.
To strengthen economic, political and security relationships with China, the New Zealand government has also set up the NZ Inc China Strategy to build on the free trade agreement.
Some of the goals include doubling two-way goods trade with China to $20 billion by 2015, growing services trade with China including 20% in education and 60% in tourism by 2015, and increasing bilateral investments.
Business and trade with China
In November 2013, China surpassed the United States as the world's leading trade partner.
Now, 124 countries consider China as their largest trading partner while only 76 countries claim the United States in their case.
The magnitude of shift in international trade is huge considering that back in 2006, the United States was the largest trading partner for 127 countries, while China was only holding that status with 70 countries.
Not surprisingly, New Zealand is also part of this trend, with China becoming our largest trading partner in 2013. In the first quarter of 2014, New Zealand exports to China reached $3.5 billion, up by 54 percent from the same period in 2013. Imports are also up by 6.3 percent to reach $1.9 billion.
Based on these figures, chances are high that the NZ Inc China Strategy of bilateral trade of $20 billion by 2015 could arrive earlier. The two countries have recently adjusted their targets for $30 billion by the year 2020.
China and New Zealand have a history of education links and exchanges, including bilateral scholarship programmes and academic cooperation. Until 1998, a New Zealand quota system permitted only 100 Chinese students per year to study in New Zealand.
With the removal of this restriction, in recent years China has become by far New Zealand's most significant source of foreign students.
The latest data also shows an increase of 55 percent in tertiary Masters level enrolments at universities in 2013.
In the year to April 2014, the number of Chinese visitors to New Zealand has gone up 10.4% to 239,376. With more transparency from the new China Travel Law, we should expect more Chinese visitors to New Zealand. There has been an increase in longer stay trips in New Zealand and also New Zealand's better appeal as a standalone destination without being packaged together with Australia.
Both the education and tourism service sectors face a common challenge moving forward - understanding the potential customers and their changing consumption patterns. It is evident that Chinese customers are more quality focused with the rising middle income group leading the way.
Yet, the average expenditure per trip in New Zealand has not experienced any increase for many years. Our education packages are also under challenge with the Australian and US markets making more direct approaches. Clearly, rethinking our propositions should rank high on the agenda.
An alternative view of the 'over-reliance on one market' concerns
There have been concerns over what needs to be done to reach the new bilateral trade target for year 2020. In particular is the issue of over-reliance on a single market.
We are not alone in this as mentioned above.
Market forces will likely necessitate New Zealand to respond and be further involved in trading with China.
But growth in overall trade, for example through our trade with the Association of Southeast Asian Nations (ASEAN), India, and South America should ensure that the economy has a more balanced approach and mitigate the concerns of dependency on one market.
What seems to be missing from all these discussions is an accidental omission of the role that investment could play.
New Zealand businesses are generally export-oriented with a limited number engaging in direct investment abroad. Beyond the export of services such as education and tourism, our exporting of merchandise can be limited in the medium term as we have size constraints.
What needs to happen is more businesses engaging in investment abroad, which can further allay concerns over trade imbalance.
To this end, there is greater collective wisdom out there on how to do businesses in China, which clearly represents an alternative to our trade strategies.
---------------------------------------------
Professor Siah Hwee Ang holds the BNZ Chair in Business in Asia at Victoria University. He will be writing a regular column here focused on understanding the challenges and opportunities for New Zealand in our trade with China. You can contact him here