Westpac takes PayTag mobile payment sticker live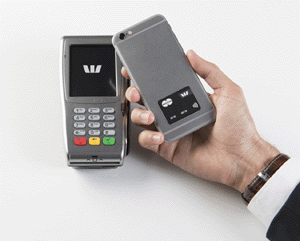 Westpac has launched PayTag, a contactless payment system via a sticker that attaches to mobile phones.
"Like a contactless card it's a fast and convenient way to pay for small purchases. Simply hold your Westpac PayTag to a contactless enabled EFTPOS terminal and your payment will be made. You can use your Westpac PayTag for any purchases under $80," Westpac says.
"There's no annual fee for the Westpac PayTag, but there's a $4.99 charge each time you're issued with one. This charge is waived for Westpac World MasterCard customers. For a limited time this charge is also waived for all other eligible credit card customers who apply for a Westpac PayTag."
ASB has also been trialling PayTag.
Here's Westpac's full release
Westpac has launched its new mobile payment sticker, enabling customers to make payments with any mobile device.

The Westpac PayTag, can be attached to the back of a mobile device(or any other suitable item), enabling customers to make quick, secure contactless payments of up to $80 simply by holding their smartphone up to a contactless terminal.

Westpac's Chief Product Officer Shane Howell said feedback from the Westpac PlayTag trial earlier this year had been overwhelmingly positive.

"We're excited we're able to offer a way for all of our customers to make payments using their mobile device, regardless of what type of device or operating system they have. Westpac PayTaguses PayPass contactless technology providing an easier and faster experience for our customers at point of sale."

Developed in partnership with Gemalto, Westpac PayTag is protected by secure encryption technology making it just as safe as an ordinary contactless card. If a Westpac PayTag is lost or stolen it is covered by MasterCard's Zero Liability policy for unauthorised transactions.

Howell said New Zealanders were embracing mobile payments with less cash per capita circulating here than in other OECD countries , and Westpac PayTag was just one of the solutions being looked at by the bank.

"We are also trialling Host Card Emulation (HCE) "digital wallet" technology whichenables credit and debit card details - and over time things like transport cards, loyalty cards and potentially ID - to be accessible from Android smartphones. This will be available to our customers from early next year."

Westpac PayTag is available via Westpac's website, contact centre and in branches and customers' first PayTag will be free for a limited time.