Bank bosses air concerns about foreigners pushing NZ asset prices too high, and they're also worried about house price inflation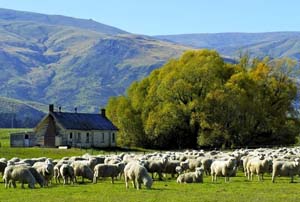 Bank bosses have, perhaps inadvertently, waded into the debates about foreigners buying up New Zealand assets and Auckland's surging house prices.
KPMG's annual Financial Institutions Performance Survey says bank executives spoken to are concerned about foreign investors paying big prices to buy up the likes of New Zealand homes, commercial property, farms and businesses. However, some of their comments suggest banks frustrated at being shut out of deals by cash buyers.
KPMG head of financial services John Kensington said; "They [banks] are seeing significant deals done at ridiculous pricing across all asset classes and in many cases without the bank providing funding.
"Executives commented that there is a lot of money flooding into the New Zealand market from overseas investors who are able to buy assets with cash, thereby avoiding the need to borrow, which is distorting asset prices and yields."
Kensington told interest.co.nz foreign investors are often willing to pay 10% to 15% more than New Zealanders, decreasing the yield on invested assets.
He said you don't have to look far to see examples of foreign investors fronting up with the cash.
A private company owned by Chinese investors bought New Zealand's pioneering sheep milk processing plant and brand earlier this year. Blueriver (HK) Nutrition Company Ltd bought Blue River Dairy in Invercargill, and plans to spend $40 million expanding it.
The Chinese company that bought the Crafer farms, Shanghai Pengxin, is awaiting approval from the Overseas Investment Office to buy the $70 million Lochinver Station near Taupo through its subsidiary. The sheep and beef farm would be the second-largest acquisition of farmland by a foreign buyer in terms of value. 
China's Shanghai CRED Real Estate bought Peppers Carrington – one of Northland's most luxurious resorts – in late 2013. It plans to do major upgrades to the property, which overlooks a golf course and the sea. 
Furthermore, Kensington said New Zealand's high interest rates are attracting cash from overseas.  While most of the investment is coming from Asia, Kensington said it's also coming from Europe. He said a small upswing in Europe could produce a sum of money that's proportionately large in New Zealand's market.
New Zealanders left to pick up the pieces
"The risk for New Zealand is that, while all this money comes flooding in and creates over-inflated prices, New Zealanders are forced to buy at these over inflated prices," Kensington said.
"If at some stage in the future the money is needed back offshore, due to some event, or the rest of the world becoming more attractive, there could be a lot of assets dumped in the New Zealand market.
"The offshore investor may be willing to accept a haircut to get the money back offshore, but the impact on the New Zealand economy for everyday borrowers could be significant as very small percentages of international money allocated to New Zealand are comparatively equal to very large amounts in the local monetary system and can thereby have a significant impact."
Kensington said banks are refusing to fund clients keen to keep up with foreign investors, if it means borrowing beyond their means.
Bank executives concerned about surging house prices
Bank executives also told KPMG they're also worried about house price inflation and see signs of a continued pick up in prices and competition, particularly in Auckland.
While Official Cash Rate rises and loan-to-value ratio restrictions can change things at the margin, they agreed a lack of supply is the real issue.
Kensington said bank executives maintain, "With inflation continuing to be weaker than expected, falling oil prices, interest rate cuts and a strong economy, there could potentially be a significant upwards impact on house prices inflation.
"The consequences of an abrupt sharp price correction, were it to occur, could be devastating for the banking sector (which has 53% of its loan exposure in residential property)."
Kensington said banks are reining in risks such as lending to people without enough cash or adequate security.
He said there's a risk exceptionally low mortgage rates will see people sucked into buying houses, only to be left in a tight spot when interest rates bounce back up.