ANZ to launch solo mobile wallet in the second-half of this year using host card emulation technology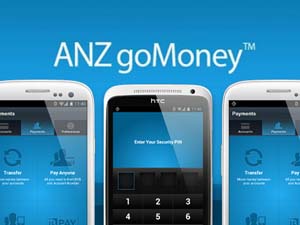 ANZ has revealed plans to launch a mobile wallet in the second-half of this year using host card emulation (HCE) technology, which stores and transmits payment card information such as cardholders' names and card numbers in the cloud.
The bank says the key benefit is the wallet will be within its goMoney mobile banking app, thus negating any need for a separate application or SIM card upgrade.
Payments can be made "with just one tap," ANZ says, with customers able to make contactless payments via their smartphones where contactless payments terminals are available. An ANZ spokesman told interest.co.nz the bank hasn't yet started trialling the wallet.
ANZ's announcement confirms the bank has no immediate plans to join collaborative mobile wallet project Semble, which features ASB and BNZ and the country's major telcos. Westpac is also working on launching its own mobile wallet using HCE technology.
Of Semble ANZ does say, however, the two will remain in dialogue and ANZ will "continue to watch Semble's progress with interest following its launch." This launch is likely to be soon.
Semble is using near-field communications (NFC) technology via Android smartphones. Semble will store consumers' personal information encrypted on a "secure element" contained within the SIM card, like the chip embedded in credit cards.
Both the ANZ and Semble services mean customers will essentially be able to make payments by logging in to the app through their smartphones, and waving their phones over a payment terminal like you would with a contactless card.
The goMoney Wallet will only be available to Android (not Apple) smartphone users. Apple last year launched a mobile payments service via iPhones named Apple Pay in the US. Apple's yet to say when this may be introduced in New Zealand.
"We're watching the development of Apple Pay overseas with interest and look forward to seeing further details, including when it might be rolled out in New Zealand. In the meantime, we are continuing to develop our Android wallet solution within ANZ goMoney," the ANZ spokesman said.
ANZ says 120,000 of its customers will meet the criteria for the mobile wallet – have a compatible Android smartphone, the ANZ goMoney app, and an ANZ debit card or personal credit card.
ANZ's head of digital channels and transformation Liz Maguire says, "Mobile wallet is the next evolution in payments, enabling customers to use smartphones to make everyday credit or debit card purchases – such as coffee, petrol or groceries.
"Our goal is for the goMoney Wallet to be the most accessible, secure and easiest to use mobile payments solution in New Zealand."
ANZ says, "Using HCE technology, the wallet will feature the most advanced encryption technology to protect customers' financial information."