Westpac warns the Canterbury rebuild is reaching its peak, with construction set to tail off soon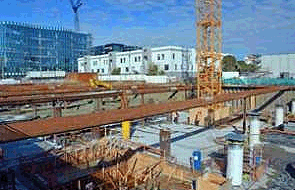 We won't be able to rely on the Canterbury rebuild to keep bolstering our gross domestic product (GDP) for much longer.
A report released by Westpac, 'Focus on the Canterbury Rebuild', says we can expect construction activity in Canterbury to remain strong for some time, but we are fast approaching the peak of the rebuild following the devastating earthquakes of 2010 and 2011. GDP grew at a seven-year high of 3.3% last year.
"Around half of planned reconstruction spending will have been completed within the next two years, after which time there will naturally be a tapering off in demand", says Westpac senior economist Satish Ranchhod.
Reconstruction was around 30% complete at the start of this year, with reconstruction spending last year being around 40% higher than in 2013, and 150% higher than it was at pre-earthquake levels.
Westpac estimates total reconstruction will cost around $35 billion, which is equivalent to around 17% of annual GDP.
After peaking early next year, Ranchhod expects reconstruction spending to gradually ease back. This will give the rebuild a 'long tail', slow GDP growth and cause a drop in the demand for labour.
Ranchhod says, "Australia has had a similar experience in recent years, with slowing spending on mining investment contributing to a marked downturn in GDP growth."
Building and labour cost pressures
He fears labour market pressures, coupled with rising building costs, will stretch budgets and cause some repairs and rebuilds to be delayed or cancelled.
Following strong growth in recent years, Canterbury's unemployment rate has already fallen to 3.5% – similar to the very low levels that prevailed prior to the global financial crisis.
Any spare capacity in the labour market will be snatched up, as construction and economic activity increases over the coming year.
Ranchhod says, "This tightness in the labour market is likely to be reinforced by increasing competition for construction labour over the coming years as building activity in other regions, particularly Auckland, increases.
"These conditions will provide a brake on the amount of construction work that physically can occur."
He says the pace of construction will also be constrained by increases in building costs.
"Prior to the earthquakes, costs of construction in Christchurch were below the national average. However, since 2011 the average cost of residential construction in Canterbury has risen by around 36%.
"This has pushed average residential construction costs in Canterbury above both the national average and the cost of building in Auckland.
"In part, these increases have been related to the tightness in the labour market. Base wage rates in Canterbury's construction sector have increased by 9.4% since 2012 – well above the 5.7% increase seen in other regions."
Furthermore, Ranchhod says the strong increases in Canterbury house prices and rents in recent years have petered off.
"This combination of cost increases and a softening outlook for house prices and rents means that further significant increases in residential construction activity are likely to be uneconomic."
Residential properties
Westpac expects reconstruction work on residential properties to cost around $16.5 billion.
The vast majority of Earthquake Commission-funded repairs (costing up to $100,000) have been completed. The repair of these 69,000 properties is expected to cost $2.5 billion.
Insurers have paid for the repair or rebuild of 3,000 of the 24,000 homes over the EQC cap. A number of these more complex and expensive projects have been completed by private owners.
Ranchhod says residential construction is peaking now and will remain elevated for some time. Based on the level of consents issued over the past year, he expects 18,000 to 20,000 homes to be constructed between now and 2017.
However, in addition to high building costs, and rents and home prices levelling off, Ranchhod says a decline in population growth is likely to limit the number of new dwellings built.
Statistics New Zealand projections imply 2,300 houses will need to be built per year in Canterbury, to accommodate for population growth between 2018 and 2028.
Prior to the earthquakes, around 2,500 to 4,500 homes were built in the region per year.
Ranchhod adds, "Consistent with these factors, many of those we spoke in our recent talks in Christchurch highlighted that demand for subdivisions has started to wane.
"There has also been a pullback in residential consent issuance in recent months."
Non-residential properties
Westpac expects the reconstruction of non-residential properties to cost around $20 billion.
Ranchhod says commercial construction work has been proceeding more gradually than work on residential dwellings and infrastructure, meaning work will continue late into the decade.
A lot of progress has been made repairing and replacing horizontal infrastructure like roading.
The planning and construction of public and social assets like education and health care facilities has started, but a lack of funding has caused delays.
As for private projects, insurers have paid around $8 billion for commercial claims.
However, Ranchhod says the economic incentives for new commercial construction have moderated over time.
"There has already been a large amount of commercial office space built in recent years, and many tenants are now locked into long-term leases", he says.
"At the same time as supply has been increasing, construction costs have risen sharply, pushing up the nominal returns that new projects need to generate in order to deliver an adequate yield to investors."
Ranchhod says it's likely some projects will be delayed until economic conditions are more conducive, while others are likely to be cancelled altogether.