FMA kicks Luigi Wewege led Vivier and Company off the Financial Service Providers Register; Vivier directors 'surprised'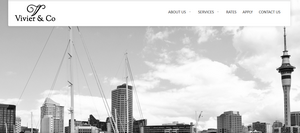 New Zealand registered company Vivier and Company Ltd, which featured in an investigative Irish TV report in February, has been kicked off the Financial Service Providers Register (FSPR) by the Financial Markets Authority (FMA).
FSPR records show Vivier, whose CEO is Luigi Wewege, was the recipient of "FMA directed deregistration" on Monday. Wewege hit the headlines in media coverage of Auckland Mayor Len Brown's affair with Bevan Chuang in 2013.
The 30 minute Irish report entitled The loot and the loans by journalist Conor Ryan of the RTÉ Investigations Unit, claimed mortgages offered in Ireland by a sub-prime mortgage company were funded by the proceeds of one of Britain's largest ever tax frauds.
The sub-prime mortgage company was formerly named Home Funding Corporation but changed its name to Vivier Mortgages Ltd last year with its shares transferred to Wewege, RTE reported. Wewege claimed RTE's story was inaccurate and said Vivier would sue the broadcaster. RTE said it was standing by its story.
An FMA spokeswoman confirmed to interest.co.nz that Vivier and Company has been deregistered as part of the regulator's ongoing review of the FSPR.
"We do not comment on specific details relating to individual entities," the FMA spokeswoman said.
Although the Ministry of Business, Innovation & Employment's Registrar of Companies maintains the FSPR, the FMA has powers to direct the Registrar to remove companies from the FSPR.
The FMA can do this if an entity or individual's registration has, will have, or is likely to have the effect of (a) creating, or causing the creation of, a false or misleading appearance with respect to the extent to which they/it (i) provides, or will provide, financial services in New Zealand; or (ii) provides, or will provide, financial services from a place of business in New Zealand; or (iii) is, or will be, regulated by New Zealand law in relation to a financial service; or (b) otherwise damaging the integrity or reputation of (i) New Zealand's financial markets; or (ii) New Zealand's law or regulatory arrangements for regulating those markets.
Companies deregistered under the FMA's direction have the right of appeal to the High Court within 20 working days of deregistration.
An emailed response to interest.co.nz from Vivier said; "The directors of Vivier and Company Limited are surprised at the decision and are currently considering their position."
Vivier and Company Ltd remains registered as a New Zealand company via the Ministry of Business, Innovation & Employment run Companies Office. Wewege is listed as one of five directors and Michael Alan Charles Hart, whose residential address is listed as being in Auckland, is listed as shareholder. According to his LinkedIn profile Wewege is Vivier and Company's chief executive.
"Vivier & Co was incorporated in 2001 and is a boutique Financial Service Provider, registered in New Zealand. With a near 15 year tradition, our core focus is to offer savings accounts featuring above average returns, without market risk volatility. We achieve this by making highly selective loans, secured against real estate," Wewege's LinkedIn profile says.
Companies Office records show John David Beckett, or Lord Taylor of Warwick, was a director of Vivier and Company between September 3 and November 23 last year. A member of Britain's House of Lords, he was jailed in 2011 for false expense claims, and disbarred in 2012 for "'conduct discreditable to a barrister."
This story was first published in our email for paying subscribers. See here for more details and how to subscribe.