NZ links to Irish sub-prime stoush highlight the potential for an undesirable form of regulatory arbitrage around our AML law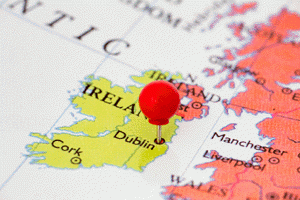 By Gareth Vaughan
A New Zealand company accused in an Irish TV investigation of tax fraud and money laundering is poised to drop completely off the radar screen of this country's anti-money laundering regulators.
The company, Vivier and Company Limited, describes itself as a boutique financial services provider incorporated and registered in New Zealand. Luigi Wewege is one of its directors and he also features in the Irish TV programme. Wewege previously hit the headlines in media coverage of Auckland Mayor Len Brown's affair with Bevan Chuang in 2013.
A second New Zealand company, City Savings Bank, which became City Savings and then Friends Mutual, also features in the programme.
The 30 minute Irish report entitled The loot and the loans by journalist Conor Ryan of the RTÉ Investigations Unit, aired earlier this month and can be viewed on RTE's website. The promo for the report says; "The RTÉ Investigations Unit has revealed how mortgages offered in Ireland by a sub-prime mortgage company were funded by the proceeds of one of Britain's largest ever tax frauds."
In a fascinating, detailed, albeit depressing story, New Zealand plays a not insignificant role. The RTÉ programme has resulted in Wewege and Vivier saying they'll sue RTÉ and Ryan, and the broadcaster saying it may sue Vivier.
Compounding interest
At the centre of the story is an Irish company formerly named Home Funding Corporation Ltd (HFC). It's now known as Vivier Mortgages Ltd. The RTÉ report says HFC targeted rural Ireland with quick loans and high interest rates. It says the money behind the mortgages was the proceeds of a "massive tax fraud." The "man who set up the money laundering operation" still stands to benefit from the repossession of Irish homes, Ryan says in the programme.
Across Ireland customers of the sub-prime lender are fighting to stay in their homes after being hit with penalty interest rates that turned small loans into "very big demands." Dublin based HFC is named as the company behind their mortgages.
Ryan goes on to say HFC was part of "a complex web that used unregulated lending here to launder the proceeds" of British tax fraud. He says lengthy court action by HFC is now being used to repossess homes and farms from borrowers hit by compounding interest that's sending them deeper into debt. One unnamed borrower tells Ryan from an initial loan of IR£40,000, she now owes €1.4 million and faces an additional €28,000 of interest per month.
The money behind her loan, Ryan says, came from "the crimes of English accountant Ian Leaf," who in 2009 changed his name to Ian Andrews.
'A fraudster rather than a clever avoidance merchant'
Aileen Barry, a former tax inspector at Inland Revenue UK is interviewed about Leaf/Andrews. Barry says Leaf used various structures to perpetrate his crimes.
"Perhaps the most common one was when he acquired a company that had paid tax on legitimate trading profits...And then he would create a loss artificially in that company by pretending to lend it money which would be charged a higher rate of interest. But on paper that loss therefore enabled him to say 'I want the tax back that I've already paid.' And that was the essential difference between just being a clever avoidance merchant and being a fraudster," Barry tells RTÉ.
Leaf was sentenced to more than 12 years jail in 2008 for stealing north of £50 million from Inland Revenue. However, when trying to confiscate the money from Leaf, the UK Crown court found only £16 million.
"It emerged he controlled HFC and pumped hidden proceeds of crime into it," Ryan says in the RTÉ report. (Here's an article from the Irish Examiner in 2013 saying Leaf in fact cheated British taxpayers out of £76 million and was by then out of jail having been released in 2008).
The NZ links
Ryan goes on to say HFC was sold to English company City Corporation Ltd, which "bought the rights to squeeze what was left from Irish borrowers." He says City Corporation wasn't however, a clean break given Ian Leaf changed his name to Ian Andrews and came to control and profit from City Corporation.
City Corporation is also the ultimate parent of New Zealand's City Savings Bank, "a bank with a small b" as manager Simon Virgo told me in 2012. City Savings Bank subsequently changed its name to City Savings, and then Friends Mutual. Friends Mutual was deregistered as a New Zealand financial services provider on February 17.
Last year HFC changed its name to Vivier Mortgages Ltd. In the RTE programme Ryan says the company's shares were transferred by City Corporation to "a 29 year-old businessman Luigi Wewege who controls a boutique investment firm in New Zealand." He says Vivier Mortgages is looking for new business in Ireland and is "pressing ahead" with court actions against existing borrowers.
Ryan says HFC was never regulated, meaning under the new Vivier Mortgages name the company can legitimately avoid Ireland's code of conduct in mortgage arrears. However, he says in correspondence with RTÉ the company says it complied with the code in relation to all court proceedings issued by it.
"During the course of our investigation Mr Wewege told us that he is the beneficial owner of Vivier Mortgages Ltd and that Ian Leaf was only ever a consultant for the company. Mr Wewege also said Ian Andrews was not a shareholder, nor a director, nor a person who issued directions or instructions that the directors of Vivier Mortgages are accustomed to act upon," Ryan says in the TV programme.
"However, based on the latest set of company accounts signed by Mr Wewege, much of what Vivier Mortgages stands to recover from Ireland would have to go back to City Corporation and other related entities. This means Ian Leaf will continue to reap benefits as Vivier Mortgages pursues repossessions."
Ryan adds that Andrews told RTÉ via a letter that he set up HFC and controlled it until 2004, but the company wasn't funded from the proceeds of crime. Andrews denied ever owning or controlling City Corporation saying it was owned by "another man who he had been in business with for 30 years."
Vivier Mortgages Ltd's abridged financial statements for the 2013 calendar year, seen by interest.co.nz, show debtors of €7.3 million and €15,617 cash in hand. They also show creditor amounts falling due within one year of €102,248, and creditor amounts due after more than a year of just under €4.4 million. Shareholders' funds are put at just under €2.86 million.
The statements also say, included within creditors, the company owes "100% parent company" City Corporation Ltd about €3.3 million, and "associated company" Friends Mutual Ltd €76,500.
Wewege's response
Meanwhile, Wewege, when contacted for comment, sent interest.co.nz the statement below.
Over the past few months VML (Vivier Mortgages Ltd) was contacted by Mr Conor Ryan and other reporters working on a programme for RTE, the Irish broadcaster.

It soon became clear that a number of untrue and defamatory allegations - about VML and persons formerly or currently connected with it - would be made in the programme and had already been made to third parties.

After VML clearly outlined the correct position to RTE, its lawyers confirmed that the programme and/or its reporting would be "fair and balanced", "fair, impartial and objective", "fair to all interests concerned", "fair and accurate", "broadcast in good faith" and contain "nothing misleading, unsavoury or malicious" nor any "distortions or untruths". VML was further assured by RTE's lawyers that it "adheres to high standards of journalistic ethics" and follows "proper journalistic standards".

Unfortunately, this did not happen: despite withdrawing many of the untrue and defamatory allegations, when broadcasting its programme on 5th February, RTE retained a number of others.

Accordingly, on 13th February 2015, following the advice of Senior and Junior Counsel, VML issued proceedings against RTE and Mr Ryan. The proceedings are for defamation, procuring a breach of confidence, malicious falsehood and other wrongs, for which aggravated and exemplary damages are sought. It is expected that other parties will issue similar proceedings in the English High Court.

The true position, as previously stated to but ignored by RTE, is as follows:

In 2004, VML effectively came under the control of the British Government.

In 2011, VML was sold by the British Government to an English private company.

In 2014, VML was sold by that English company to its present owner.

The beneficial owners of VML's shares and debt are those appearing on the public register.

VML's current owner and directors are entirely distinct from the previous owners and directors.
RTÉ is standing by its report, which remains available online. Ireland's Sunday Times reported RTÉ is also threatening to counter sue Vivier saying Vivier's statement is defamatory about its staff.
6% deposit rates & other banking services
Vivier and Company's website (pictured below) promotes deposit rates of up to 6%, and says the firm offers debit cards, an online platform, international money transfers, escrow services, multi-currency investment accounts, private account, and offshore accounts.
Of its deposits Vivier says; "We offer accounts with attractive returns, no volatility risk and different notice periods. Rates are fixed for the period and interest is paid tax free every quarter to a nominated account."
Its registered office and address for service are listed as level 31 the Vero Centre on Auckland's Shortland Street. Serviced office and virtual office provider Servcorp also says it's located on the 31st floor of the Vero Centre.
Vivier's website lists phone numbers for Vivier in Auckland, Madrid, London, Hong Kong and Shanghai. It also provides details for offices in Dubai, London, Paris, Munich, Madrid, Dublin, Udine (Italy), Lagos, Johannesburg, Shanghai, and Hong Kong.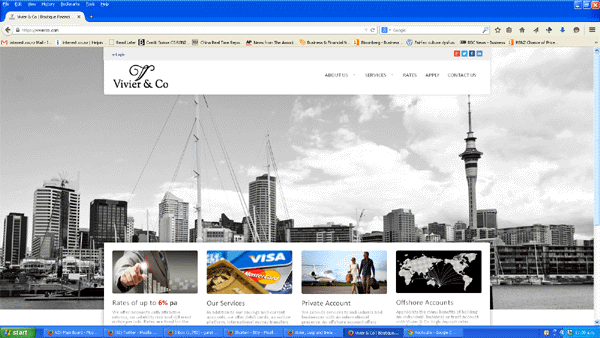 Department of Internal Affairs ending Vivier's AML oversight
A spokesman for the Department of Internal Affairs (DIA) told interest.co.nz DIA supervises Vivier and Company for compliance with New Zealand's Anti-Money Laundering and Countering Financing of Terrorism Act (AML/CFT Act). However, this won't be the case for much longer.
"The Department of Internal Affairs initiated a desk-based review of Vivier and Company Limited's AML/CFT programme under New Zealand's Anti-Money Laundering and Countering Financing of Terrorism Act 2009 late last year. In the course of carrying out the review we have established that Vivier is not currently carrying on any financial activity in the ordinary course of business in or from New Zealand. Their financial activity is outside the territorial scope of the AML/CFT Act," the DIA spokesman said.
"This means they are currently not captured by the AML/CFT Act. We will be reviewing the list of DIA's reporting entities on our website in March, which will include deleting Vivier as one of our reporting entities."
DIA is one of three New Zealand AML/CFT Act supervisors alongside the Reserve Bank and Financial Markets Authority (FMA). Each of the three supervises compliance by different entities.  See more on this here.
Asked about Vivier and Friends Mutual, an FMA spokesman said the FMA isn't currently actively monitoring either entity and there are no specific matters of concern relating to the FMA's regulatory jurisdiction that have been raised with it. 
Potential for an undesirable form of regulatory arbitrage
Whatever Vivier has or hasn't done, might or might not do, issues raised in the Irish TV programme, and DIA's actions, again highlight what I described as "a clear and notable flaw" in the AML/CFT Act back in August 2013. The flaw is that the AML/CFT Act has no explicit territorial clause in it.
That means the AML/CFT Act doesn't tell you what its territorial scope is. Guidelines on the territorial scope of the AML/CFT Act note; "An entity incorporated or formed in New Zealand, which carries on financial activities wholly outside New Zealand, will not be a 'reporting entity' under the AML/CFT Act."
This is guidance only, rather than statute. However, there's a fundamental principle that the New Zealand Parliament doesn't intend laws to have extra-territorial effect unless it explicitly says so.
Thus we have a situation where companies can take advantage of our simple company registration system and offer financial services off the back of New Zealand's good reputation overseas, knowing they aren't supervised by our regulators under our anti-money laundering laws.
Then Commerce Minister Craig Foss last year highlighted that the World Bank Doing Business Index ranks New Zealand number one for starting a business and number three for overall ease of doing business. Foss also hailed the passing of the Companies and Limited Partnerships Amendment Bill, saying New Zealand now has a robust regime that will limit the opportunity for dodgy individuals to use shell companies to exploit our good name. (See more in this video interview with Foss here and in our coverage of offshore finance companies here).
No complaints, MBIE to make enquiries
As a registered New Zealand financial services provider, Vivier is a member of Financial Services Complaints Limited (FSCL), which its website notes is a New Zealand Government approved Dispute Resolution Scheme.
FSCL CEO Susan Taylor told me FSCL hasn't received any complaints about Vivier and Company or Wewege.
"When processing and accepting applications from financial service providers to become FSCL participants, we rely on the fact that the participant has successfully registered on the Financial Service Providers register (overseen by the Ministry of Business, Innovation & Employment, or MBIE). In other words, The Registrar is satisfied the financial service provider is fit to be registered and has completed the criminal check etc," Taylor said.
"As a dispute resolution scheme, we can only investigate complaints brought to us by an individual or group of individuals who claim they have suffered a financial loss as a result of the financial service provider's actions or advice," Taylor says.
For its part an MBIE spokesman says the Companies Office doesn't currently have any specific concerns about the activities of Vivier and Company or Wewege.
"However, it does intend to make enquiries of the company to ensure that it is complying with its obligations under the Companies Act 1993 and Financial Service Providers (Registration and Dispute Resolution) Act 2008. If anyone has information about potential offending in New Zealand relating to this company they should refer that to the Companies Office Registries Integrity and Enforcement Team (at) http://www.business.govt.nz/companies/about-us/enforcement," the MBIE spokesman says.
Repossession proceedings struck out
The Irish Examiner reported last Friday repossession proceedings brought against John and Shelia Nolan by HFC have been struck out by the High Court. The report says their ordeal began in 1997 with HFC having claimed €1.4 million was due on an IR£40,000 loan.
This article was first published in our email for paying subscribers. See here for more details and how to subscribe.