Opinion: Why NZ's anti-money laundering and countering the financing of terrorism laws are seriously flawed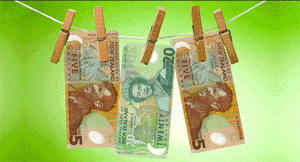 By Gareth Vaughan
New Zealand's reputation as a safe and reliable provider of dairy products to the world has rightfully come under scrutiny this week. But it's also worth putting our reputation in the financial sector under the microscope.
The Anti-Money Laundering and Countering Financing of Terrorism Act (AML/CFT Act) came into effect on June 30. Passed by Parliament in 2009, this Act has been a long time coming and has wide ranging implications.
It has the lofty aims of detecting and deterring money laundering and the financing of terrorism, and maintaining and enhancing New Zealand's international reputation by adopting, where appropriate in the New Zealand context, recommendations issued by the Financial Action Task Force (FATF). The FATF is an inter-governmental body established by the Group of Seven (G7).
It's also hoped the AML/CFT Act will help get New Zealand back onto the European Union's so-called White List, which provides guidance for EU banks and financial institutions about countries with EU equivalent money laundering and anti-terrorist financing laws. New Zealand was dumped from the List in June 2011.
Flawed legislation
The AML/CFT Act has a clear and notable flaw. It has no explicit territorial clause in it. So that means the Act doesn't tell you what its territorial scope is. There are brief guidelines on the territorial scope of the AML/CFT Act issued by the three authorities tasked with overseeing compliance with it in the form of the Reserve Bank, Financial Markets Authority and Department of Internal Affairs.
The key paragraph in the guidelines appears to be this one; "An entity incorporated or formed in New Zealand, which carries on financial activities wholly outside New Zealand, will not be a 'reporting entity' under the AML/CFT Act."
Now this is guidance only, rather than statute. If the authorities were trying to prosecute someone we don't know what a court would decide. However, there's a fundamental principle that the New Zealand Parliament doesn't intend laws to have extra-territorial effect unless it explicitly says so.
So we have a situation where entities operating in New Zealand including banks, building societies, credit unions, sharebrokers, fund managers, financial advisers, trustees and casinos must now work to comply with the AML/CFT Act, and at times put their customers and clients through the ringer as they do so, but entities incorporated in New Zealand but offering financial services overseas, can ignore it.
They're free to do business overseas, piggybacking on New Zealand's largely good reputation, without complying with key New Zealand laws.
As Lloyd Kavanagh, a partner at law firm Minter Ellison Rudd Watts and a specialist in banking and financial services, puts it: "It is unfortunate that the AML/CFT Act does not have an explicit territoriality provision given the importance of certainty in applying a regime like that."
"The guidance states that even if you are incorporated in New Zealand, if you carry on your financial activities wholly outside New Zealand, that you're not subject to New Zealand AML,"  Kavanagh added. "I wonder whether from a policy perspective that is the right answer, (or) whether New Zealand shouldn't take a broader responsibility for entities who have chosen to incorporate themselves here?"
A paper prepared for Commerce Minister Craig Foss by the Ministry of Business, Innovation & Employment last year entitled Overview of organised crime and the misuse of corporate structures put a $1.5 billion estimate on annual money laundering in New Zealand, excluding laundered funds relating to tax evasion. But who knows how accurate that estimate is?
Infamous NZ registered companies & their offshore antics
Given the criminal behaviour of several companies registered in New Zealand but operating offshore, these guidelines are unsatisfactory. In terms of the activities of some such companies, here's but three examples.
1) SP Trading Ltd, whose activities were extensively covered by Fairfax's Mike Field. SP Trading made international headlines after its involvement in the charter of a plane intercepted at Bangkok airport - having come from North Korea - with a cargo of weapons aboard.
2) The Organized Crime and Corruption Reporting Project reported on how the New Zealand registered Tormex Ltd allegedly laundered some US$680 million a year through a Latvian bank account.
3) Interest.co.nz reported last year how Jeffery Lowrance, a US citizen based in Panama operating the New Zealand registered First Capital Savings & Loan Ltd, pilfered about US$31 million from 452 investors via a Ponzi scheme. After being arrested in Peru and extradited to Chicago, Lowrance was sentenced to more than 14 years in prison and ordered to repay more than US$17 million.
More broadly there's no shortage of New Zealand registered entities who are apparently peddling financial services overseas. Some of the ones to have graced this website include City Savings "Bank" which has become Friends Mutual, Century Finance Ltd, the Elite Bank Group, and the Crimson Group.
Then there are building societies such as General Equity (which now has naming rights on a downtown Auckland building), Safe and Sound, and the now being dissolved Kiwi Deposit, whose affiliated entity apparently manages €5 billion worth of assets on behalf of some of the world's richest people.
Then there are numerous entities that did, or do, set up New Zealand registered companies - for a fee - to serve overseas masters as finance companies and financial services providers. These include Atrium Incorporation Services LLC, Zealand Financial Group LP, Freedom Offshore and OffshoreBankers.
Now, I'm not saying any of these entities are laundering money or financing terrorism. In most cases we simply don't know what they're doing in Panama or Belize or wherever they're actually located.
The Government is looking to force New Zealand incorporated companies to either have a New Zealand resident director or a resident agent, which it says, will provide "improved ability" to de-register companies and limited partnerships for overseas criminal activity. It's doing this through the Companies and Limited Partnerships Amendment Bill. The Government has also moved to strengthen the financial service providers registration regime.
But wouldn't making New Zealand registered but overseas operating companies subject to the AML/CFT Act also be a good idea?
An undesirable form of regulatory arbitrage
Effectively we have a significant number of companies that are incorporated in New Zealand, and claim to have a place of business in New Zealand so they can be registered under the Financial Service Providers (Registration and Dispute Resolution) Act, one purpose of which is to conform with New Zealand's FATF obligations. But they then claim that, while they have a place of business in New Zealand, they actually conduct no financial services business in New Zealand. This appears to be a very undesirable form of regulatory arbitrage.
Wouldn't it be better if our authorities said; "If you have incorporated in New Zealand we expect you to be subject to the New Zealand AML/CFT Act because you have chosen to incorporate here and we will supervise you."
If they don't like this they can go look for another country to incorporate in.
This article was first published in our email for paid subscribers. See here for more details and to subscribe.