General Equity, no ordinary New Zealand building society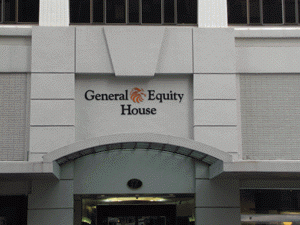 By Gareth Vaughan
You're registered as a New Zealand building society and your headquarters, a building you've taken out naming rights on, is located in downtown Auckland.
However, the fourth floor offices that apparently serve as yours contain brochures at reception promoting casual office, executive boardroom and meeting room hire. On top of this your client services manager has a separate business card, also available from reception, describing her as the operations and marketing manager for CBD Office Ltd, a "provider of tailored office solutions". 
Apparently you don't offer financial services within NZ, have links to something described as algae to hydrocarbon intellectual property, and manage a fund that allegedly has US$6.2 billion of investment holdings comprising gold, nickel, silver, oil and gas refining technology and granite.
Welcome to the wonderful world of the General Equity Building Society (GEBS). 
Regular interest.co.nz readers may remember GEBS previously featuring in a story of ours alongside two other NZ registered, but overseas operating, building societies in Kiwi Deposit Building Society and Safe and Sound Building Society.
GEBS isn't your typical NZ building society, which is something akin to a conservative, regional, member owned financial services provider offering home loans and term deposits.
GEBS has recently taken out naming rights on number 17 Albert Street in Auckland's Central Business District. This is a high rise building that's slap, bang next door to the recently refurbished ANZ Tower which serves as headquarters for the country's biggest bank, - ANZ NZ.
What's now known as General Equity House is apparently the head office of a financial services provider with representatives in, or covering, Japan, Ghana, India, Kenya, USA, Cyprus, Greece, Dubai, Democratic Republic of the Congo, Zimbabwe, Namibia, Malawi, Zambia, Mozambique and South Africa.
No regulatory oversight
GEBS is registered through the Ministry of Business, Innovation and Employment run Building Society Register. It's also registered on the Financial Services Providers Register, with Financial Services Complaints Ltd named as its dispute resolution scheme, something that's a prerequisite if an entity offers, or wants to offer, financial services to NZ retail investors.
However, GEBS was named as one of five entities not regarded as a deposit taker under part 5D of the Reserve Bank of New Zealand Act in late 2011. That means it's not allowed to take deposits from the NZ public. It also means it doesn't have to comply with prudential requirements covering credit ratings, governance, risk management, capital, related party exposure limits or liquidity.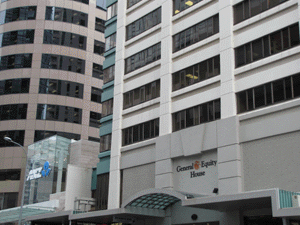 But it does leave GEBS free to offer financial services overseas, trading on NZ's good reputation. And the Reserve Bank says it's not in a position to monitor transactions undertaken by NZ registered building societies, such as GEBS, that operate in overseas markets.
On its website GEBS says "currently" no services are provided to people in NZ, and that it's currently not a deposit taker for NZ residents. However, on a visit by interest.co.nz to 17 Albert Street, the building society's client services manager, Annieliza Snow, suggested GEBS may actually provide services to New Zealanders. But she wouldn't detail them.
Snow, meanwhile, is also the operating and marketing manager for CBD Office Ltd, whose shareholders and directors are listed as Mark Bayoud and John Peter Kortum. Kortum and Bayoud are GEBS directors. According to Companies Office records both are resident in Malaysia.
Along with two other key players at GEBS, Anthony James Scott and Brian Joseph McGrath - the latter was the Lord Mayor of the Victorian town of Horsham from 1974-75 - Kortum hails from Melbourne.
GEBS' website, which offers 5% interest on term deposits of over US$100,000, says its services include private and corporate accounts, due diligence services, establishing NZ and international trusts, trade finance and credit facilities, general insurance services, instruments verification, and online banking.
The Kiwibank & BNZ connections
The website also offers what it describes as a loaded Visa debit card with information provided in English and Japanese. GEBS says Kiwibank is the issuer of the cards.
Asked about this a Kiwibank spokesman told interest.co.nz the card being promoted by GEBS is a generic pre-paid Visa card known as a Loaded Everyday card.
"It is a New Zealand Post/Kiwibank product offered through the Post/Kiwibank network. It carries no credit risk for the bank or Post, but enables the user to make purchases or services using their own funds," the Kiwibank spokesman said.
GEBS says it also has a nostro account service "with National Australia Bank via (NAB's NZ subsidiary) Bank of New Zealand." A nostro account is a bank account held in a foreign country by a domestic bank, denominated in the currency of that country. Nostro accounts can be used to facilitate settlement of foreign exchange and trade transactions.
A BNZ spokeswoman said she couldn't confirm whether GEBS was a BNZ client or not due to BNZ's confidentiality policies.
In total GEBS says it has established relationships with over 135 banks, including additional nostro accounts with Germany's Commerzbank and Canadian Imperial Bank of Commerce. It's also connected to SWIFT, or the Society for Worldwide Interbank Financial Telecommunication.
US$6.2 bln of investments in gold, silver, nickel, quarry assets & refining technology
GEBS is the trustee and manager of an entity known as the General Equity Building Society Asset Builder Fund 1. GEBS says its mandate in managing this fund is to write trade finance business for members and clients located around the world including in the United States, Europe, Middle East, Africa, Russia, China, Asia and Oceania.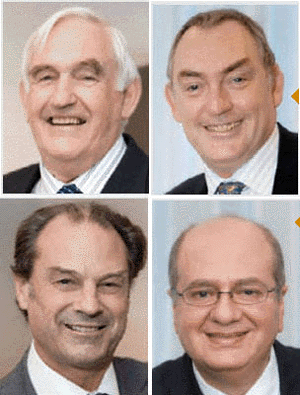 Kortum and Steven Adrian Hensen, another GEBS director, are listed as the fund's managers.
The General Equity Building Society Asset Builder Fund 1 claimed to hold US$6.2 billion worth of investment holdings as of June 30, 2012. The Fund's annual report says this is an annual increase of US$758.735 million, with shareholding interests in gold, silver and quarry assets, plus nickel and refining technology. No specific details of the investments are provided.
In its 2012 financial year GEBS says income generated by GEBS from trade finance products was US$637,000.
*Pictured right, top left McGrath, right Kortum, bottom left Scott, right Bayoud.
A building society with a parent company
There are at least four companies affiliated to GEBS registered with the NZ Companies Office. These are General Equity Trustee Services Ltd, General Equity Services Ltd, GEAP Ltd, and Nippon Asia Holdings Ltd. Their directors and shareholders include GEBS directors Bayoud, Kortum, McGrath and Ambrose Chan, plus other entities and individuals based in Hong Kong, Singapore, Japan and the British Virgin Islands.
For the year to March 31, 2012, GEBS says it made a profit of US$681,306, and had equity of just under US$3.2 million, and total assets of US$8 million at March 31 last year when member deposits stood at US$3.37 million.
GEBS says it has a guarantee of its present and future debts up to US$15 million from the General Equity Building Society Asset Builder Fund 1 running for approximately 18 months from March 31, 2012. Its last annual report also says six million preference shares issued in March 2010, valued at US$4.25 million, make an entity called General Equity Services (Hong Kong) Ltd GEBS' parent company.
The annual accounts are given a clean bill of health by auditor Lawler Draper Dillon of Melbourne.
An ASIC ban & what we want to know
As reported in our previous GEBS story, Anthony James Scott, now described as senior legal advisor, resigned as GEBS' secretary on August 10, 2009, the day before a man of the same name was banned by the Australian Securities and Investments Commission (ASIC) from managing a corporation for 18 months. Scott resigned as a GEBS director on September 9, 2009.
In email correspondence with interest.co.nz Scott hasn't answered the question of whether he is the same Anthony Scott who received the ASIC ban. Last year he said GEBS' policy was not to give interviews to the media. In response to questions over the past week, Scott says he has forwarded them to GEBS' directors for their attention. He's now offering a meeting with Bayoud and GEBS' chairman Murray Greer.
Questions interest.co.nz wants to ask them include; whether GEBS does offer any services within NZ to New Zealanders, and why they want naming rights on a central Auckland building. We also want to know whether they can provide detail on assets and investments purportedly held by the General Equity Building Society Asset Builder Fund including locations and specific names of any mines or companies involved.
We also want to ask why, given key members of the GEBS hierarchy appear to be Australians, they chose to incorporate a building society in NZ.
Number 17 Albert Street is a body corporate and is managed by Crockers Body Corporate Management. David Herron, the Crockers account manager who looks after the property, referred questions on how GEBS got naming rights and what it's paying for them to GEBS.
Algae to hydrocarbon intellectual property
The annual report says GEBS has lent money to related parties including Hong Kong private equity group WWCC Ltd. If these parties can't repay the money owed, which is put at about US$7.4 million, and it can't extract estimated values from a 55% stake in algae to hydrocarbon intellectual property developed by WWCC Ltd and Adelaide's Flinders University and said to be worth at least A$34 million, there will be in a negative net asset position and GEBS may not be able to repay member deposits as they fall due.
In our previous GEBS story we reported that a mutual fund had been established in the Cayman Islands by WWCC Ltd to raise US$50 million for 10% of this algae to hydrocarbon intellectual property. In its latest annual report GEBS says numerous potential income streams have been identified from the intellectual property but not yet valued, and patents have been granted in the US and elsewhere.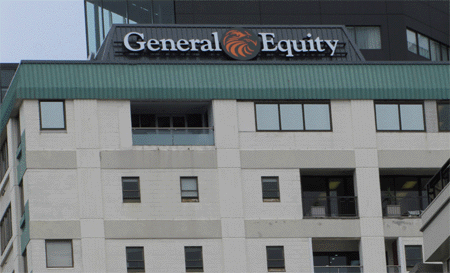 This article was first published in our email for paid subscribers. See here for more details and to subscribe.