UK owned NZ offshore finance company City Savings 'Bank', formerly 'a bank with a small b', changes name to Friends Mutual, continues offering up to 8.05% to offshore punters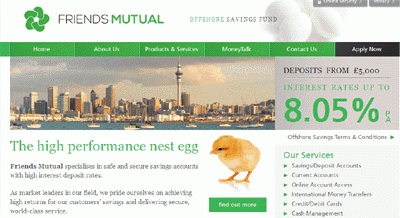 By Gareth Vaughan
First it was City Savings Bank, then it became plain City Savings, and now it's the all new Friends Mutual.
It's what's known as an offshore finance company, taking advantage of New Zealand's good reputation and simple company registration rules, and offering unregulated financial services overseas.
Earlier this year the then City Savings Bank courted the wrath of both the Reserve Bank and Financial Markets Authority (FMA) after interest.co.nz revealed it was using the word "bank" in its name when not permitted to and claiming to be authorised by the New Zealand government when it wasn't. At the time Queen Street, Auckland-based general manager Simon Virgo said City Savings was "a bank with a small b." The entity subsequently dropped the word "bank" from its name, becoming just City Savings, and has now gone for a complete change, calling itself Friends Mutual.
Its website features a photograph of the downtown Auckland skyline complete with yachts bobbing in the harbour in front of the buildings and, although the British owned entity is listed on the New Zealand Register of Financial Service Providers, Friends Mutual isn't allowed to offer financial services to people within New Zealand.
Virgo responded via email to voicemail messages seeking comment on the reason for the name change. He said it followed an "extensive parent group branding review" through which City Savings Institution Limited (the group's New Zealand Companies Office registered company) was renamed Friends Mutual Limited.
"This helps distinguish us from other companies in the group, for example City Savings and Loan Limited, and more closely reflects our brand values," said Virgo. "Our business remains the same in every other way, in particular as regards compliance."
In March, after interest.co.nz's initial story on City Savings "Bank", the Reserve Bank issued a warning, saying it wasn't licensed or supervised by any New Zealand authorities, and nor was it authorised to provide banking services or take deposits. New Zealand law does not provide for any form of officially sanctioned offshore finance industry. And only banks registered with the Reserve Bank are allowed to use the word "bank" in their name.
The Reserve Bank says, however, under current New Zealand law it's not illegal for companies registered in New Zealand to offer "banking services" either here or overseas without being licensed. However, they can only do so provided they don't call themselves banks or imply they are registered banks, and this only applies if these companies don't take deposits from the New Zealand public.
Reserve Bank removes warning & FMA gets 'satisfactory resolution'
The warning notice has since been removed from the Reserve Bank's website, with a spokeswoman telling interest.co.nz if such warnings were removed it meant the Reserve Bank had worked with that entity to address any issues.
In April Sue Brown, the FMA's head of primary regulatory operations, told interest.co.nz the regulator was "engaging with" City Savings as it sought to make it crystal clear the services offered by City Savings weren't available to the New Zealand public. Brown said the FMA was also concerned if City Savings' website suggested to the rest of the world that the level of regulation exercised by New Zealand authorities over City Savings was greater than the reality.
Yesterday an FMA spokesman said the FMA had subsequently reached a "satisfactory resolution" with City Savings and it now had no problems with the entity.
"We are aware that a new entity called Friends Mutual has been established. Its website makes it clear that it can only take deposits from clients living outside New Zealand, and that Friends Mutual is a member of Financial Services Complaints Limited (a disputes resolution scheme)," the FMA spokesman said.

Wants to 'improve reputation of our industry'
The group's New Zealand Companies Office registered entity changed its name to Friends Mutual Limited from City Savings Institution Limited last month. Its sole shareholder is still listed as UK entity City Corporation Limited. On its website Friends Mutual says it specialises in safe and secure savings accounts with high interest deposit rates. It promotes interest rates of up to 8.05% per annum for deposits from £5,000 (about NZ$9,700).
"Friends Mutual forms part of the City Group of companies, renowned for secure investments and exceptionally high returns on clients' funds. The group is well-known, long established and well-resourced. It includes an FSA (UK Financial Services Authority) regulated company in the insurance sector, as well as subsidiaries in home loans and property development. With prudent management at its core, City Group facilitates the identification of low risk products with guaranteed, high returns," the website says.
The City Group's four "core" areas are listed as secure home loans, commercial and residential property development, pension policy acquisition, administration and portfolio risk management, and exempt unit trusts.
A message from Simon Virgo on the website, which says he's Friends Mutual's managing director, says the founders wanted to create something unique.
"Not only a stable financial institution with the best rates, but also a name that would be synonymous with safety and a sense of community; a company that would improve the overall financial environment and the reputation of our industry," says Virgo.
Friends Mutual's latest Companies Office filing says Virgo ceased being a director on November 8.
(See all our stories about offshore finance companies here).
(Update adds comments from Simon Virgo).
This article was first published in our email for paid subscribers this morning. See here for more details and to subscribe.