Three of five equity crowdfunding projects fail in September. Five platforms now active and have raised $13.7 mln since inception in 24 successful offers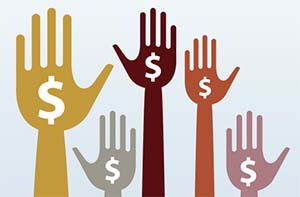 Equity crowd funding platforms are likely to be breathing a sigh of relief as September ends.
The last two campaigns both got funded.
This contrasted with the first three, all of which failed.
CrowdCube's Roam offer, which opened on July 6, was one of the failures. It was aiming to raise $390,000 but only 20 investors stumped up $210,000 and the offer closed on September 14 having failed to reach the minimum level. All investors got their money back.
PledgeMe's Felt offer also failed. It opened on August 12, hoping to raise $350,000 with a minimum target of $250,000. But only 70 investors showed any interest, offering just $94,101 in total before the offer closed.
And that was followed by yet another failure. My Angel Investment's first campaign with Footfalls & Heartbeats had a disappointing run, attracting just 25 investors offering $129,347 in a campaign that sought $750,000, with a minimum required of $250,000.
Investors showed more interest in SnowballEffect's WOOP offer however. That got full funding of $800,000 in a campaign that started on August 24. 100 investors signed up for that, stumping up an average of $8,000 each.
And finally, the unusual offer from Ooooby on the PledgeMe platform that started on September 1 also got funded, although a long way from its target. It sought $800,000 and got only $285,256 from 156 investors. The average amount committed was just $1,829 per investor, perhaps low because the lack of voting rights - or even dividends!
Over the five campaign that closed in September, $3,090,000 was sought, and $1,085,256 was achieved from 256 successful investments. That makes it a better outcome than for August where the industry only raised $547,801, but far below the July $2.4 mln raised.
You can find a list of all open and closed equity crowd funding projects here.
So far this year, equity crowd funding platforms have raised $11.6 mln in 2,765 separate investments, or almost $4,200 per investor.
Since the launch of the industry in August 2014, a total of almost $13.7 mln has been raised in 24 successful offers. But another 11 have failed to raise the minimum sought. That is a 'success rate' of just 69% of the projects launched, but 90% of the funding sought.
October will see just one project close - PledgeMe's quirky Kumara Fusion. Unfortunately that one has got off to a very slow start with just 4 investors pledging just $3,500 so far toward a target of $90,000 and a minimum of $70,000.
Also open, and scheduled to close in November, are Equitise platform's Mosaic, and Pocket Rent offers. SnowballEffect is planning to launch its Motim offer, and Equitise may also launch its YQ project.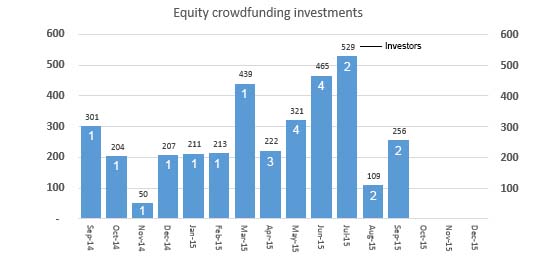 You can find a list of all open and closed equity crowd funding projects here.