Shock, horror, the RBNZ concludes banks' ability to attract household deposit funding is sensitive to the interest rates they offer savers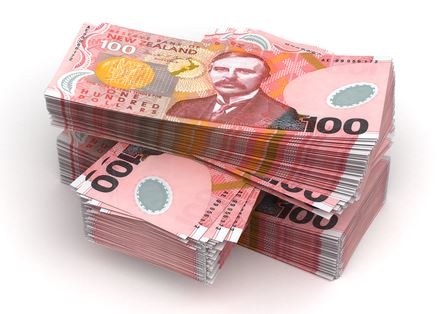 By Gareth Vaughan
Can banks boost their household deposit funding by increasing their deposit interest rates?
This is a question the Reserve Bank ponders in its latest Financial Stability Report. And as you'd expect, the answer is yes.
The Reserve Bank analysis concludes that a 100 basis point increase in the six-month term deposit rate lifts the level of household deposits by between 1% and 1.5%, or $1.5 billion to $2.4 billion, after four to six quarters.
Household deposits represent 40% of New Zealand bank funding, according to the Reserve Bank. However, over the past two years annual growth in household deposits has slowed to 7% from 11%. For banks, who need deposits to help meet their Reserve Bank enforced Core Funding Ratio requirements, this is a serious matter. A drop in deposit funding also tends to send the major banks overseas, cap in hand, thus increasing their exposure to international risks that can hit the cost, and even availability, of funding.
Some of the slowdown in household deposit growth is due to an increase in business deposits and wholesale deposit accounts, the Reserve Bank suggests, with this reflecting a "natural flow" of deposits through sectors of the economy as payments and money transfers are made.
"This could be associated with the increase in household consumption growth in 2016, and there is also evidence that households shifted from investing savings in bank deposits to other investment products. This is likely to reflect households seeking greater investment returns in other assets, such as equities," the Reserve Bank says.
The Reserve Bank modelled how demand and supply shocks affect household deposit growth. In its model, a household deposit demand shock is assumed to be driven by banks' relative cost of funding. For example, when it's more expensive to borrow money overseas a bank therefore wants to attract more household deposits. In contrast, a household deposit supply shock stems from households, and is deemed to be a change in household risk preferences.
"Other factors such as relative asset returns and volatility, income growth and consumption growth also influence demand and supply dynamics, and these factors are identified by the model as 'other shocks'," the Reserve Bank says.
Figure B2 below highlights the contributions of supply and demand factors to six monthly changes in household deposit growth during 2015 and 2016. 
"The analysis suggests that in the second half of 2015, above average household deposit growth was largely attributable to a strong supply of deposits. However, household deposit growth fell below average during the first half of 2016, as both deposit supply and demand weakened. During this period, the gap between credit and deposit growth emerged and banks increased their reliance on offshore funding. In the second half of 2016, banks tried to close the funding gap by increasing deposit rates and households shifted towards holding more deposits. However, deposit growth remained below its trend level due to 'other shocks', for example, strong household consumption growth," the Reserve Bank says.
Additionally the Reserve Bank used a second model to estimate the cost to banks of borrowing via deposits. This model assesses the sensitivity of deposit levels to deposit interest rates.
"This model estimates that a 100 basis point increase in the six-month term deposit rate increases the level of household deposits by [between] 1% to 1.5% ($1.5 billion to $2.4 billion) after four to six quarters, after controlling for economic and financial conditions. It also shows that the overall level of retail deposits, which includes household and business deposits, increases by less in dollar terms than household deposits in response to an increase in the deposit rate," the Reserve Bank says.
"This suggests that higher deposit rates could cause funds to transfer from business deposits to household deposit accounts. Overall, the analysis suggests that household deposits are likely to be sensitive to interest rates, and banks may be able to attract some additional household deposits by increasing deposit rates. However, total retail deposits are relatively insensitive to deposit rates."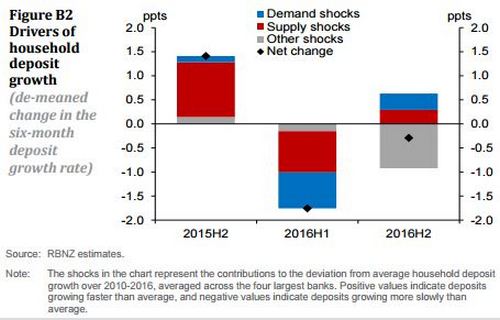 *This article was first published in our email for paying subscribers. See here for more details and how to subscribe.