China-based Kiwi businessman who's just been to North Korea says the rogue state is desperate for trade and knows it'll get annihilated if it tries to start a war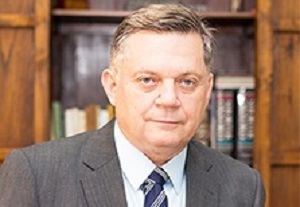 The Kiwi founder and chairman of a 32-year-old investment and advisory firm based in China warns we should be more concerned about America's response to North Korea, than North Korea itself.
David Mahon of Mahon China believes North Korea wants to resume trade with the rest of the world, not start a war.
Speaking at a New Zealand China Council breakfast in Auckland last week, he said: "Don't worry about North Korea…
"It is really struggling, and these missiles are a way of saying, 'We want to talk. We need to talk.'
"So if America could actually get past this ultimatum of, 'Get rid of your weapons', and begin a dialogue, start the trade… the reforms that opened China are possible."
North Korea in need of trade
Having recently been to North Korea, Mahon described it as a "medieval world".
"It's a very backward, static country, but a very gentle country full of warm people... It's not an evil country full of evil people. It's a country with a very evil, theocratic leadership."
Mahon said it was important to understand how struggling "under the cosh" of colonisers over the last century has largely contributed to it being in the state it's in now.
"Korea's had a very rough ride," he said.
"They're so poor and backward that I think all they are looking for is some recognition from the US to get back into a negotiation, so the ships begin to flow into North Korea again and they get the technology and food they need.
"It's a country that has 80% mountains and hills. Where it's flat and there are rice paddies, the land is very fertile. But you only have to look a few metres up into the hills and it's very poor land. So they can't feed themselves.
"If you look at the people in the countryside, they are starving slowly… There's almost no protein in their diet. They have the look of people who are suffering of AIDS or cancer, when the body can no longer retain proper nutrients."
With food in North Korea largely limited to rice and wheat-based dishes, Mahon said his tour guide even suggested he brought food with him on his trip.  
Yet he is hopeful North Korea can open its borders, with the 2008/9 famine prompting the government to allow private rice cultivation.
"So now half of the rice grown in Korea is in private hands. This is the beginning. This is how [China's reforms began]. It was allowing farmers to use part of their own time and land to grow a private market. So it can be done.
"I don't think one should worry that this is a country looking for war. Or even a mad leadership that believes war is in their interests. They would be annihilated if they tried anything."
Getting the US out of North Asia the solution
Mahon went on to say he believed China didn't have any influence over North Korea.
"They can't impose more sanctions. They'd just increase the suffering of the people. And if they go too far, they won't get regime change through some collapse. They'd just end up with masses of refugees pouring out into north eastern China.
He said rather than pushing China to change course, America needs to think very carefully about a different strategy.
"I think the best strategy is, a new [US] president goes to Beijing and says, 'Right, we'll take half of our ordinates and people out of North Asia. We'll take our stuff off the South Korean peninsula.'
"George Bush Senior did. He took all the missiles off the South Korean peninsula. And his son, George W Bush, put them straight back on again…
"But America wants South Korea to be under pressure, because it's their way to have a platform against China. And to have a lot of military hardware close to China. They don't want reunification. They don't want the talks that actually would resolve the issue. But that's the only solution…
"I don't think we should take too much notice of each missile test and we shouldn't worry about what the motives of Pyongyang are. We maybe should worry about what America may do in reaction…"
Important NZ doesn't support US imperialism
Mahon recognises New Zealand is in a tight spot, needing to maintain good relationships with both China and the US, even if they're at odds with each other.
"We have a history with Europe and the United States, which is a very important one. Our institutions, our parliamentary democracy, our rule of law, our business standards - these are derived from the history of those countries. These are things that give us our credibility."
Yet Mahon noted that despite commercial partnerships between the US and China playing a key role in China's rapid growth, there's a long legacy of tensions between the countries.
"Since George Bush Senior, America has constantly dropped the ball. Even Obama did very poorly in his relationship with China. His increase in military presence in North Asia was staggering. It was talked about as a pivot to Asia, but it meant increasing their naval presence in North Asia quite considerably, and the message was, 'China, we are still in power. Stop building your bases in the South China Sea.'
"I don't care about the bases in the South China Sea. They're statements… they're tiny gestures of a very large and economically powerful country.
"There are over 80 major bases that America maintains in North Asia. There are 10s of thousands of troops in a number of countries… They have more military firepower in North Asia than anywhere else in the world beyond their own borders. China is encircled by American military presence…"
In light of this, Mahon said: "It's very important that New Zealand maintains its dialogue with China and doesn't climb this imperial position that America's now struggling to maintain. Because it's an empty position…"
However: "As much as we look at our future with China, we've got to be very careful about what kind of dialogue we have with our old allies and our old friends.
"Australia's another case and point. China totally discounts most things that Australia says regionally in Asia, because they're seen as an American surrogate…
"We're respected for our relative non-alignment."
To maintain this neutrality, Mahon said it was also important for New Zealand to speak up if we thought China was out of line.
We need to knock on China's door before we need a bailout
Overall, Mahon said New Zealand/China trade relations and investment opportunities were looking good.
He said the focus on China's contribution to New Zealand's housing woes was "unfortunate", as we've benefited from our relationship with the superpower in so many other ways.
"If we had clearer policies and a more honest use of data from our government, a lot of these issues would be a lot clearer to all of us and they would not be issues."
Mahon said that if there's something New Zealand should be doing it is initiating more investment opportunities for the Chinese.
"We wait until our businesses are faltering," he said, referencing Fisher and Paykel Appliances, Crafar Farms and Silver Fern Farms.
"Most of the big deals in New Zealand; they are companies that have run out of options, and a Chinese buyer in most cases paid handsomely for the asset."
So rather than wait until companies have trouble, businesses should be proactive in going to China to find a partner and go into a relationship where a level of ownership is maintained.
"I think if we were more proactive, we'd have a much more positive interaction with the country. What we're doing at the moment is selling assets all over the world, out of New Zealand, year-by-year, and we're not investing internationally. We're gradually leaching our economy.
"I'm not a nationalist when it comes to commercial things… but we could be a lot smarter than we are being.
"And the Chinese investment community isn't just cooking for pretty farms on Lake Taupo. They're looking for technology, know-how, management, networks, access into other markets…
"If we were more proactive as a business community, we could be going into an era of bringing in, nurturing, good Chinese investment."