Fullerton Markets' trustee Kiwi Global Trust, which made a complaint to the Police, loses a director

Hot on the heels of interest.co.nz's story about Fullerton Markets' trustee laying a complaint with the Police, one of the trustee's two directors has stepped down.
Companies Office records show lawyer John Langford ceased being a director of Kiwi Global Trust on November 28.
Langford told interest.co.nz he quit as a Kiwi Global Trust director to free up his time.
"The main reason was that as a sole practitioner lawyer I have found the role has demanded more of my time than I have available, taking account of other existing commitments," Langford said.
Interest.co.nz previously reported that Kiwi Global Trust, which acts as trustee for unlicensed forex trader and registered New Zealand financial service provider Fullerton Markets, had laid a complaint with the NZ Police involving about $4 million that had been moved overseas from an ANZ NZ bank account.
Malaysian national Chanthrueen Sarigabani, who has been a key figure at Fullerton Markets, was forced to leave NZ in September after his attempt to renew his work visa was rejected by Immigration NZ.
Previously Langford told interest.co.nz; "I confirm that a matter has been referred to the Police. The matter is under active investigation, and it may well be prejudicial to any investigation or subsequent steps to provide further details of any allegations in a public forum. I regret that I am not in a position to provide any more specific information, at this time."
Spokespeople for both the Police and ANZ declined to comment.
Langford departing as a Kiwi Global Trust director leaves Brenda Turner as the sole director. She is the wife of Fullerton Markets' executive director Paul Turner.
Meanwhile, Langford said he had not received any update on the matter referred to the Police.
Below: Sarigabani (left), then Finance Minister Bill English & Fullerton Markets CEO Mario Singh (right) pictured at the company's Wellington launch party in June 2016.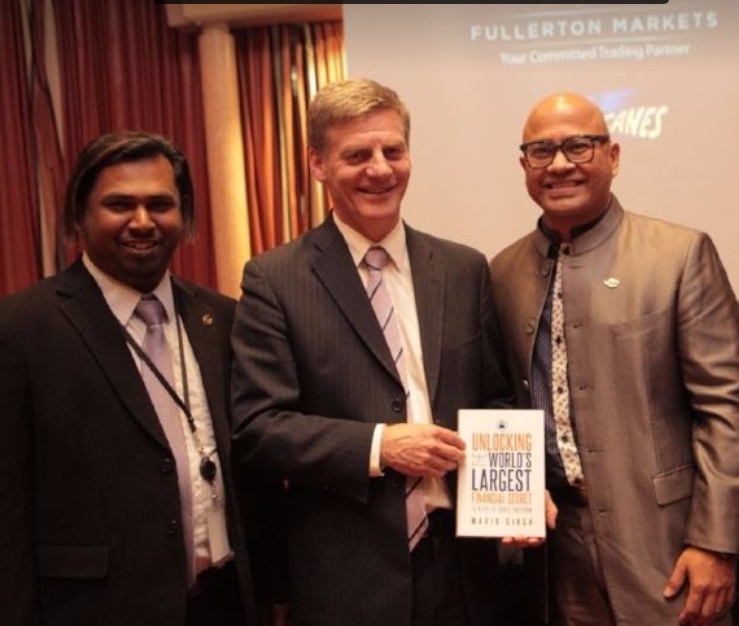 *This article was first published in our email for paying subscribers. See here for more details and how to subscribe.