Unlicensed forex and derivatives trader, Hurricanes sponsor and Bill English courter Fullerton Markets, applies to FMA for licence with uncertainty hanging over the future of its key man in NZ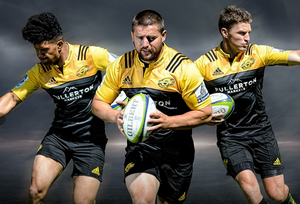 By Gareth Vaughan
Fullerton Markets, the unlicensed New Zealand forex and derivatives trader that sponsors the Hurricanes Super Rugby team and enticed then-Finance Minister Bill English along to its launch last year, has finally applied for a Derivatives Issuer's Licence. However, the Malaysian national who's the key driving force behind the company within NZ, has struck problems with his NZ visa.
According to Fullerton Markets director Paul Turner, the licence application was lodged with the Financial Markets Authority (FMA) on July 31. An FMA spokesman confirmed a licence application had been received from Fullerton. 
This comes after a Fullerton representative told Prime Minister English's office in January that its FMA application was "in progress" and "progressing satisfactorily." Interest.co.nz obtained this information via the Official Information Act (OIA). The FMA responded to that Fullerton comment by telling interest.co.nz it had not received a licence application from Fullerton, and it was incorrect to characterise the application as being in progress.
"Until the licence is granted, we are not able to provide services to New Zealand residents, as stated on the home page of our website," Turner, a Wellington accountant, said yesterday. "We would like to think that our licence will be granted without delay and we can resume offering our services to New Zealand residents before the end of the year."
Last December Chanthrueen Sarigabani, Fullerton's business development manager, told interest.co.nz the company's services were on offer to NZ retail forex traders and investors. However, in an email sent to the FMA two days later, and obtained by interest.co.nz under the OIA, he said Fullerton didn't provide derivative products or services to NZ resident clients. Rather, he said it had processed just 13 NZ clients whose trades didn't exceed a 72-hour timeframe allowed for forex products not deemed derivatives. There's more on currency conversion, derivatives and licensing here.
Free to target overseas forex traders
Fullerton, a registered NZ company, is free to offer forex and derivatives trading overseas. And, given it's registered on NZ's Financial Service Providers Register (FSPR), Fullerton is also free to call itself a NZ financial service provider even though being registered on the FSPR doesn't mean a business or individual is licensed, monitored or supervised by regulators either in NZ or any other jurisdiction. See more on problems with the FSPR here.
Fullerton's order execution policy notes that; "The company is always the counterparty (or principal) to every trade; therefore, if the client decides to open a position in a financial instrument with the company, then that open position can only be closed with the company." Meanwhile, Fullerton was dragged under the FMA's umbrella for Anti-Money Laundering and Countering Financing of Terrorism Act supervision in January.
Below is a Facebook post from Fullerton Markets featuring its CEO Mario Singh (seated left) and English, posted after English became PM. The photo was taken at Fullerton's launch function in the middle of last year. Singh's website describes him as a global financial expert and best selling author.
Visa issues
Meanwhile interest.co.nz has learnt that Sarigabani, a Malaysian national, has struck NZ visa problems and may not be able to remain in the country. He has been the main driving force behind Fullerton on the ground in Wellington, where the company has become a sponsor of the Wellington Gold Awards, home game jersey sponsor of the Hurricanes, and a sponsor of the Wellys being the Wellingtonian of the Year Awards, and the Wellington Phoenix Football Club. Fullerton has also run radio advertisements.
"Chanthru Sarigabani is a Malaysian national who intends applying for New Zealand residency. He was previously in this country on a business visa and more recently on a visitor visa.  He is required to leave the country on 23 September but can apply to return and I understand intends doing so," Turner said.
"He and his wife want to become permanent residents of this country and one avenue by which that could happen is for him to apply under New Zealand Immigration's Investor Business Migration scheme for investors who want to gain residence in New Zealand."
Companies Office records do not list Sarigabani as either a shareholder or director of Fullerton. However, he is listed as one of two directors in, and sole shareholder of, another NZ registered company, Nova Barclays Idea Ltd. Interest.co.nz understands the sponsorship contract that sees the Fullerton name appear on the Hurricanes jerseys, for example, is in the name of Nova Barclays rather than Fullerton. Nova Barclays' website describes the company as "an experienced company in IT services, with wide experience in all major platforms across the globe."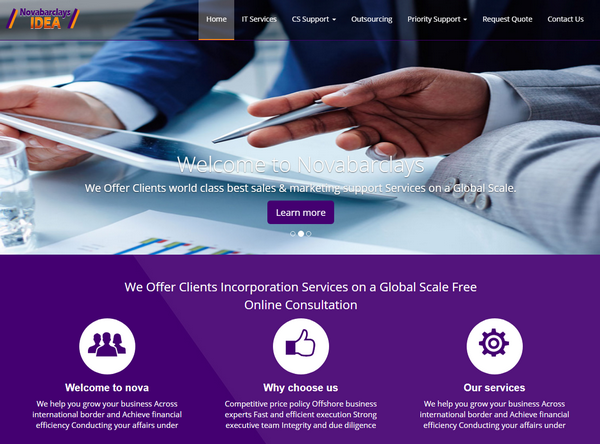 'No involvement with or responsibility for ECNPROFX LLP's operations outside New Zealand'
Sarigabani was also the director of ECNPROFX LLP, which was a registered NZ company between 28 October 2011 and 25 February 2014, and registered financial service provider between 31 October 2011 and 6 July 2012. There's an ECNPROFX LLP partnership agreement dating from October 2011 between Sarigabani and Belize company Allied International Investment Group Ltd, whose director is named as Joaquim Almeida. The agreement notes the partners will carry on business together as a consulting, advisory and investment services company from a London address.
An ECNPROFX website touting online forex trading in both English and Indonesian is here.

There's a lengthy comment thread online here that features disgruntled ECNPROFX forex traders in which Sarigabani's name is mentioned several times.
Turner said that Sarigabani, had advised him that the NZ ECNPROFX entity didn't trade and no investor funds were lost in this country.
"He [Sarigabani] also says that he had no involvement with or responsibility for that company's operations outside New Zealand," said Turner.
According to a Companies Office spokeswoman, ECNPROFX LLP is a limited liability partnership incorporated in the UK.  It was registered on the NZ overseas companies register between October 2011 and February 2014 when it was removed on the grounds that it had never carried on business in NZ and therefore should not have been registered as an overseas company. Additionally ECNPROFX was deregistered from the FSPR because the Registrar of Financial Services Providers was satisfied it was not in the business of providing a financial service as it did not have a place of business in NZ as required by section 8A of the Financial Service Providers (Registration and Dispute Resolution) Act 2008, the Companies Office spokeswoman said.
"Other than the removal and deregistration referred to above, no action has been taken by the Companies Office against ECNPROFX LLP or any person associated with this entity," she added.
Sponsorships 'funded by shareholder advances' & problems in Australia for Singh's previous company
Meanwhile, of Fullerton's sponsorships Turner said they enable the company to establish its profile and gain name recognition in NZ.
"They were budgeted as establishment costs and funded by shareholder advances," Turner said.
Fullerton's shareholders are listed as the Singapore-based Singh with 60%, plus Sixth Dimension Ltd and Guardian Trustees Wellington Ltd, whose sole director and shareholder in both cases is listed as Turner.
According to Singh's LinkedIn profile, he was director of training and education at FX Primus from 2010 until 2015. This company's NZ offshoot, Strategic Markets Ltd, was kicked off the FSPR by the FMA in 2015 along with 22 other companies. The FMA has powers to direct Registrar of Companies and Financial Service Providers Ross van der Schyff to remove companies from the FSPR where it is likely that a company is giving a false or misleading impression about the extent to which it's regulated in NZ.
"The FMA has concerns that some offshore companies have registered on the FSPR primarily to take advantage of New Zealand's reputation as a well-regulated jurisdiction. The FMA has received complaints from offshore investors who have lost their money to forex companies, or other types of service providers operating abroad that are registered on the FSPR," the FMA said at the time.
Around the same time the Australian Securities and Investments Commission (ASIC) announced FX Primus had agreed to make changes to its websites and to notify its Australian clients it was not licensed to provide them with financial services. ASIC also said it had raised a number of concerns about FX Primus' initial public offering (IPO) prospectus disclosure with an interim stop order placed on the prospectus to provide time to address these concerns. In the correspondence obtained by interest.co.nz earlier this year, Fullerton told English's office it planned an IPO.
"FX Primus Group Limited has since consented to a final stop order being made by ASIC and, as a result, no offers, issues, sales or transfers of shares in FX Primus Group Limited can be made under the prospectus dated 16 April 2015," ASIC added.
The Australian regulator also pointed out FX Primus's statements and material that specifically targeted Australian investors included the marketing of a sponsorship deal with football club Melbourne City FC.
*This article was first published in our email for paying subscribers early on Friday morning. See here for more details and how to subscribe.