Fullerton Markets touts more than 2,000 clients including 13 in NZ, flags IPO in correspondence with Bill English's office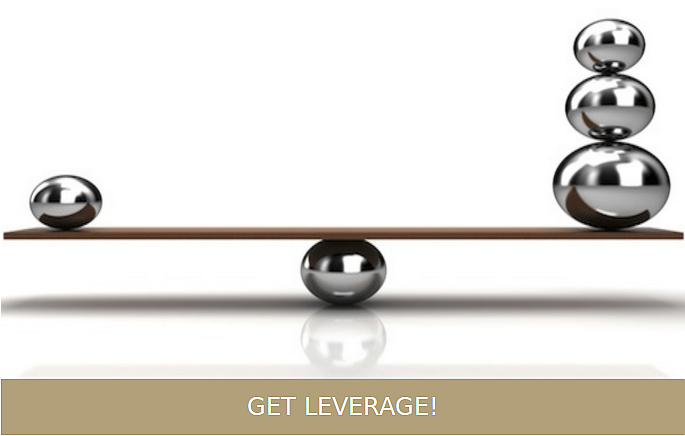 By Gareth Vaughan
Fullerton Markets, the curious New Zealand registered financial service provider whose launch was attended last June by then-Finance Minister Bill English, says in its early days it took on 13 New Zealand clients.
Fullerton, which featured in three previous interest.co.nz articles here, here and here, offers trading in foreign exchange (forex), the derivatives product CFDs, or contracts for difference, plus gold and silver trading. The company has told interest.co.nz these services have been offered to New Zealand retail investors/traders, even though it lacks licencing from the Financial Markets Authority (FMA) to do so.
Correspondence released to interest.co.nz by now-Prime Minister Bill English's office under the Official Information Act (OIA), shows Fullerton informing English's staff of the company's launch, talking about the company, and responding to interest.co.nz's articles. 
The correspondence released includes an email from Damian O'Brien, describing himself as Fullerton's NZ chief financial officer and strategic adviser, dated June 21 last year. That's three days before Fullerton's "grand launch," an event that was attended by English.
Below is the invitation sent to English.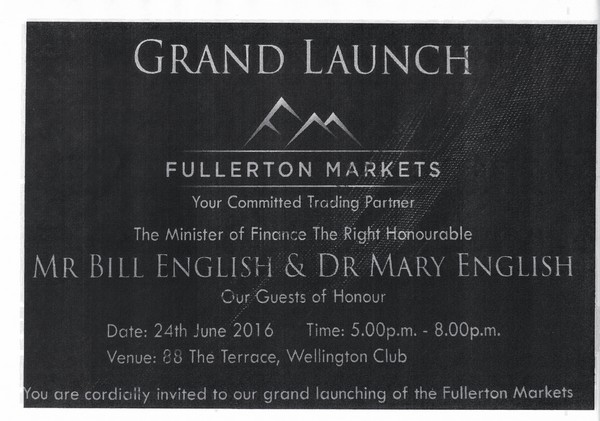 'Staff numbers to grow to 50 over the next 18 months'
In his email O'Brien says Fullerton has over 2,000 clients across the Asia-Pacific and has chosen Wellington as its Pacific support centre for research, training and client seminars. The company - an online trader - will also look to "base its operations" in Wellington, O'Brien says.
"Fullerton expects staff numbers to grow to 50 staff over the next 18 months," O'Brien writes.
He also writes of Fullerton's sponsorship plans. The company is already a jersey sponsor of the Hurricanes rugby team, a corporate partner of the Wellington Phoenix football team, and a sponsor of the Wellington Gold (business) Awards.
"Local sponsorship will expand to other sports and will include local rugby club, approved charities, local secondary school (first 15)," O'Brien writes.
Fullerton has recently been running radio advertisements in Wellington.
'Implementing these adjustments to our business has taken considerable time'
In another email dated January 19, O'Brien writes that Fullerton had requested a meeting with the FMA that was held the previous day to "clarify recent news articles" and to discuss "the progress of their FMA application to permit Fullerton to offer full currency derivative trading services to New Zealand residents."
He says Fullerton offers services to non-NZ residents "primarily for trading currency."
"Client monies are held in segregated accounts by ANZ here in New Zealand under an independent trustee which is fully insured by AIG. Fullerton's FMA application which is in progress is progressing satisfactorily. The individual at the FMA who is dealing with the Fullerton application is Michelle Peden, Michelle is the FMA's manager for conduct assessment," O'Brien writes.
O'Brien includes an email sent by "Chanthrueen", apparently to the FMA, for reference. This is Chanthru "Chan" Sarigabani, who O'Brien describes as Fullerton's New Zealand-based, Malaysian-born general manager.
Chanthrueen's email, dated December 22, refers to interest.co.nz's first two articles about Fullerton. 
"To clarify, we do not provide derivative products or services to New Zealand resident clients. We have processed 13 New Zealand clients when we first commenced business but have since ceased on-boarding additional New Zealand clients. For the 13 clients processed, we can confirm that their trades do not exceed the 72-hour timeframe and further confirm that the products these clients utilise are not deemed derivatives. We are able to demonstrate to the FMA how we have managed these accounts thus far," Chanthrueen writes.
"We are currently completing our DIL application and hope to have this finalised by the end of February 2017. We have put considerable thought into our business process to ensure that Fullerton operate a fully compliant business per the requirement by the FMA. We are currently in the process of enhancing the proficiency of our staff to improve staff competence and knowledge-base whilst operating within a regulated financial entity. This is to ensure that all Fullerton personals [sic] meet the FMA's prerequisites for the fit and proper tests," he continues.
"Implementing these adjustments to our business has taken considerable time. As a result we have delayed our DIL application until we are satisfied that Fullerton will meet all FMA regulatory and compliance requirements," adds Chanthrueen.
"We would like to schedule a meeting with you and your team to discuss the points raised by Gareth Vaughn [sic]."
IPO in the plans
In his January 19 email O'Brien also says his role with Fullerton is the "specific task of running the IPO [initial public offering] for the company which is likely next year."
Sarigabani, meanwhile, was the director of another registered NZ financial service provider, ECNPROFX LLP. Like Fullerton, ECNPROFX was both a registered NZ company and financial service provider. It was registered on the Financial Service Providers Register (FSPR) on October 31, 2011, and deregistered on July 6, 2012. It has also been deregistered as a NZ company.
A Companies Office spokeswoman described ECNPROFX LLP as a limited liability partnership incorporated in the UK.
"It was registered on the NZ overseas companies register from 28 October 2011 until 25 February 2014 when it was removed on the grounds that it had never carried on business in New Zealand and therefore should not have been registered as an overseas company. ECNPROFX LLP was also registered as a financial service provider from 31 October 2011 and deregistered from the Financial Service Providers Register on 6 July 2012. The deregistration was on the grounds that the Registrar of Financial Services Providers was satisfied that it was not in the business of providing a financial service as it did not have a place of business in New Zealand as required by section 8A of the Financial Service Providers (Registration and Dispute Resolution) Act 2008," the Companies Office spokeswoman said.
FSPR changes in the wings
The Government is currently proposing a major shake-up to the FSPR. It says this is to help address the issue of some, predominantly offshore controlled entities, misusing the FSPR to create the impression they are licensed or actively regulated in NZ. 
Companies Office records also show Sarigabani as a director of two other current NZ companies. They are Hamilton Global Trust Ltd and Nova Barclays Idea Ltd. They both use the same registered office and address for service as Fullerton being level 3, 88 The Terrace, Wellington.
Among other things Nova Barclays Idea offers a "full range of MetaTrader 4 programming services." MetaTrader 4 is the forex trading platform used by Fullerton.
In total 80 companies are registered to level 3 at 88 The Terrace, with access requiring a swipe card. Another of the companies registered there is Turner Accounting Ltd whose director and shareholder Paul Turner is listed on Fullerton's website as its senior manager.
CEO flying in for Hurricanes game, O'Brien gone
Turner told interest.co.nz as senior manager he attends to the administration of Fullerton. This includes making sure payments are made and assisting with the coordination of Fullerton's derivatives licence application, and providing ongoing accounting and technical advice. Turner says he has taken over a small area of Fullerton's office space, with the company having six staff based in the Wellington office including Sarigabani.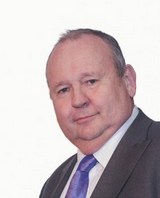 The dozens of other companies using the same address are associated with Turner Accounting, Turner (pictured left) said.
He said Fullerton's Singapore-based CEO, director and shareholder Mario Singh is flying in for a board meeting on Friday and to attend the first Hurricanes home game of the new season on Saturday evening. Turner said the board meeting will see two new directors named. He wouldn't name them at this stage. One will replace Fullerton's existing NZ resident director, John Andrew Tannahill.
A lawyer, Tannahill was struck off in February 2001 but subsequently allowed to work again in law, as a barrister. There's more on this in our previous story here.
 Turner also said O'Brien is no longer associated with, or working with, Fullerton. Asked why, Turner said he would prefer not to say. He said the board meeting was effectively the inaugural board meeting of a changed board.
"Because what we've done is we've been going through the process of getting everything sorted to get our DIL [derivatives licence] application sorted. Once we lodge that we want to change the board and to make sure all of our documentation's correct and all our paperwork is spot on. And that's what we're doing now," said Turner.
"The board has to physically approve all of the parts of the application,... and it will be at that board meeting that those are approved." 
NZ offshoot of Singh's previous company booted off FSPR. Problems in Australia too
According to Singh's LinkedIn profile, he was director of training and education at FX Primus from 2010 until 2015. This company's NZ offshoot, Strategic Markets Ltd, was kicked off the FSPR by the FMA in 2015 along with 22 other companies. The FMA has powers to direct Registrar of Companies Ross van der Schyff to remove companies from the FSPR where it is likely that a company is giving a false or misleading impression about the extent to which it's regulated in NZ.
"The FMA has concerns that some offshore companies have registered on the FSPR primarily to take advantage of New Zealand's reputation as a well-regulated jurisdiction. The FMA has received complaints from offshore investors who have lost their money to forex companies, or other types of service providers operating abroad that are registered on the FSPR," the FMA said at the time.
Around the same time the Australian Securities and Investments Commission (ASIC) announced FX Primus had agreed to make changes to its websites and to notify its Australian clients it was not licensed to provide them with financial services. ASIC also said it had raised a number of concerns about FX Primus's IPO prospectus disclosure with an interim stop order placed on the prospectus to provide time to address these concerns.
"FX Primus Group Limited has since consented to a final stop order being made by ASIC and, as a result, no offers, issues, sales or transfers of shares in FX Primus Group Limited can be made under the prospectus dated 16 April 2015," ASIC added.
The Australian regulator also pointed out FX Primus's statements and material that specifically targeted Australian investors included the marketing of a sponsorship deal with football club Melbourne City FC.
Fullerton the counter-party
Meanwhile, Fullerton's website currently says; "Fullerton Markets is proud to offer its list of products and services to its growing number of global clients. Spot FX [forex] is available to all clients including New Zealand. Derivatives is available to all clients except New Zealand until the derivatives issuers license is obtained."
Fullerton's order execution policy says; "The Company will always act as principal (counterparty) when executing client orders. Despite the fact that the Company takes every reasonable step to obtain the best possible result for its clients, it does not guarantee that when executing a transaction, the client's price will be more favourable than one which might be available elsewhere."
Fullerton's not supervised for compliance with NZ's Anti-Money Laundering and Countering Financing of Terrorism Act by any of this country's three AML/CFT Act supervisors being the FMA, Department of Internal Affairs or Reserve Bank. In its anti-money laundering policy Fullerton says it has adopted a programme that complies with the AML/CFT Act.
'We have not received a licence application from Fullerton Markets'
An FMA spokesman says Fullerton has advised the regulator that it intends to make an application for a licence.
"We have not received a licence application from Fullerton Markets. It is incorrect to characterise the application as in progress. We understand from Fullerton that an application is pending," the FMA spokesman says.
"We're waiting for that. During that process any persons associated with the business would be subject to a fit and proper test as with all applicants."
On its website the FMA says; "Online foreign exchange trading is used by some people to try to make a quick profit by betting on the changing value of foreign currencies. But they are just as likely to lose money as make it."
"We regularly receive complaints and enquiries from consumers who have lost money in online forex trading... For every person who gains a dollar from forex trading, someone else loses a dollar. And that's before taking into account costs and fees, which can be significant... If you do choose to trade forex, you will need plenty of spare money to cover losses caused when exchange rates move against you," the FMA says.
'Attendance at an event by a Minister does not constitute endorsement'
A spokesman for English says he attended Fullerton's launch because as Finance Minister English considered it part of his role to attend business events when he was available.
"On this occasion he was available so he attended. He did make a speech, but spoke of the cuff. Attendance at an event by a Minister does not constitute endorsement of a company or its products or services," English's spokesman said.
In its OIA response, English's office withheld Fullerton's business plan and the invite list for the company's launch.
The photo below, of Fullerton's Singh with English at the company's launch, was used in social media posts by Fullerton.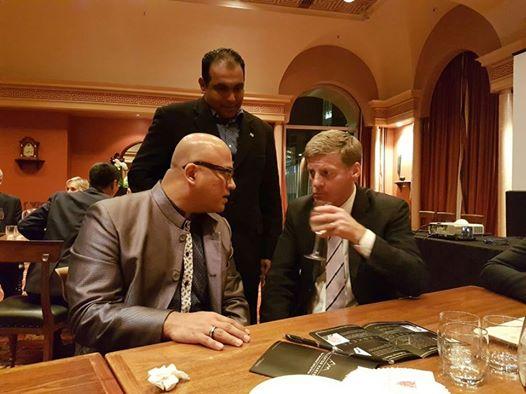 *This article was first published in our email for paying subscribers. See here for more details and how to subscribe.