Fullerton Markets - 'Asia's fastest growing brokerage firm', Bill English, and Wellington: 'The next financial hub of New Zealand'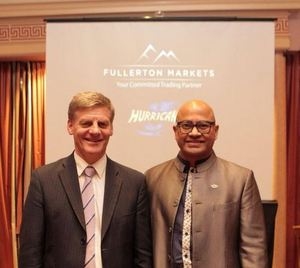 By Gareth Vaughan
A high profile CEO who posts photos of himself on social media with New Zealand's new Prime Minister, highly visible sponsorship deals, an office in downtown Wellington, and registration on this country's financial service providers register.
It sounds like a great recipe for a new and apparently ambitious foreign exchange trader, which is what Fullerton Markets Ltd certainly appears to be.
"Fullerton Markets is Asia's fastest growing brokerage firm," the company's LinkedIn page claims.
"Our company is headed by Mario Singh, one of Asia's top thinkers and influencers in the online trading industry. As a world-class coach, Mario has been brought in by some of the biggest banks in the world to speak to their traders and clients. Some of his clientele include ICBC - China's biggest bank, Julius Baer - the third largest Swiss bank and [Singapore-based] OCBC - ranked by Bloomberg as the world's strongest bank in 2011 and 2012," the LinkedIn page continues.
"His [Singh's] two best-selling books '17 Proven Currency Trading Strategies' and 'Unlocking the World's Largest Financial Secret' are endorsed by global billion-dollar fund managers like Dr. Mark Mobius, Executive Chairman of Templeton Emerging Markets Group, & David Kotok, Chairman of Cumberland Advisors."
The post goes on to extol the virtues of Fullerton Markets saying it has three levels of unmatched fund safety being segregated accounts, third party fund administration (through Kiwi Global Trust whose address is given as that of mail forwarding company Private Box Ltd in Johnsonville), and trustee insurance. It also describes Fullerton as a "straight through processing broker," processing client orders in "mere milliseconds," with infrastructure featuring dedicated servers to London.
Saying it specialises in trading, forex, the derivatives product CFDs, or contract for difference, plus gold and silver, Fullerton Markets says: "Whether you're a trader, introducing broker, fund manager or white label, we look forward to partner [sic] you and help take you to the next level."
A legal risk disclosure in small print at the foot of Fullerton Markets' website does note, however, that: "Trading foreign exchange on margin carries a high level of risk, and may not be suitable for all investors. The high degree of leverage can work against you as well as for you. Before deciding to trade foreign exchange you should carefully consider your investment objectives, level of experience and risk appetite. The possibility exists that you could sustain a loss of some or all of your initial investment and therefore you should not invest money that you cannot afford to lose. You should be aware of all the risks associated with foreign exchange trading, and seek advice from an independent financial advisor."
A registered NZ financial service provider
Fullerton Markets was incorporated as a New Zealand company on September 24 last year. It was registered as a NZ financial service provider (FSP) on March 20 this year. It's registered as an FSP to operate a money or value transfer service, issue and manage means of payment, change foreign currency, and provide forward foreign exchange contracts.
It's a member of dispute resolution scheme Financial Services Complaints Ltd (FSCL). FSCL is government approved to operate an independent and impartial dispute resolution scheme in the financial services industry that's free for consumers. 
Fullerton is not a reporting entity under the Anti-Money Laundering and Countering Financing of Terrorism Act given it does not appear on the latest Department of Internal Affairs list, nor on the Financial Markets Authority's list of entities those two supervise for compliance with the Act.
As a registered FSP, Fullerton Markets is registered on NZ's Financial Service Providers Register (FSPR). Partly designed to help NZ meet international anti-money laundering requirements, since December 2010 entities and individuals providing financial services have been required to be registered on the FSPR, which is operated by the Companies Office. The FSPR records the name, address and financial dispute resolution service membership of providers, along with the services they're registered to provide and any licences they may have.
However, by being registered on the FSPR it does not automatically follow that an entity is actually regulated in NZ.
As a Financial Markets Authority (FMA) spokesman puts it: "Registered FSPs that are not also licensed are not subject to active supervision by the FMA."
The Companies Office website says: "Registration as a financial service provider is not an official approval of an individual, business, or organisation and does not necessarily indicate that the provider is licensed or regulated in New Zealand or any other country."
Fullerton Markets has no NZ financial services licences. 
Registered FSPs are, however, subject to the fair dealing provisions in Part 2 of the Financial Markets Conduct Act. And the FMA has powers to direct the Registrar of Companies to remove entities from the FSPR when it believes they are giving a false or misleading impression about the extent to which they're regulated in NZ.
'Yes, we do accept New Zealand clients'
In email responses to questions, Fullerton Markets has confirmed its services are offered to New Zealanders.
"Yes, Fullerton Markets' services are available to New Zealanders. We do accept New Zealand clients to trade on our platform," a "support executive" wrote.
In a second email response, replying to a question asking specifically whether Fullerton Markets' services are available to NZ retail investors, the company said: "Yes, we do accept New Zealand clients. In order to open an account with us please visit our website http://www.fullertonmarkets.com/ click Open an Account and submit your proof of Identity and proof of residence. Thank you for interested [sic] in Fullerton Markets."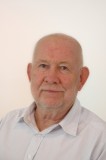 Alex "Bob" Cijffers, a Wellington accountant who provided company formation and FSP registration services to Fullerton Markets, says the plan as he understood it was for Fullerton to offer its services to Kiwis, including retail investors. 
"Yes, definitely because they belong to the disputes resolution company," Cijffers (pictured) says. " I noticed driving around town in Wellington that they advertise a lot on the back of buses."
As Fullerton Markets' company registration agent, Cijffers was a Fullerton Markets director from September last year until April 28 this year. And his company, BEL Verde Securities Pty Ltd, was initial shareholder until replaced by the Singapore-based Singh on October 12 last year.
Meanwhile, FSCL CEO Susan Taylor says she's not aware whether or not Fullerton Markets offers services to NZ retail investors. FSCL has not received any complaints about Fullerton Markets, Taylor adds. 
And the FMA spokesman says the regulator currently has no concerns.
"We are aware of this company [Fullerton Markets] and we have engaged with the directors to make sure they understand that if they are offering to retail customers then they need to be licensed. They have told us they are offering to wholesale investors," the FMA spokesman said. "They don't need a licence if they are offering to wholesale [customers]. We haven't yet identified any retail customers, which is our primary concern."
Photo opportunities & sponsorships
Meanwhile, Fullerton Markets has certainly been keen to play up its links to Wellington and NZ.
News of Bill English's recent accession to Prime Minister was trumpeted on Twitter, complete with a photo of Singh with English...
Massive congratulations on your new appointment, Prime Minister @pmbillenglish! #FullertonMarkets #MarioSingh #BillEnglish #NewZealand pic.twitter.com/mS3CS8DL8a

— Fullerton Markets (@FullertonMkts) December 12, 2016
...and on Facebook, once again featuring a photo of Singh and English.
Then there are high profile sponsorships. These include being one of the sponsors of Super Rugby champions the Hurricanes.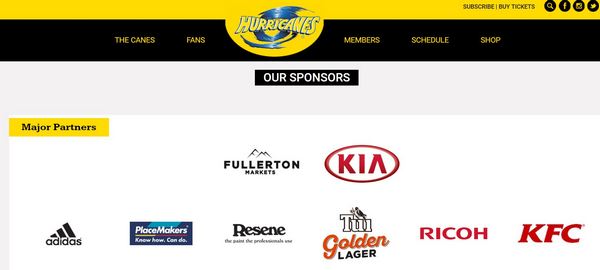 Below is a video posted to Facebook of Singh with the Hurricanes.
Fullerton Markets is also a corporate partner of the Wellington Phoenix football team.

Fullerton Markets' is also a category sponsor of the Wellington Gold Awards, described as the city's annual celebration of business.
A Fullerton Markets press release on the Wellington Gold Awards arrangement quotes Singh saying: "We decided to base Fullerton Markets in Wellington because of its exciting future as the next financial hub of New Zealand. In fact, just early this month, data from the annual Infometrics Wellington CBD report showed that Wellington's GDP grew by 3.8 percent, beating Auckland's 3.4 percent growth. Sponsoring the Wellington Gold Awards is our way of acknowledging all the great businesses that have contributed to Wellington's success."
A Wellington company?
So just how significant is Fullerton Markets' presence in Wellington?
The video below, posted to Facebook on November 18, features Singh giving what's said to be a tour of the firm's spacious Wellington offices. In the video he says the people milling about in the background are "guests from Hong Kong." Standing in front of empty desks Singh says: "You don't see many people here today because of the huge earthquake that was recorded in Christchurch that happened basically just two days ago. So there's kind of like [a] code red alert that happened. The whole CBD has been shut down but we had to open up the office because we have some guests that are coming to visit us from Hong Kong."
When interest.co.nz attempted to visit Fullerton Markets' office on the third floor at 88 The Terrace last week, access was swipe card protected and no one answered the speaker phone. The company has no listed phone number.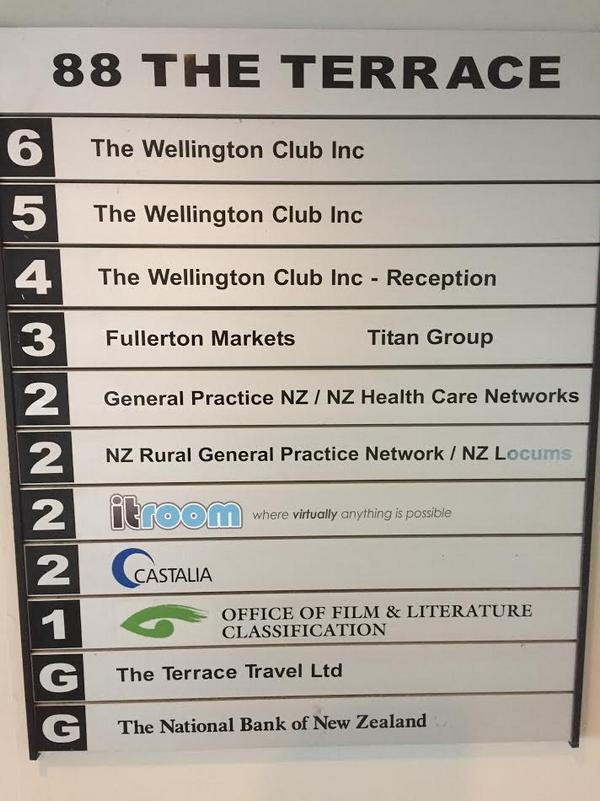 Additionally when we phoned Cynthia James, listed with FSCL as Fullerton Markets' Te Aro-based compliance contact, and Debra Shepherdson, described as marketing manager on the press release about Fullerton Markets' Wellington Gold Awards sponsorship, we got a recorded message saying: "Your call cannot be completed as dialled..."
Interest.co.nz did receive a phone call, from "Chanthrueen" on a NZ mobile number, in response to an email addressed to James. He said James was his secretary. However, he is yet to respond to questions that were subsequently emailed to him.
Questions we asked included:
Is Fullerton actually regulated or licensed anywhere? If so, in which jurisdiction(s) and what licence(s) does it have?
Are Fullerton's services available to/offered to New Zealand retail investors/consumers/members of the public?
How many full-time staff does Fullerton employ in New Zealand and what do they do?
Why did Fullerton Markets choose to establish itself in New Zealand?
The New Zealand director
Fullerton does have an NZ resident director, as it's required to by law. It's John Andrew Tannahill of Paraparaumu, one of two directors alongside Singh. Several attempts to contact Tannahill have, thus far, proved fruitless.
A barrister, Tannahill was struck off in February 2001 after charges were brought against him by the Complaints Committee of the Wellington District Law Society. The criminal charges he was convicted of included intent to defraud and fraudulently using money. He was sentenced to four months prison, but successfully applied for, and received home detention. This was completed in September 2000. Tannahill was also ordered to repay $10,500, which he did.
He has subsequently been allowed to work again in law, as a barrister.
A spokesman for the NZ Law Society says: "Mr Tannahill was struck off on 26 February 2001. He was then restored to the roll by the Tribunal on 15 August 2006 following an undertaking to practise only as a barrister."
Tannahill is pictured below, in a picture taken from a TV3 report about one of Tannahill's clients.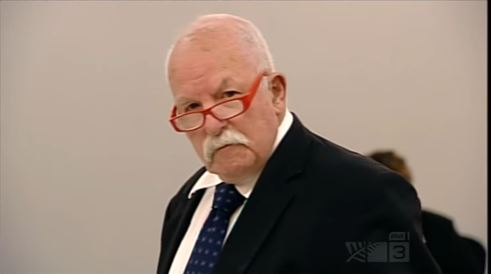 Cijffers, meanwhile, has also fallen foul of the accountants' industry body, albeit many years ago. In February 1994 the Disciplinary Committee of the New Zealand Society of Accountants ordered that Cijffers be removed from the Register of Members of the Society, saying after February 28, 1997 he could apply for re-registration. This was after the Disciplinary Committee "found the charge proved" that Cijffers was a bankrupt.
A spokesman for Chartered Accountants Australia and New Zealand (CAANZ) said Cijffers was not now a member of CAANZ, nor of the New Zealand Institute of Chartered Accountants. However, he is able to work as an accountant, just not as a chartered accountant.
In February the FMA issued a warning about Capital Market Investments Ltd saying it was claiming to be registered in NZ as an FSP and also a member of a disputes resolution scheme when in fact it was neither. The company was "not operating under the strict licensing and regulation requirements of New Zealand, as claimed." Companies Office records list Cijffers as a director of Capital Market Investments.
The high profile CEO
So what of Singh? Attempts to contact him have, so far, proven fruitless.
Singh's website describes him as a "world-renowned Forex educator." Additionally it says Singh's a "widely sought-after expert in the forex industry, Mario has appeared more than 40 times on CNBC and Bloomberg, each time giving his market views to an estimated 350 million viewers worldwide."
Below is a CNBC appearance.
Singh's also described as the founder and CEO of FX1 Academy, where he has "trained thousands of retail investors on how to trade Forex profitably. Graduates include people from Singapore, Malaysia, Indonesia, Philippines, Vietnam, China, India, Australia, Switzerland, Venezuela and the United States." 
And Singh's LinkedIn page says he has 15 years experience in the margin trading industry, bringing a "stellar track record to the accomplished team" at Fullerton Markets.
"As CEO, his main role is to lead and oversee the implementation of the Company's short and long term plans in accordance with its strategy. His analytical mind and deep industry connections play a major role in propelling Fullerton Markets forward on the global stage." 
The LinkedIn page says Singh was director of training and education at FXPRIMUS between 2010 and September last year, and founder and CEO of FX1 Academy from 2006 until September 2015.
Confusion in the international media hardly surprising
Several online reviews of Fullerton Markets have overstated the extent to which the firm is regulated in NZ and erroneously suggested it is licensed here.
A Forexbrokerz review says: "Fullerton Markets Limited, trading under the Fullerton Markets brand, is a Registered Financial Services Provider under the New Zealand's Financial Markets Conduct Act 2013 and as such is regulated by the Financial Markets Authority (FMA)."
A Finance Magnates article includes the sub-headline: "New Zealand Regulation With Some Perks," and says the brokerage is "licensed as a financial service provider in New Zealand."
And SMN Weekly says Fullerton Markets is "based in New Zealand and licensed there."
Given the confusing nature of what being a registered NZ FSP actually means, it's easily misconstrued.
Government delay
The Government is currently reviewing the FSPR, as it strives to stop misuse of it by ensuring that only those who are genuinely providing financial services in NZ are able to use it, then Commerce and Consumer Affairs Minister Paul Goldsmith said earlier this year. (There's much more on misuse of the FSPR here).
The Ministry of Business, Innovation & Employment led review has, however, been delayed into 2017. Part of a broad review of the Financial Advisers Act and the Financial Service Providers Act, the Government had planned to introduce a Bill to Parliament by the end of this year detailing a range of changes.
However, last week a spokeswoman for Goldsmith said: "The Kaikoura earthquake on November 14 necessitated the shifting of resources onto the development of emergency earthquake-response legislation. As a result an exposure draft and associated consultation document is unable to be completed this year. We expect to be able to release and consult on the exposure draft in early 2017. Following consultation on the exposure draft, a Bill will be introduced to Parliament after which the usual legislative process will follow."
Goldsmith was replaced as Commerce and Consumer Affairs Minister by Jacqui Dean on Sunday as new Prime Minister English unveiled his cabinet.