English names his first Cabinet; Bridges and Adams promoted; No successors yet to McCully and Parata in Foreign Affairs and Education as they will stay until May 1; Goldsmith and Upston promoted to Cabinet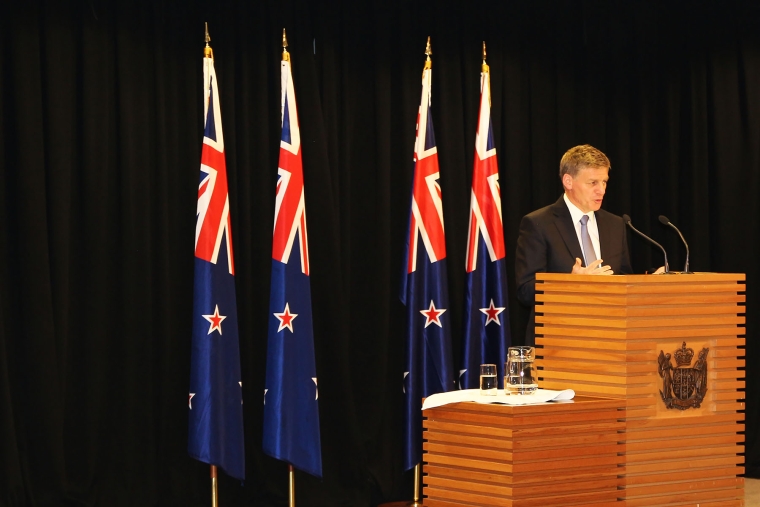 By Bernard Hickey
New Prime Minister Bill English has named his first cabinet, promoting Simon Bridges and Amy Adams and demoting Nick Smith and Judith Collins, but holding off naming successors in the key Education and Foreign Affairs portfolios.
Murray McCully and Hekia Parata will stay on as Foreign Affairs and Education Ministers respectively until May 1, with no successors named, although English said Associate Minister Nikki Kaye was likely to step up after May 1. He did not name a successor to McCully. Parata and McCully will transition to the back-benches from May 1, which would avoid a byelection for McCully as it would be less than 6 months before the next election, which English confirmed would be in the second half of next year.
English told a news conference he did not want to put Kaye immediately under pressure as she was still recovering from breast cancer. He said he was still assessing the Foreign Affairs portfolio and wanted more time to understand the role. English denied the risk of a byelection in East Coast Bays factored into his thinking.
English elevated Bridges to the Economic Development portfolio vacated by Steven Joyce, who is stepping up to be Finance Minister and Infrastructure Minister. Bridges will retain the Transport portfolio.
He also elevated Amy Adams up the cabinet rankings and gave her the Social Housing and Social Investment portfolios, in addition to her current role as the Justice Minister.
"Simon and Amy are two high performing Ministers who are ready to take on more responsibility. I am confident they will work well with Finance Minister Steven Joyce," English said.
Immigration and Revenue Minister Michael Woodhouse was also elevated up the rankings to 9 from 16, and will become the ACC Minister. He loses the Revenue portfolio.
Coleman keeps health
Unsuccessful leadership challenger Jonathan Coleman retained his Health and Sport and Recreation portfolios, although his ranking slipped to 7 from 5.
Fellow challenger Judith Collins lost her portfolios of Police and Corrections, but picked up Revenue, Energy and Resources and Ethnic Communities. Her ranking in cabinet dropped to 16 from 13.
Paul Goldsmith and Louise Upston were elevated into Cabinet. Goldsmith lost Commerce, which was picked up by Jacqui Dean, but will become the Minister for Tertiary Education, Science and Innovation and Regulatory Reform. Upston will become the Minister for Corrections.
Nick Smith's cabinet position was lowered to 15 from 11 and he retained the Environment, Building and Construction portfolios, but lost the Housing title. English decided not to allocate housing to a minister. Amy Adams will have the Social Housing Ministry.
Deputy Prime Minister Paula Bennett will remain the Minister of State Services and Climate Change Issues and will pick up the Police, Women and Tourism portfolios. Gerry Brownlee will remain the Leader of the House and retain Supporting Greater Christchurch Regeneration, Defence, and the Earthquake Commission portfolios. He will also be appointed as the Minister of Civil Defence.
Ngaro, Mitchell and Bennett get ministries
Anne Tolley picked up Local Government from the outgoing Sam Lotu-liga, while Jacqui Dean will become Minister for Commerce and Consumer Affairs -- portfolios previous held by Goldsmith.
Others elevated from the backbenches include Alfred Ngaro, who becomes the Minister for Pacific Peoples and the Minister for the Community and Voluntary Sector inside Cabinet. Mark Mitchell was named Minister for Land Information and Statistics outside cabinet. Louise Upston had previously held the Land Information role, while outgoing MP Craig Foss held Statistics.
David Bennett was given the Ministries of Veterans' Affairs and Food Safety, but will be outside cabinet.
Jo Goodhew, who had been Minister for the Community and Voluntary sectors, loses all her ministries and returns to the back benches.
Political reaction
Labour Deputy Leader Annette King, who said yesterday she would stand aside as Wellington South MP to become a Labour list MP so as to allow Andrew Little to win the seat, said the Cabinet reshuffle was not the rejuvenation promised by English.
"It's a combination of the conservative, vindictiveness and mateship," King said.
"His rejuvenation is one new Minister in Cabinet and three Ministers outside Cabinet, two of whom, Bennett and Dean, have been in Parliament 11 years already," she said.
"And he's demoted his rivals Judith Collins and Jonathan Coleman. Bill English denied there was a housing crisis and now he doesn't even want to have a Minister of Housing. It's the first time under a National Government there has not been a Minister of Housing," she said.
"National has managed to abolish the problem because they're so embarrassed about their lack of action. He's kept one of his best mates, Nick Smith, in charge of Building and Construction, stripping away the title of Housing Minister. But that doesn't change a thing really. The troika of English, Paula Bennett and Smith have failed to help young New Zealanders into affordable homes."
(Updated with more details, comments)