PM Bill English says his attendance at the launch of curious NZ financial service provider Fullerton Markets 'doesn't constitute endorsement'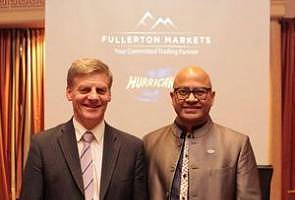 Prime Minister Bill English is distancing himself from registered financial service provider Fullerton Markets, which by its own admission, has breached New Zealand law.
Interest.co.nz reported on the curious case of Fullerton Markets before Christmas here and here.
Fullerton Markets says it operates out of Wellington specialising in currency (forex) trading, the derivatives product CFDs, or contracts for difference, plus gold and silver. The company has told interest.co.nz that its services are available to New Zealand retail investors/traders. However, the Financial Markets Authority (FMA) says a licence is required by anyone offering such services to the NZ public. Fullerton Markets does not have any NZ financial service providers licences.
Fullerton Markets has posted photos on social media of its Singapore-based CEO Mario Singh with Prime Minister Bill English, such as the one below.
A spokesman for English told interest.co.nz the Prime Minister met Singh at Fullerton Markets' launch on 24 June last year, which he attended in his then-capacity as Finance Minister.
"Attendance at an event by a Minister does not constitute endorsement of a company or its products or services. Questions about whether a company is complying with financial laws should be addressed to the Financial Markets Authority," English's spokesman said.
Fullerton Markets is also one of the Hurricanes rugby team's sponsors, is a corporate partner of the Wellington Phoenix football team, and is a sponsor of the Wellington Gold (business) Awards.
Fullerton 'supportive and professional'
Asked about the firm's deal with the Hurricanes, a spokesman for the Super Rugby franchise said: "The Hurricanes entered into a sponsorship partnership with Fullerton Markets in 2016 and have now extended that arrangement through to 2019. Fullerton have been supportive and professional in all of our interactions with the company over the past year."
Fullerton Markets is now one of the Hurricanes two jersey sponsors.
A spokeswoman for the Wellington Gold Awards said: "We can confirm they were a sponsor of the 2016 Wellington Gold Awards and they have also become major sponsors of the Wellington Phoenix and Hurricanes as your article noted. Sponsorships are arranged on a year to year basis for the Gold Awards."
No response has yet been received following requests for comment from the Wellington Phoenix.
Meanwhile, an FMA spokeswoman confirmed staff from the regulator met with Fullerton Markets representatives last week, but wouldn't disclose any details of the meeting.
"Yes, we've met with Fullerton this week [the spokeswoman was speaking on Friday], but we do meet with lots of people. I can't say anything else," the FMA spokeswoman said.
Fullerton Markets is registered via the Ministry of Business, Innovation & Employment run Companies Office both as a NZ company, and on the NZ Financial Service Providers Register (FSPR).
The Government is currently reviewing the FSPR after misuse by companies with little or no real association with NZ. This review was due to be wrapped up before Christmas, but was delayed into 2017 with the Government blaming the shifting of resources after the November 14 Kaikoura earthquake. You can read my views on what the Government should do here.
*This article was first published in our email for paying subscribers early on Monday morning. See here for more details and how to subscribe.