Donald Trump has told US officials to investigate how the US could get back in the CPTPP trade deal but one expert says opting back in now would be 'extremely difficult'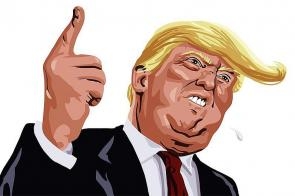 The US faces a significant uphill battle if it wants to get back into the Trans-Pacific Partnership Agreement, an international trade expert says.
Reports from The Washington Post suggest US President Donald Trump is exploring options for the US to join the The Comprehensive and Progressive Agreement for Trans-Pacific Partnership (CPTPP), telling a top US trade representative to "take a look at getting us back into that agreement, on our terms of course."
This is despite Trump's attempts to discredit the trade deal during his election campaign and his first executive order as President being to officially pull the US out of negotiations.
But the US joining the agreement now would be "extremely difficult," according to Jacobi Consulting managing director and international trade expert Stephen Jacobi.
In November, after negotiations, the TPP 11 became the CPTPP.
"The new agreement is quite a different agreement from the previous one in some key respects – particularly related to intellectual property," says Jacobi.
This was a key area of concern for US lawmakers when trying to get the deal through Congress in 2016.
"The Obama administration couldn't get TPP through Congress because the intellectual property provisions were not high enough – those provisions have now been watered down in the new agreement," Jacobi says, adding that this would be a significant obstacle.
The US deciding to opt back into the deal is something New Zealand officials under the former iteration of the deal had been preparing for.
Before the election, then Prime Minister Bill English said one of the major reasons the deal was still going ahead without major changes was so the US "could slot back in on the terms that it negotiated."
"Part of the motivation is, if its up and running, then the US will see benefits in re-joining, which would be a big benefit to the Asia Pacific region."
But it is now no longer that simple, Jacobi says.
Another major issue is the CPTPP agreement still contains investor-state dispute settlement (ISDS) clauses – an area of the agreement Trump was particularly opposed to.
Jacobi says it would take a lot of work from the US perspective to join the deal, and is made even more difficult by the fact Congressional elections are later this year.
Meanwhile, the 11 CPTPP countries are all in the process of ratifying the agreement.
"The worst thing from our perspective is that somehow that gets delayed while we try and work out how to get the US in. That would be disastrous," Jacobi says.