Commerce & Consumer Affairs Minister Kris Faafoi leaving door open for interchange fees to be regulated, wants to see tangible examples of open banking working within a year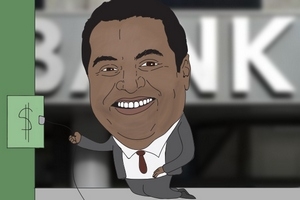 By Gareth Vaughan
Commerce and Consumer Affairs Minister Kris Faafoi is leaving the door open for interchange fees to potentially be regulated, and wants to see tangible examples of open banking working within a year.
Speaking at a Payments NZ conference on Tuesday, Faafoi noted progress has been made since a Ministry of Business, Innovation & Employment (MBIE) issues paper was released in 2016. At that time one of Faafoi's predecessors, Paul Goldsmith, said the Government was "prepared to consider regulatory options" if competition failed to moderate retail payments costs.
"It is encouraging that there has been progress made and that developments appear to be heading in the right direction. In particular Visa and Mastercard have realised some of their fees fell unfairly on smaller retailers and lowered the caps for some interchange fees appropriately from April this year. I thank you for that," said Faafoi.
He noted that Visa and Mastercard have also made a commitment to provide more transparency on trends and average interchange fees over time. And Faafoi also outlined government expectations on debit and credit products.
"I do not want to see further increases in interchange fees or merchant fees for credit cards and debit cards. I do acknowledge that interchange fees and merchant service fees have their place. However I do not think further increases are in the interests of consumers or the wider economy," Faafoi said.
"We and I have chosen not to go down the route that Australia and European Union has done in respect of regulating interchange fees. However that remains an open option and very much on the table, particularly if we see fees rise again."
Faafoi also said he wants to see an ongoing commitment from banks and Visa and Mastercard to increase the transparency of costs associated with retail payments, and continuing work to educate merchants.
"And I want to see low cost debit options remain to ensure that merchants do have a choice about what forms of payment they accept," Faafoi said.
Retail NZ to do further research on merchant service fees
So what does Retail NZ make of Faafoi's comments? In April the retailers' lobby group issued its 2018 retail payments survey arguing high fees are costing the whole economy, meaning "additional transparency and regulation is possibly required."
The crux of Retail NZ's argument is that merchant service fees, including both interchange fees and bank margins, in NZ are "far higher" than in the likes of Australia and Britain. This, it argues, means NZ merchants pay too much for credit and contactless debit card transactions, when compared with merchants in Australia and Britain.
Of Faafoi's speech, spokesman Greg Harford told interest.co.nz Retail NZ has been calling for increased transparency and oversight of merchant service fees for some time. This is because Retail NZ's research shows NZ merchants pay two to three times more than merchants in Australia and Britain when taking credit card and contactless debit transactions, he said.   
"We are pleased that Visa and Mastercard have taken steps in recent months and to begin publishing weighted average interchange data and to reduce some interchange rates. However, interchange is only a proportion of the merchant service fee paid by the retailer, and we have yet to see how much the interchange reductions have impacted merchant service fees. We certainly expect that there will be reductions but, overall, charges here for credit and contactless debit are still likely to be higher than in comparable jurisdictions," said Harford.
"We are continuing to monitor merchant service fees very closely and will be undertaking further research on the subject in due course," Harford added.
'We will be testing whether there is more of a role for government in facilitating some form of open banking'
On open banking Faafoi said he is taking a keen interest in work to develop a standardised application programming interface (API) framework. The bank-owned Payments NZ is leading work on a "shared API framework with a set of common payments related API standards."
"I'm glad that pilot participants including Trade Me, Paymark, Datacom, Westpac, BNZ, and ASB are involved and I will be looking closely at how things develop. I particularly encourage Payments New Zealand and the participants to be as open as possible in sharing developments of the pilot with the wider industry and incorporating feedback from all stakeholders," said Faafoi.
"I have previously noted my interest in how opening up aspects of the banking system could provide benefits to New Zealand consumers by providing them with increased choice and empowering them to pursue and achieve their financial goals. Benefits could exist in areas such as budgeting, banking competition, aggregating financial information, and, of course, payments."
Ho noted the principles set out in the Australian open banking review are a good starting point.
"They talk about a system that: is customer-focused; promotes competition; encourages innovation; and is efficient and fair," Faafoi said.
"However, how we get there is still very much up for debate. You, as an industry, have a clear opportunity to deliver real, positive outcomes for consumers, businesses, and the financial sector itself through implementing a set of standardised APIs."
"But you still need to convince me that you are willing and responsive enough to take a leap and embrace a new environment. Rather than just thinking about this as an obstacle, I would encourage everyone here to think broadly about how opening up payments and banking can deliver benefits to them, their customers, and the wider economy," said Faafoi.
"The Payments New Zealand API standardisation pilot provides an initial building block on which open banking could develop in New Zealand. I want to see the progress that has been made so far under the pilot accelerated, with tangible examples of banking data being accessed and used by third-parties within the next year."
"In particular, in the next year I would like to see more opportunities for consumers to quickly and securely make payments without the need for a debit or credit card. While these opportunities may be easiest to realise for online goods and services, I would also like to see a real push made for introducing new payment options in the in-store context," Faafoi added.
"And I want to see all of this lead to benefits for merchants, particularly in respect of lower overall fees for accepting payment."
The one-year timeframe is closely aligned with Australia, where open banking will be phased in from July next year.
Ultimately Faafoi said he wants open banking to make it easier for individuals to build their financial capability and access good quality financial advice, bring a raft of financial data together for consumers and businesses in one place saving them time and hassle, and ensure consumers are able to access the best deals across the financial sector by making it easier to shop around and compare options.
Additionally it should make payments faster and more efficient, and add value to payments.
"So far, government has mostly stood on the side-lines as an enthusiastic supporter of payment systems innovation," said Faafoi.
"In the future, we will be testing whether there is more of a role for government in facilitating some form of open banking. But the role we play is, in part, up to you. I encourage you to all be proactive. Speed is of the essence. I do not want to see New Zealand left behind in respect of the outcomes that open banking could deliver in terms of economic development and benefits for consumers."
*This article was first published in our email for paying subscribers early on Wednesday morning. See here for more details and how to subscribe.