Acting PM and NZ First Leader Winston Peters has a crack at Fonterra's management for getting the company into a sticky debt situation that prompted it to sell Tip Top to an overseas buyer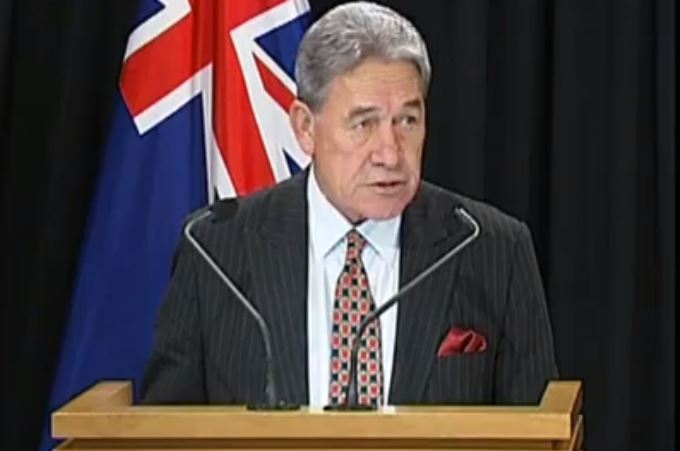 Winston Peters says Fonterra selling Tip Top to a UK-headquartered company, Froneri, for $380 million marks a "sad day" for New Zealand.
Speaking at a post-Cabinet press conference as Acting Prime Minister, Peters didn't refrain from having a crack at Fonterra's managers for contributing to New Zealand losing the company to offshore owners.
"You may well say that the circumstances of Fonterra's management, where some people got paid multi-million dollars of salaries, has led to now an added-value company going in to offshore ownership," he said. 
"It's a sad day boiled out by circumstances, which may not be in the total control of Fonterra's current management."
New Zealand First's primary industries spokesperson, Mark Patterson, in a statement released around the same time said the sale exposed "the state of Fonterra's underlying debt position following its acquisition of troubled Chinese food manufacturer Beingmate".
He said Fonterra was "now unable to provide the investment and focused ownership required for the brand's continued success".
Fonterra's strategy has been to sell some of its assets to reduce its debt by $800 million in the year to July. At the half-year mark the company had net debt of $7.35 billion, up from $7.06 billion a year ago.
When it in March announced its half-year results, said it was "well on track" to meeting this target, with other assets on the block including its 18.8% holding in China's Beingmate and the 50% interest in DFE Farmer, which is a joint venture established in 2006 between Fonterra and FrieslandCampina.
Fonterra is aiming to reduce its "gearing ratio", which it defines as the level of debt versus debt plus equity - to 40%-45% from the 52.5% it had blown out to at the half-year.
"There has to be, surely, some reflection when you see that event [the sale of Tip Top] happening alongside Westland," Peters said.
Asked to confirm whether his comments represented that of New Zealand First or the government at large, he said they were the "view of every rational, sane person who looks at the kind of economy we are".   
Patterson elaborated in the statement: "The sale of Tip Top follows the foreign acquisition of other significant New Zealand companies capturing value-added opportunities, such as Silver Fern Farms. With Westland Milk also under offer from a foreign multinational, this is an alarming trend that New Zealand First will continue to oppose…
"Founded in New Zealand more than 80 years ago, Tip Top is one of New Zealand's most recognisable and trusted brands.
"If we are to build a value-added future for our economy, keeping the ownership of brands like Tip Top in Kiwi hands is critical.
"Tip Top was acquired by Australian company Peters & Browne's Foods in 1997, bought back by Fonterra in 2001, only to now return to foreign hands less than two decades later.
"Tip Top produces some 40 million litres of ice cream per year, helping capture value from New Zealand milk for New Zealanders. Now, those returns will disappear overseas."