How to ensure your insurance broker/advisor isn't compromising your interests for their back pocket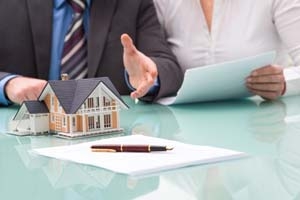 Putting all the cards on the table isn't always a feature of the insurance game.
The rulebook that insurance brokers and financial advisors operate under has holes, which undiscerning players can fall through.
Yes, it makes sense for those of us who don't have the expertise (or inclination) to sift through complicated insurance policies, to use a broker or advisor to select the one that best suits our needs.
But what can we do to ensure we don't get tripped up in the process?
Know the rules, so you're aware of how they can be broken
Insurance brokers typically deal with general insurance – home and contents, while financial advisors generally help us insure ourselves – life, income and health.
Both are legislated by the Financial Advisors Act 2008 and the Financial Service Providers Act 2008, which are due to be reviewed in the middle of the year.
Accordingly, brokers and advisors are required to be part of an independent disputes resolution scheme like Financial Services Complaints Limited (FSCL), or the Insurance and Savings Ombudsman.
Many also choose to be part of professional bodies like the Insurance Brokers Association, the Institute of Financial Advisors, or the Professional Advisors Association.
While these have their own codes of ethics, the standards they're legally obliged to meet are fairly vague.
Find out where your broker gets their money from
The Financial Advisors Act doesn't require brokers to specify the value of the commission or incentives they receive from insurers, for referring you on to them.
Section 77F says brokers have to disclose 'remuneration', 'material interests, relationships, or associations', but it doesn't specify the detail to which these disclosures have to be made.
Put simply, a broker has to disclose that they have arrangements with insurers X, Y and Z to sell their products.
But they don't have to say, for example, insurer X will send them on a trip to Vegas if they sell their product to 30 customers in a month, or insurer Y will pay them 50% of the premium customers pay.
While you'll be aware your broker earns part of their living from insurers, you won't always know the extent to which their advice is being influenced by these insurers.
Find out where your advisor gets their money from
Regulations are a little different for advisors.
Authorised Financial Advisors (AFAs) have to meet a higher standard than Registered Financial Advisors (RFAs).
Under the Financial Advisors Regulations 2010, only AFAs are required to disclose their remuneration.
Yet the Financial Markets Authority says, "It is expected that RFAs consider the relevance of the information they provide and whether it is material to the services provided.

"The principle behind disclosure is to provide clients with the essential information they need to make informed decisions and, importantly, the information should not be misleading, deceptive or confusing."
Be aware of soft commissions and hidden brokerage fees
Financial Services Complaints Limited chief executive, Susan Taylor, says most of the disclosure-related complaints the body receives, involve advisers not disclosing incentives, or "soft commission", offered by insurers.
She says, "We very rarely see that this is disclosed at the moment. They certainly have to disclose that they receive commission from the company, but they don't have to go into great detail about it."
Insurance Brokers Association chief executive, Gary Young, says it's more common for those who offer life, income protection and health insurance advice to be offered one or two-off large incentives from insurers, as these sorts of products are a big sell initially and involve less maintenance.
Brokers who manage people's contents insurance on the other hand, may need to keep working with their clients more frequently to update their policies.
Accordingly, they charge a brokerage fee, which gets included in the premium customers pay.
While brokers have to disclose the fact they've added a fee to your premium, they don't have to specify the quantity of this.
Taylor suggests people ask their broker or advisor which products they provide advice on, so you understand which insurers' policies are being considered.
Read the fine print around cancelling your policy
Insurers who pay large commissions, often expect advisors to repay this commission if the client cancels the policy within the first couple of years of buying it.
Taylor therefore says people should be wary of advisors including clauses requiring clients to pick up this cost if they surrender their policy.
She says the complaints body looked into a case like this in 2013, where the commission clawback was $6,000.
FSCL ruled it was inadequate for the advisor to include a clause in their contract saying, "I may charge a fee if the insurance policy is cancelled within the insurer's claw back period on commission paid".
It said, "We agree it is reasonable for an adviser to be paid for the work undertaken in arranging insurance. However, the fee should be a reasonable fee based on the adviser's actual time spent and expertise.
"We are concerned that advisers' disclosure documents do not always adequately explain what might happen if the customer cancels the insurance within a short period of time."
In this case the advisor conceded, partway through the investigation, they wouldn't charge the client.
Make the most of your broker/advisor
Institute of Financial Advisors chief executive, Fred Dodds, says brokers/advisors are most valuable when it comes to settling claims.
Gary Young from the insurance brokers association agrees, saying, "It's not just about getting the best deal at the front end, but it's about getting the best deal when it counts."
He says those who dealt through brokers in the wake of the Canterbury earthquakes settled claims more quickly than those who dealt with insurers directly.
Both Young and Dodds suggest finding the right broker/advisor who priorities the types of cover you need, stays in touch with you, and advises you on how to change your coverage as your financial situation and lifestyle changes.
They say people should ask the questions and expect transparent answers in return.