Govt proposing to double the amount it'll contribute towards paying for homes damaged by natural disasters, but scrap EQC contents cover and some land cover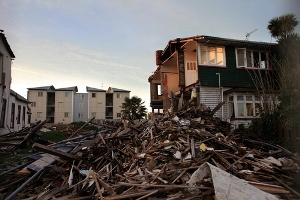 The Government's proposing to double the amount it contributes toward paying for homes damaged by natural disasters, including earthquakes, volcanoes, tsunamis, landslips and hydro-thermal activity.
It has today released a number of proposals to reform the Earthquake Commission (EQC) Act, which it's asking the public to provide its feedback on.
One of these includes increasing the cap on EQC building cover from $100,000 to $200,000.
It's also extending EQC building cover to include more site-works and access-ways to the building, so the extended cap will help pay for this.
The Minister responsible for the Earthquake Commission (EQC), Gerry Brownlee, and the Associate Minister of Finance, Steven Joyce, say: "Increasing the cap by this quantum recognises that costs which are presently part of EQC's land cover will become part of EQC's new building cover. 
"It is expected that increasing the cap will lead to lower premiums being charged to homeowners by private insurers. 
"This will also reduce the interaction between EQC and private insurers on over-cap claims by about two-thirds." 
Offsetting these gains to some extent, the Government's also proposing to scrap EQC's contents cover, and some types of land cover.
Brownlee and Joyce say insurers are willing to take on the business of contents cover, enabling EQC to focus on insuring homes, and eliminating uncertainties and friction regarding EQC contents claims.
As for changes to land cover, the Government is proposing to stop providing cover for land damage that has not caused damage to the house itself. Land cover will be limited to situations where rebuilding is not practicable.
The other major change proposed is for claimants to lodge their EQC claims with their private insurers first, rather than with EQC.
Brownlee and Joyce say: "This will reduce uncertainty for claimants and is expected to improve their claims experience.  Insurers will need to validate the claimant's status before forwarding the claim to EQC, thus reducing the current information churn between the claimant, EQC and insurers. 
"If this claims lodgement proposal works as intended, and agreements are reached between EQC and insurers, insurers will over time take an even greater role in the claims management process."
Insurance industry broadly in favour of changes
The Insurance Council of New Zealand (ICNZ) is "broadly" throwing its support behind the proposed changes.
Chief executive, Tim Grafton, says it makes sense that the first contact people make when an earthquake strikes is with their insurer, not EQC.
"Many people will go for years having no direct relationship with EQC at all, but they do know their insurer", he says.
"We also believe insurers should be handling all claims, some of them on behalf of EQC which had only about 24 staff when the first Canterbury earthquake struck. That required them to scale up to about 1800 staff to manage the claims that poured in.
"Claims handling is a core daily function of private insurers and they employ thousands of staff who are on hand to respond 24/7 and handle over a million claims a year.
"So, it makes sense for them to not only accept lodgement of claims but where they are willing and able, to be responsible for handling them too."
Grafton says insurers already meet several of the pre-conditions the Government wants them to meet before this happens.
As for the Government proposing to ditch contents cover, Grafton says this again simplifies the claims process.  
He says ICNZ has formed a working group to go through the technical details of the proposals, including the level of the EQC cap.
He says it's too early to say whether the reforms will end up seeing the Government or insurers pick up more of the costs. He notes a lot of this will depend on the type of disaster and the location it occurs at. 
Grafton says reinsurers will be welcoming the Government's move to finally provide a bit of certainty around the level of involvement it providing disaster cover in the future, and how it will work in with insurers. 
Brownlee concludes: "These reforms are designed to ensure the EQC scheme remains focussed on insuring homes; resolves the difficulties experienced in Canterbury with the interaction of land and building cover; better integrates EQC and private insurers' claims handling processes; and ensures the ongoing financial sustainability of the scheme.
"We also propose keeping EQC's role in supporting research and education about New Zealand's natural hazards and how to reduce their impact." 
The public have until September 11 to make submissions on the proposals.