Tony Morgan explains why the four largest listed US companies - all tech stocks - set the tone for equity markets, and what you can learn from their investor reports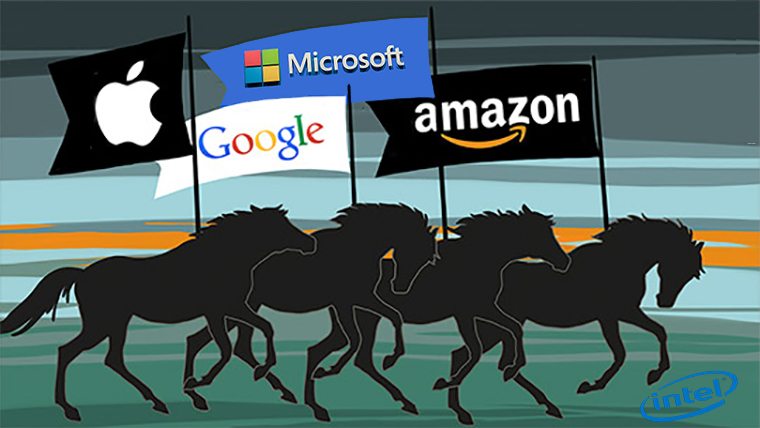 Last week's results from the four largest American companies, that is Apple, Microsoft, Alphabet (Google), and Amazon (in that order) clearly indicate that the sky is not falling, that there is opportunity out there in an increasingly hostile world of rising interest rates, inflation and cross boarder political conflict, not to mention the Russian invasion of Ukraine.
These trillion dollar market-capitalised behemoths bestow importance because the majority of us interact with them in some way on a day to day basis.
That I do not own any shares in any one of the above companies does not reduce their importance for sensible investors to take notice. What happens on Wall Street at this mighty big end, where global institutions, Index funds and the like (even Mum and Dad investors) store and trade wealth has a huge impact on sentiment.
The sound in this case is positive noise, just what the likes of small investors, like our four Amigos (we will return to these chaps one day) like to hear.
It brightens the day to hear that the big wigs from these stalwarts talk about the positive going forward. How technology is changing the world, the demand ever increasing on a global scale.
Thus far I have only read Microsoft's earnings transcript, seemingly the most important of the whole week, a week of where 100s of companies in America reported their results to stock exchanges. The king of software is in fall stride and aggressively furthering their position of strength in building the global brain via Data Centre's, where an ever-increasing amount of data is being stored and analysed and then retrieved for use on a user pays basis from customers throughout the world.
You could say that the four horsemen have raised the bar, or in more defensive terms, not let the bar drop. They understand that the marketplace is changing and is complicated. But they are relentless and well placed to get through in any storm intact and in fact stronger out the other end.  That's why the share prices all rallied last week and was the most positive week for equities all year, and has continued this week.
You gotta take note.
A kind of floor has been put in the ground. An imaginary line, but tangible nevertheless.
That line was suspect, given the premium valuations these companies command. They command the eyes of almost all investment institutions globally, whereby consistency in earnings is almost dogma - 'Nail it and we all stay'. As I said in my last column, "belief". There is an enormous respect for those that continue to execute in the good times and not so good. 
That is not to say we as private investors can jump for joy and remove our guard or our disciplines towards investing. No, we must be ever vigilant.
As a case in point ... Intel, the world's biggest semiconductor company for example had an atrocious result and forecast more of the same. This result was all the more disappointing given the fact the technology world is screaming out for hardware to propel our ever-immersive virtualised software world.
What happened with Intel is also important, worthy of discussion at later date.
'Boring' Bonds have a role to play
The other consistent message was that of the US Federal Reserve will again be hiking their Fed Funds rate (effectively official cash rate) by another 75 basis points.
This in turn finally flipped the yield curve to be negative, that is what the 2 yr Treasury bond trades versus the 10yr one (in another words the 2yr yield is now higher than the 10 yr).
This curve being now negative (rather than positive) generally defines a period of negative economic growth is forthcoming. And that might be so.
But my take is that those short-term rates need to be going higher to slow the economy further in the next year or two, to get inflation somewhat under control (I could be dreaming).
The same should happen in New Zealand as our Reserve Bank ratchets up the official cash rate. We are ways off getting the yield curve to flip. But the signs are appearing. Long term interest rates are leveling off. I would suggest it is likely that by the end of this year, should the Reserve Bank keep putting the foot to the peddle in increasing that cash rate, then we will end up with a yield curve similar to the US.
The crux of all this interest rate shenanigans, is that hopefully investment markets will stabilise somewhat as inflation comes more under control and those lower long term interest rates give borrowing markets (that is, house mortgage market for instance) a firm ceiling even if short term rates, say 2yrs or less are still relatively high.
Furthermore, we as consumers and or producers will get some relief that pricing of goods and services are more stable.
In such a new environment, even though economic growth may stutter you should see equities in general stabilise. Putting money to work is another story though, something we must dig deeper into in due course.
---
Tony Morgan has run a portfolio management business and an equity brokerage, both of which were purchased by Craig Investment Partners. He now runs a small family office that invests globally. Other articles in this series can be found here. And the profiles of all the NZX50 companies can be found here.