KiwiSaver funds held by banks won't be 'pre-positioned' for the RBNZ's OBR policy as managers viewed to be 'better able to manage temporary illiquidity' than depositors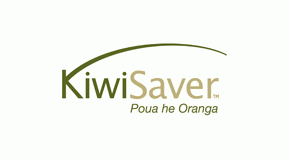 By Gareth Vaughan
KiwiSaver funds held by banks aren't included among the unsecured liabilities to be "pre-positioned" for the Reserve Bank's Open Bank Resolution (OBR) policy meaning, if a bank got in trouble and had the OBR policy applied to it, the KiwiSaver money would remain frozen in full at the behest of the bank's statutory manager.
A Reserve Bank consultation document sets out the Reserve Bank's policy on pre-positioning requirements for its incoming OBR policy, which is designed to provide a potential alternative to a liquidation or full taxpayer bailout in the event of a bank failure.
The consultation paper notes that as OBR requirements are largely focused on outcomes, banks can come up with "bespoke technical design solutions" for their individual OBR functionality, so long as the Reserve Bank approves these.
"This recognises that banks have different operating systems, and this in turn affects how outstanding account balances are calculated, which is dependent on their IT configuration, process cycles and specific product features. An example is the treatment of term deposits. Banks have varying product features and interest accrual cycles and hence, are given the flexibility in choosing which design approach would suit their situation," the Reserve Bank says.
"Early repayment of term deposits is not expected to be allowed by the statutory manager."
Banks won't be required to build capability to calculate interest on the frozen portion of customers' funds. The statutory manager will decide whether interest should be paid on frozen funds and at what rate. The theory is that customers regain access to parts or all of their frozen funds over time depending on the resolution of the bank's financial problems.
The Reserve Bank says term deposit accounts, although not transactional in nature, are required to be pre-positioned for OBR because they're usually held by individuals and entities who also engage in transactional banking. Pre-positioned customer accounts will have unfrozen funds made accessible or available to account holders from 9 am on the business day following the appointment of a statutory manager, with the exception of term deposits which will be accessible at maturity.
The list below shows which unsecured liabilities will, and which won't, have to be pre-positioned for OBR. The Reserve Bank says unsecured liabilities that don't have to be pre-positioned generally involve more sophisticated creditors or counter parties who can "better manage temporary illiquidity." Liabilities that aren't pre-positioned remain inaccessible or frozen in full until the statutory manager is "in a position to release" the unfrozen portion of these liabilities at a later date.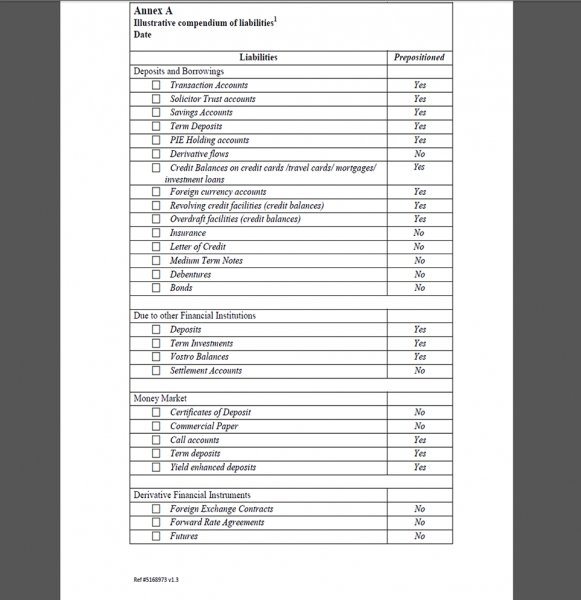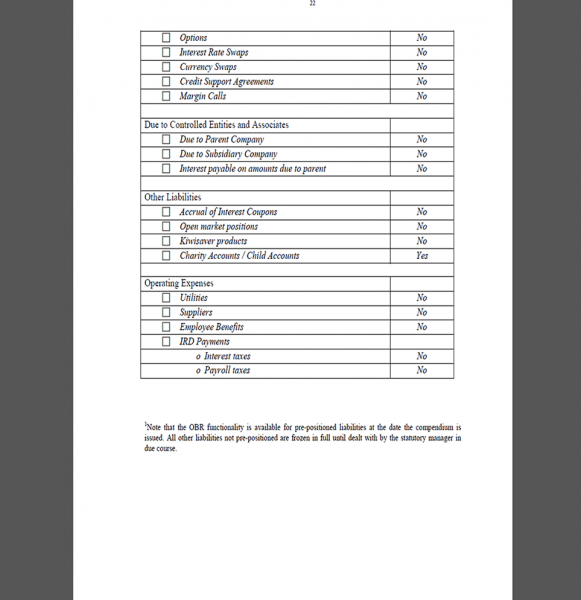 All locally incorporated registered banks with retail deposits in excess of NZ$1 billion dollars, which covers banks ranging from ANZ, the country's biggest bank, to newcomers the Co-operative Bank and Heartland Bank, must be ready for the OBR policy from June 30. This means having their IT, payments, resource and process functionality in place.
The OBR policy has come under fire, especially from the Green Party, following news of haircuts of up to 60% on Cypriot bank deposits as part of a bailout of that country's failed banking system. The Reserve Bank's head of prudential supervision, Toby Fiennes, defended the OBR policy in a speech last week. And the central bank has previously said OBR could save taxpayers' more than NZ$1 billion whether there's a bank failure or not. It estimates pre-positioning is costing the banking industry an initial investment of NZ$20 million, plus a net cost of NZ$1 million per annum for ongoing maintenance.
Fiennes laid out the OBR policy thus;
When a bank is in trouble and we think it is unlikely to be able to meet its obligations in full and/or on time, it will be placed into statutory management. The statutory manager will legally freeze the bank's liabilities.

Customer liability accounts must be pre-positioned for OBR. Pre-positioned customer liability accounts will have unfrozen funds made accessible or available to account holders from 9 am the business day following the appointment of a statutory manager (except for term deposits which will be accessible at maturity).

The basic idea is to release transaction accounts to the bank's customers as swiftly as possible so they can carry on making and receiving payments.

Instead of their accounts being frozen for a lengthy period as they would under a conventional liquidation, a proportion would be unfrozen and released for the start of the next business day (with a government guarantee to prevent further runs on the bank). Non-transaction accounts would be released, also in the same proportion, in line with their maturity. The frozen funds would be released in whole or in part as resources are available.
The Reserve Bank's consultation paper includes the diagram below of the OBR process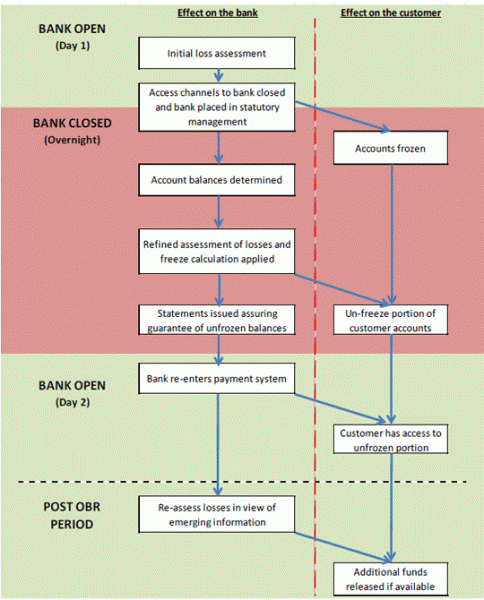 This article was first published in our email for paid subscribers. See here for more details and to subscribe.