Call for law to be tweaked to make it easier for 1st home buyers to access new grant for buying newly-built homes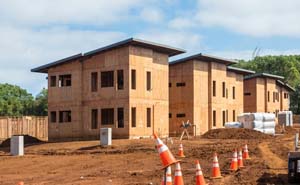 There are fears a fish hook in the law will prevent first home buyers from taking advantage of a Government incentive aimed at getting more people in newly-built homes.
A new grant for first home buyers purchasing newly-built homes will come into effect on April 1.
First home buyers purchasing newly-built homes will be eligible for a grant of $6000 after they've been in KiwiSaver for three years, $8000 after four years and $10,000 after five years.
The grant is double that of the one available for first home buyers purchasing existing houses.
Housing Minister Nick Smith says, "The focus of this package is to increase the supply of new housing and to encourage housing companies to build homes in a price range affordable for first home buyers".
Yet Squirrel Mortgages managing director, John Bolton, sees a glitch in the system.
KiwiSaver will only release the funds on settlement, despite buyers needing the cash to make a deposit when entering into an agreement to purchase the property.
So essentially, the deposit is tied up in KiwiSaver.
Bolton says, "There's a disconnect between policy and the Government's intention".
He questions where buyers are going to get that $55,000 they need to make a 10% deposit on a $550,000 house from.
He says no one's going to lend you that kind of money unsecured, and if you do get a bank loan, you're looking at an interest rate of around 16%.

Bolton maintains buyers' parents will end up stepping in and lending money to their children in the short-term.
He says it's not a matter of developers changing their conditions to attract first home buyers, as it's the banks funding developers that require deposits.
"My request for Government would be that buyers can access the grant on going unconditional rather than at settlement", he says.
Smith's office has responded to Bolton's concerns, saying, "The Minister is seeking advice from officials on this".
First home buyers are only eligible for the grant if their income is below $80,000 for an individual and $120,000 for a couple.
The house being purchased must also be below the regional house price limits, which are going up in April to $550,000 in Auckland, $450,000 in Wellington, Christchurch, Hamilton, Tauranga, Queenstown and a number of other towns, and $350,000 for the rest of the country.
Smith says the grant for newly-built homes is one component of the Government's new HomeStart package, which will cost an additional $218 million over the next five years.