Our comprehensive review of moderate fund regular savings returns as at June 30, 2016, identifying who has the best long-term returns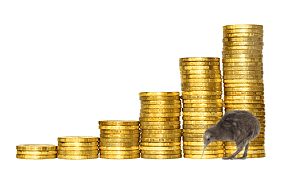 By Craig Simpson
A majority of the funds in the Moderate KiwiSaver category have seen their long run returns slip from our last review done in March 2016.
The only funds to buck the trend were ANZ OneAnswer Conservative Fund, and Fisher Funds Conservative Fund. ANZ's Conservative fund held its return over the long term.
Over the past three years all the funds except BNZ's Moderate Fund showed improvements in returns.
The funds in this category have a greater exposure to shares and have been more susceptible to fluctuations in stock market volatility. Many of the funds over the last quarter have managed to hold their ground in the face of some severe head winds. A few managers have dipped below the line in terms of the change in their unit price.
Over the past 12 months all the managers have seen rises in their unit prices, although there is a large spread (approximately 3.5% difference) in returns across the managers.
Our regular savings return analysis shows the gap between the performance of the top five moderate funds compared to the five default funds since April 2008 is closing. Moderate funds have delivered an extra $1,900 in returns on average after-tax-and-all-fees.This is down form the $2,600 generated in the last quarter, and is consistent with the recent reduction in our calculated long-run returns.
We find it concerning that investors in moderate funds are only marginally better off than they would be in a default fund. The step up in risk should be compensating investors by a greater margin, and in our opinion some moderate funds are not offering investors adequate compensation.
.
  Aon Russell LifePoints Conservative is our best in class award winner this quarter. This fund has been consistently one of the top performers in the category. Returns after tax and fees over the long term that exceed 7.5%, we think, is very commendable especially when you consider that around two thirds of the funds are invested in cash and fixed income assets.
Here is the comparison to June 2016 for Moderate Funds:
Moderate Funds
 
 
 

Cumulative

contributions

(EE, ER, Govt)

+ Cum net gains

after all tax, fees

Effective

cum return

= Ending value

in your account

Effective

last 3 yr

since April 2008
X
Y
Z
to June 2016
 
 
 

$

% p.a.

$

 
 
 
 
 
 
 
 
 
Aon Russell LifePoints Conservative
M
C
C
27,378
12,714
7.6%
40,092
7.7%
ANZ OneAnswer Cons. Balanced
M
B
M
27,378
12,030
7.3%
39,409
7.5%
ANZ Conservative Balanced
M
B
M
27,378
11,957
7.2%
39,335
7.5%
ANZ Default Conserv. Balanced
M
B
M
27,378
11,605
7.0%
38,983
7.4%
ANZ OneAnswer Conservative
M
C
C
27,378
10,395
6.4%
37,773
6.8%
ANZ Conservative
M
C
C
27,378
10,332
6.3%
37,710
6.8%
Fisher Funds TWO Conserv
M
C
M
27,378
10,003
6.1%
37,382
6.4%
Westpac Conservative
M
C
M
27,378
9,686
6.0%
37,064
6.3%
AMP Moderate
M
B
M
27,378
9,439
5.8%
36,817
6.0%
Grosvenor Conservative
M
C
M
27,378
9,211
5.7%
36,589
6.0%
AMP Conservative
M
C
M
27,378
9,163
5.6%
36,541
5.7%
Craigs Conservative
M
C
 
27,378
8,638
5.3%
36,016
5.4%
Fisher Funds Conservative
M
C
C
23,571
7,720
6.2%
31,291
6.8%
BNZ Moderate
M
B
M
10,720
2,512
6.4%
13,231
5.8%
Generate Conservative
M
C
M
10,493
2,526
8.8%
13,559
8.1%
Observations and factors driving performance
The recent rise in three year returns has not been sufficient to pull up the long-run returns calculated using our regular savings methodology.
We have also observed that the division between the top and bottom performers has increased from the previous quarter.
Ultra defensive tilts - that is the manager is holding greater portions of cash compared to other assets - will be behind some of the increase in the divide between the top and bottom performers.
Funds with a greater exposure to global and government bonds will be adding more value to investors than those with a bias to NZ based or offshore corporate debt.
A bias towards NZ shares is giving many of the funds a boost in performance, so too is the hedging position across global assets.
Property exposures within some of the funds are modest, but the performance of these assets is more than compensating for some defensive positioning within the asset allocations.
The Aon Russell LifePoints Conservative Fund does not have a specific property allocation, but then again their performance is not being tamed as they have very little cash exposure in the fund. 
The Fisher Funds Conservative fund, BNZ Moderate Fund and Generate Conservative have not been operating for the entire period and therefore their position in the table does not reflect their comparative performance versus other funds in the peer group.
----------
Updated: There were some errors found in unit price data used for Generate KiwiSaver Conservative Fund. These have been corrected and the performance recalculated.
Across the industry there is currently no consistency on how funds are categorised so readers will see funds with different risk descriptors (i.e. Conservative, Conservative Balanced & Moderate) appearing in the performance table. To learn more about how we categorise the various funds click here.
For explanations about how we calculate our 'regular savings returns' and how we classify funds, see here and here.
There are wide variances in returns since April 2008, and even in the past three years, and these should cause investors to review their KiwiSaver accounts especially if their funds are in the bottom third of the table.
The right fund type for you will depend on your tolerance for risk and importantly on your life stage. You should move only with appropriate advice and for a substantial reason.
Our June reviews of default and conservative funds can be found here and here.