Government documents show the option of increasing the minimum employer KiwiSaver contribution was rejected in favour of adding new 6% and 10% employee contribution options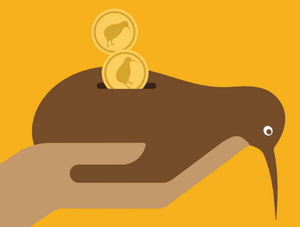 The Government has rejected the option of increasing employers' minimum KiwiSaver contribution to 4% and will instead add two new employee contribution rates.
A new tax bill will add 6% and 10% KiwiSaver contribution options and, according to a Government Regulatory Impact Statement (RIS), is likely to have a "positive impact on savings." It also opens KiwiSaver to people aged over 65 for the first time, although they will not be eligible for the Government's Member Tax Credit of $560 per year.
Last week, Revenue Minister Stuart Nash revealed the Government is moving ahead with the Taxation (Annual Rates for 2018-19, Modernising Tax Administration, and Remedial Matters) Bill.
It is likely to pass after National's revenue spokesman Paul Goldsmith confirmed to Interest.co.nz his party would be supporting it.
The RIS outlines the Government's concern about the low employee contribution rates and the future impact this may have on the economy.
As it stands, KiwiSaver members have contributions deducted at a rate of 3% (the minimum default rate), 4% or 8% from their salary and wages.
But roughly 90% of members were contributing at the lowest 3% or 4% employee contribution rates in the 2016-17 year.
Just 9% of members contribute at 8%, the RIS says.
The 6% and 10% options would give members greater savings flexibility which aligned with their specific retirement savings needs.
"The additional 6% rate would also address the gap between the current 4% and 8% contribution rates, which the Review indicated many members think is too large."
A KiwiSaver member, with an annual gross income of $50,000, would gain an additional $1,000 a year in savings by increasing their contribution rate from 4% to 6% or from 8% to 10%.
The RSI considered several ways in which the Government could help increase overall KiwiSaver contributions, including increasing employer contributions.
But this option was seen as a lot less favourable.  
"This could detrimentally impact on members and employers' current financial position and short-term savings," the report says, adding that there is "limited evidence this recommendation would raise savings rates."
The idea of adding an automated option to allow members to increase their contribution rate over time was also mooted.
Under this option, members would choose an automated annual increase in their contribution rate of 0.25%, 0.5% or 1% up to a capped maximum rate.
But this option would significantly increase compliance costs for employers, and could require them to modify their payroll systems, the report says.
The new bill will also reduce the maximum period of the contributions holiday from five years to one year. This would limit the time during which members make no contributions to their KiwiSaver. 
The RSI recommended this option to prompt members to resume making contributions sooner, so that they increase their savings and maximise their member tax credit entitlement.
For the year ending 31 June, 2017, 131,710 members were on a contributions holiday, with 84% of these contribution holidays being five years in duration 
The Government is also renaming "holiday contribution" to "savings suspension."
What else is changing?
Many of the issues discussed in the report, including the option to add new KiwiSaver contribution options, were outlined by the Retirement Commissioner's review of retirement income policies in December 2016.
The Retirement Commissioner, Diane Maxwell, has welcomed the Government's bill.
"Adding more contribution rates gives members more flexibility and control over their savings," she says.
"We've had many New Zealanders tell us that the gap between 4% and 8% is too large for those able to contribute more, so they feel stuck on the lower rates. Others want the ability to save even more for their retirement," says Maxwell.
"Following our 2016 Review of Retirement Income Policy we recommended that allowing entry to KiwiSaver to people over 65 would remove a policy inequity, provide another investment option for this age group, and allow employers to voluntarily make contributions for all employees over 65," says Maxwell. "There is no apparent reason for those over 65 not being able to join KiwiSaver."
The Bill, which will come into effect in early 2019, also introduces several other changes, including:
Providing automatic tax refunds, so IRD will issue people the money they're owed instead of having to apply for it
Introducing a 'short process ruling' where small businesses can more easily apply for a binding ruling from Inland Revenue on any tax matter
Provides the Commissioner of Inland Revenue with more flexibility to deal with minor anomalies in tax legislation
Allows over-65-year-olds to join KiwiSaver as a provider of low cost managed funds. Employers would not be obliged to contribute for over-65s but may do so voluntarily
Sets the annual tax rates for the 2018-19 tax year, which remain unchanged from previous tax years
Revenue Minister Stuart Nash says the Bill represents a "significant step in the modernisation and simplification of New Zealand's tax system, supporting much of Inland Revenue's Business Transformation work."