The PM is dismissive of the Deputy PM telling Grey Power Cabinet is working on making it harder for migrants to get Super and considering requiring employers of over-65s to match their employees' KiwiSaver contributions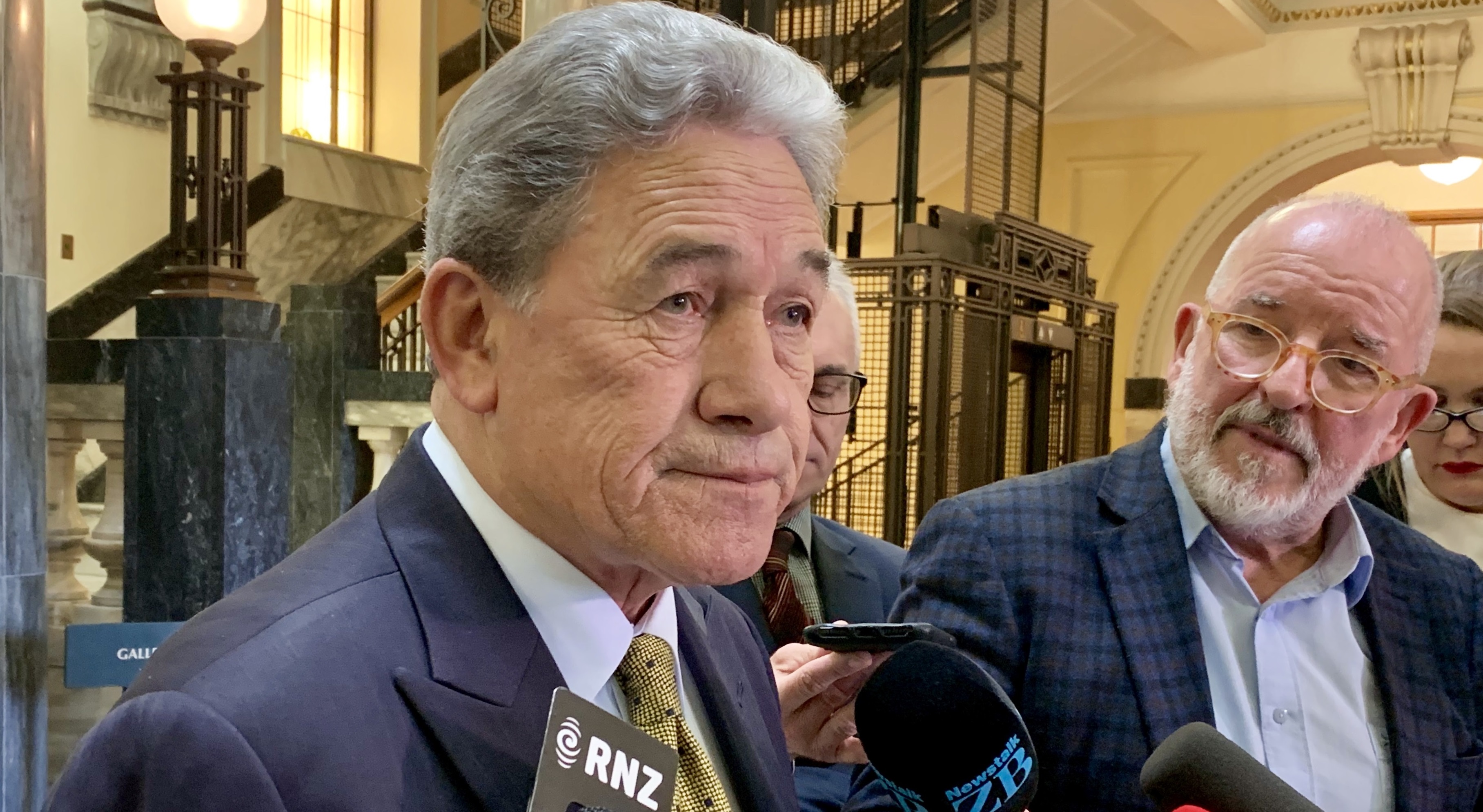 Prime Minister Jacinda Ardern and Deputy Prime Minister Winston Peters are giving mixed messages around potentially significant changes to KiwiSaver and New Zealand Superannuation.
Peters, at a Grey Power meeting on Monday morning, said the Government was looking at making it harder for migrants to receive Super by requiring people to have lived in New Zealand for longer to qualify.
Currently New Zealand residents over 65, who have lived here for at least 10 years since age 20 (including five years since age 50) are eligible.
Peters said the Government was doing a "serious piece of work" to extend this timeframe and would make an announcement before the 2020 election.
He also said Cabinet was considering requiring employers to make contributions to their employees' KiwiSaver accounts if they're over 65 and contributing themselves.
The Government in March passed the Taxation (Annual Rates for 2018-19, Modernising Tax Administration, and Remedial Matters) Bill, which enabled over-65s to join KiwiSaver. But it didn't go so far as to requiring their employers to make contributions. Employers can do so voluntarily. 
Asked in a post-Cabinet press conference on Monday afternoon whether Cabinet was in fact considering these KiwiSaver and Super changes, Ardern was blunt.
"I'll make statements around potential changes to policy when they've been made and decided upon in Cabinet. I won't speculate beforehand," she said.
Ardern dismissed Peters' Super eligibility comments, treating them as if he made them while wearing his New Zealand First Leader hat, rather than his Deputy Prime Minister hat.
She pointed out: "New Zealand First has long-held a policy in this area and it's absolutely within any party leader's rights to reiterate that."
Asked what Labour's position was, Ardern repeated the line she used when asked about her party's position on tax reform while the Government was considering the Tax Working Group's final report – that her focus was on building "consensus".
Peters earlier in the day told media there was growing consensus in government to extend the Super residence requirement beyond 10 years.
He noted New Zealand First campaigned before the last election to extend the threshold to 25 years, but had been happy to settle at 20 years to reach a compromise with National.
He said it was unfortunate that National was in opposition, when it came to progressing this issue, but he was pleased Labour was prepared to look at it.
The Commission for Financial Capability said it hadn't been asked by the Government to contribute to a discussion around Super residence requirements beyond what it's looking at as a part of its three-yearly review of retirement income policies, to be tabled in Parliament in December.
In its last review, concluded in 2016, it recommended an increase in the length of residence required for Super from 10 to 25 years.
It didn't recommend employers of over-65s be made to make KiwiSaver contributions, as it didn't consider this a priority.
The only superannuitant-related clauses in Labour and New Zealand First's Coalition Agreement are to keep the age of entitlement for Super at 65 and to introduce a "new generation" SuperGold card.
Minister for Seniors Tracey Martin on Monday announced $7.7 million would be allocated in the next budget (to be announced on May 30) towards building a new SuperGold digital platform, including a mobile app, that cardholders can use to stay updated on where they can receive discounts.
There are more than 750,000 cardholders and 14,000 outlets around New Zealand where cardholders can access savings.