State Services Commission reprimands outgoing Treasury Secretary Gabriel Makhlouf for the way he characterised the Budget 'leak' but clears him of acting with political bias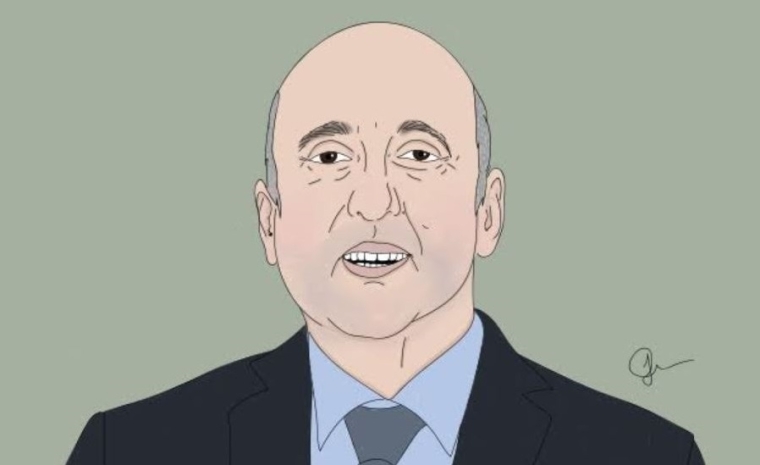 A State Services Commission investigation has found outgoing Treasury Secretary Gabriel Makhlouf's response to the Budget "leak" saga was "clumsy" but "not a sackable offence". 
Deputy State Services Commissioner John Ombler found Makhlouf "acted in good faith, reasonably and without political bias" in relation to the advice he gave the Finance Minister and his decision to refer the matter to the Police.
However Ombler concluded Makhlouf "did not act reasonably" in relation to the way he characterised the leak.
He said Makhlouf's use of the phrase "deliberate and systemically hacked" in a media statement was unreasonable, as was a "bolt" analogy he used in an RNZ interview, which gave the impression Treasury's systems were very secure.
He also called out Makhlouf's continued focus on the conduct of those searching the Treasury website, rather than Treasury's failure to keep the information confidential.
The Budget "leak" saga stemmed from National, days before the release of the Budget, releasing Budget information it had obtained. Treasury's response was that its website had been "hacked". But as it turned out, a weakness in its IT system meant that confidential Budget information could be obtained through simple searches on its website.
State Services Commissioner Peter Hughes concluded Makhlouf's management of the issue fell "well short" of expectations, but was "not a sackable offence".
He said Makhlouf didn't offer to resign over the matter, nor did he accept the Commission's findings. Hughes wouldn't say whether he expected to receive an offer of resignation.
"The right thing to do here was to take personal responsibility for the failure irrespective of the actions of others and to do so publicly. He [Makhlouf] did not do that," Hughes said.
He said Makhlouf should have sought more advice before issuing a media statement about Treasury's referral of the matter to the Police.
"It was a clumsy response to a serious issue and is not what I expect of an experienced chief executive," Hughes said.
"The breach of security around the Budget documents should never have happened, under any circumstances."
Pressed in a media conference over why he didn't come down harder on Makhlouf by more formally reprimanding him, Hughes noted the international media coverage of the matter had "significantly damaged" Makhlouf's reputation; a reality that "weighs heavily on him".
He said he had done all he could, but couldn't run the public service on the basis of "you're only as good as your last offence". 
National responded to the Commission's findings saying Makhlouf should've offered his resignation. It said questions also needed to be asked of Finance Minister Grant Robertson who is ultimately responsible for Treasury.
It said Robertson should at the very least apologise to New Zealanders, having linked Makhlouf's comments about a "hack" to National.
Robertson reiterated his "disappointment" over Treasury's systems being able to be accessed, but said the report showed "all those involved were acting with the information available at the time".
Today is Makhlouf's last day at Treasury. He is due to become the governor of Ireland's central bank.
The Commission is undertaking a separate inquiry, requested by Makhlouf, into how the Budget material was accessed. This will look at the adequacy of Treasury policies, systems and processes for managing Budget security.
Here is Robertson's full statement:
"We welcome the State Services Commission report on unauthorised access of the Treasury website and note its findings. It confirms the Government's description of events," Finance Minister Grant Robertson says.

"Overall it showed all those involved were acting with the information available at the time, and in good faith, and that the Treasury acted without political bias.

"I want to reiterate my disappointment that the Treasury system was able to be accessed in this way and I look forward to the outcome of the inquiry into that.

"Our focus continues to be on the delivery of the Budget and rolling it out," Grant Robertson said.
Here is National's full statement: 
Treasury Secretary Gabriel Makhlouf should have offered his resignation following the early release of Budget information, and at the very least should apologise for how he handled it, Deputy Leader of the Opposition Paula Bennett says.

"Mr Makhlouf had a responsibility to keep Budget information confidential. It is disappointing that he has taken no responsibility for the incompetency he has shown.

"It is clear the State Services Commissioner Peter Hughes felt he should offer his resignation. If Mr Makhlouf wasn't already leaving, his position would be untenable.

"He will now likely leave the country, having collected a remuneration package of at least $640,000 a year, without any public apology for overseeing one of the biggest blunders in the Treasury's history. The New Zealand public deserve better.

"Questions now need to be asked of Finance Minister Grant Robertson. He is ultimately responsible for the Treasury and the Budget, and the buck stops with him. It's clear he did not ask the right questions of Mr Makhlouf and only heard what he wanted to hear – which was that the National Party was engaged in systematic hacking. He was happy to sit on that lie for more than 36 hours. He has never corrected his false statement.

"Mr Robertson is the one who publically linked the National Party to a false hacking claim. Given Mr Hughes felt it appropriate for a resignation to be offered by Mr Makhlouf, the Prime Minister should expect the same level of accountability from her Finance Minister.

"At the very least, Mr Robertson owes an apology to all New Zealanders, not just the National Party.

"The handling of this by the Treasury and the Minister has been incompetent. New Zealanders deserve better from what is arguably this country's most important and influential Ministry."