China's ban on the importing of recyclable materials is being felt here as New Zealand's waste problem grows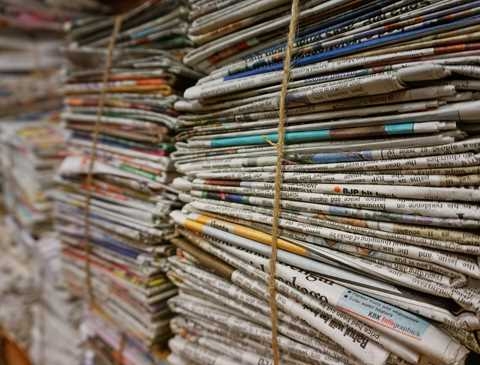 A decision last year by China to restrict recyclable waste imports from around the world has left Auckland Council staff scratching their heads as they look for a viable solution.
The council says it is now looking at conducting "an in-depth feasibility study" to find a solution to New Zealand's looming paper and cardboard recycling crisis.
But even though it says it is an "urgent priority" it is calling on other councils to step up to the plate as well and says there is a need for a coordinated approach to address what is a burgeoning nationwide problem.
It says the study would add to work undertaken over the last year by the Ministry for the Environment's National Resource Recovery Taskforce and Auckland Council.
Global challenge
The council says the Chinese government's National Sword policy has led to a dramatic fall in the price paid for recyclable paper and cardboard around the world, which it describes as a global challenge.
China announced last year that it was banning the importation of recyclable materials that it can replace with domestic sources by the end of 2019. The country is the biggest importer of recovered fibres and plastics in the world and accounts for approximately half of the world markets. The first round of China's National Sword policy was introduced last year and covers all mixed paper grades and recyclable plastics.
New Zealand's recycling sector currently recovers around 485,000 tonnes of fibre-based material, which includes paper and cardboard, each year and nearly half of it is processed and recycled in the country. But the rest is exported to overseas markets.
Auckland Council waste solutions programme director Parul Sood says that equates to 200,000 tonnes per year – which could end up in landfills if the prices paid on global markets continue to fall.
Indonesia has been the most common destination for recyclable fibre waste, with China second until mid-2017. Thailand and Vietnam have to date replaced the capacity lost in China. But Thailand, Vietnam and Indonesia have now also introduced their own import restrictions on recyclable waste.
National strategy needed
Auckland councillor Penny Hulse says while Auckland Council is well placed to coordinate the project, Christchurch City Council has also expressed strong interest in being part of a joint effort with the Ministry for the Environment.
"In addition to central and local government action, it would be great to see local industry responding to the need. Auckland Council encourages potential industry players that may have solutions to meet the current need to come forward with their ideas.
"The Government also recently announced $40 million has been set aside in the Provincial Growth Fund for waste management and minimisation initiatives. Auckland Council wants to be a catalyst for action but that doesn't mean the solution needs to be right in the middle of Auckland," Hulse says. "There is a great opportunity for the solution to happen outside of Auckland."
Sood says to date most of the investigations have only focused on using paper mills as a solution, but she says all options need to be considered.
China's ban here to stay
A 2018 Ministry for the Environment report titled National Resource Recovery Project - Situational Analysis was released under the Official Information Act and makes for sobering reading and highlights the gravity of the situation.
"It is highly likely that not only are the current Chinese restrictions here to stay but quite likely that further restrictions covering many, if not all recovered grades of materials may be excluded in the future. Sources have indicated that the Chinese government intends to ban virtually all recycling grades from being imported into China. The current roll-out of restrictions appears to be part of a plan to eventually end imports of waste materials that can be substituted by Chinese domestic sources.
"Even if there was certainty over China's plans, mixed paper grades will continue to be a difficult investment decision as demand for newsprint drops year on year (due to the decline in newspaper sales)."
It says a recent survey of councils found 82% of them said they had been affected by the Chinese restrictions.
"Although the issue with mixed paper is less pronounced, 40% are still indicating they are having to sell mixed paper at a lower price, stockpiling, or struggling to find new buyers.
"While much of the profile so far is related to issues to do with plastics recycling, it is clear that potentially the most significant difficulties are in relation to recycling fibre [paper and cardboard]. Internationally, China has been consistent in enforcing their policies relating to the import of mixed fibre. For several reasons, fibre appears to be a high priority."
It says increasing capacity to recycle fibre locally or internationally requires significant capital investment and a lengthy lead-in time. But because it makes up 35% to 40% of recycling means it is a major part of the problem.