US jobs growth modest, prior months revised down; equity markets tumble; China to retaliate over US tariffs; Japan & Korea dispute escalates; regulator defects; UST 10yr 1.84%; oil down and gold up; NZ$1 = 65.3 USc; TWI-5 = 70.7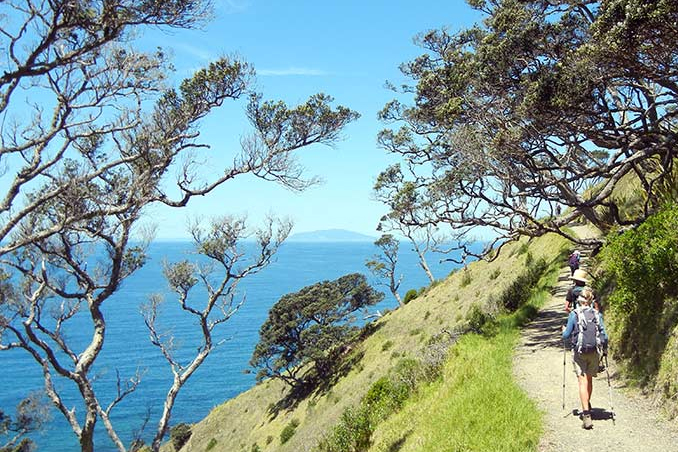 Here's our summary of key events overnight that affect New Zealand, with news markets are in full retreat as the US compounds its policy missteps.
But firstly today, US jobs growth came in at a modest +164,000, almost exactly as expected. But there was a sharp sting in this data; June's +224,000 gain was revised down to +193,000, and May's data was revised lower too. The July result is the fifth lowest increase over the past two years.
Wall Street isn't impressed. Essentially it has ignored this result, building on yesterday's tariff disapproval. It is down another -0.7% so far today and looks to be heading for for a weekly drop of -3.3%. Bond yields keep on dropping too and risk aversion builds quickly over the policy misstep.
European markets fell even worse. Not only are they facing an unreliable US economy, they have their own slowdown to worry about and the fear of Brexit as well. Most markets were down more than -3% overnight. Yields fell sharply there too.
In Asia yesterday, Shanghai ended down -1.4%, Hong Kong ended down -2.4% and Tokyo was down -2.1% on the day. Those results dragged the weekly levels down -2.5%. For trillion dollar markets, these are a huge loss in 'value'.
China is raising the stakes, and the risks, by announcing it will retaliate again against the new US tariffs. And it said China now "won't give an inch" after what they see is the latest insult from the US negotiation style.
One of the great ironies of this trade war is that since the US started it, the trade deficit the US runs with China has gotten progressivel worse. In new June data out overnight, it is recording a record deficit with China. US exports are falling much faster than US imports. Clearly US policy makers willfully don't understand what is going on. It is American's continued buying that is fueling this deficit. The Chinese have shown much more discipline by pulling back sharply on their buying of US goods. American buying of Chinese goods just shows Washington's aim at Beijing for this is quite misplaced. An Economics 101 course would help the US cause, but economic literacy isn't the US President's strong suit. From all this we should all assume the policy mistakes will keep coming.
While all this is going on, Japan and South Korea are in their own trade tussle, rooted in deep cultural enmity. Now each has removed MFN status ("most favoured nation") and that will roil trade between the two neighbours. It is a trade dispute that could get ugly fast.
In Vancouver, Canada, July housing sales have surged as prices there fell. Sales are up +24% year-on-year and prices are down -9% on the same basis.
In Australia, just how close the regulators are to their industry has been highlighted by a very recent more at ASIC. Their senior executive leader who led an industry probe into the fast growing 'buy-now pay-later' sector and oversaw potential changes to responsible lending laws has left the government watchdog to head up "regulatory affairs" at Afterpay. Afterpay's ability to decapitate ASIC's regulator management like this will be worrying many.
The UST 10yr yield is now at 1.84%, an eye-watering decline from this time last week of -23 bps. (It is the largest drop since May 2018 when global markets took fright over Brexit.) Their 2-10 curve is much flatter for the week, now at just +12 bps and their negative 1-5 curve is wider at -20 bps. The Aussie Govt 10yr is at 1.09%, down another -13 bps for the week on top of last week's -14 bps fall. The China Govt 10yr is down -4 bps for the week to 3.14%, while the NZ Govt 10 yr is now at 1.39%, a -15 bps decline on top of last week's -6 bps retreat.
Gold is unchanged today from this time yesterday at US$1,443 but is up +US$25 for the week.
The VIX volatility index is risen to over 18 in a sharp turn up from last week and now above its average over the past year of 16. The Fear & Greed index we follow has turned back to the 'fear' side.
US oil prices recovered some of yesterday's sharp drop but are still lower than this time last week. They are now just on US$55.50/bbl. The Brent benchmark is also lower for the week at US$61.50. However, the US rig count is lower yet again this week and is now at its lowest level since late 2017.
The Kiwi dollar is little changed overnight but is a whole -1c lower than this time last week. It is now at 65.3 USc. On the cross rates we are firmer for the week at over 96.1 AUc. Against the euro we are down to 58.8 euro cents. That sets the TWI-5 back to just on 70.7 and nearly -100 bps lower than this time last week, for the second week in a row. Just two weeks ago the TWI-5 was at 72.5, so that is a -2.5% overall depreciation.
Bitcoin is now at US$10,468 and up +0.8% overnight and up +6.3% for the week. The bitcoin rate is charted in the exchange rate set below.
The easiest place to stay up with event risk today is by following our Economic Calendar here ».