Transport Minister Phil Twyford says decisions coming on Auckland light rail project early next year, but building won't happen before 2021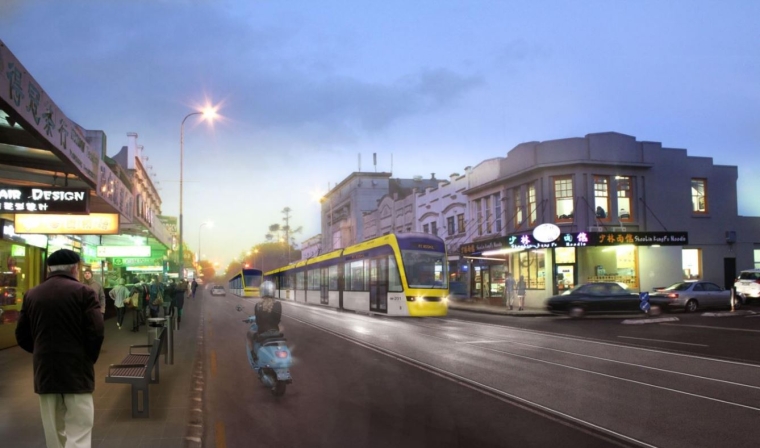 Transport Minister Phil Twyford says he will make a decision on who will build the Auckland light rail project early next year and has signalled he has shortlisted two potential partners - NZ Infra and the NZ Transport Agency (NZTA).
NZ Infra is a joint venture between the NZ Super Fund and Canada's CDPQ Infra group.
The two parties are now expected to develop their respective proposals before Twyford decides on which proposal to go with. He says it's an important project he wants to see come to fruition, but it's important that he has all the information first to make the right decision.
"We have to make sure that it will be fit for purpose for generations to come, that's why we're taking the time to examine the different proposals in detail and get it right.
"It will be a magnet for private investment in urban renewal and will be able to carry 11,000 commuters per hour – the equivalent of four lanes of motorway."
But Twyford says no actual work building the project will take place in 2020.
"This process will take up to six months and will mean we won't have spades in the ground in 2020. But it will provide us with the certainty we need to progress a multi-billion dollar project which will transform Auckland," he says.
"I have asked the Ministry of Transport to manage this process, and to ensure that our Auckland Transport Alignment Project partners including Auckland Council and Auckland Transport, are closely involved in this work over the coming months."
Good news for NZ Super Fund
NZ Super Fund CEO Matt Whineray has welcomed the announcement.
"We are pleased to be taking part in the new process being led by the Ministry of Transport to advance light rail in Auckland," he says. "We are currently preparing a range of information that we will provide to the Ministry."
Last month the NZTA said it had produced an indicative business case for the first stage of the Auckland light rail project, but it couldn't move onto the next stage until Transport Minister Phil Twyford accepted, or rejected the offer from the NZ Super Fund. 
It said the business case was only for the city centre to airport line and while it didn't answer the all-important questions of exactly how it's going to be funded and how much it's going to cost - it is a sign of progress.
The NZ Super Fund CEO Matt Whineray told www.interest.co.nz last year that it had put a proposal to the government to fund, design, build and operate the light rail network in partnership with Canada's Caisse de depot et placement du Quebec. Whineray called it a public-public investment (PPI) model, as opposed to a public-private partnership (PPP).
National's response
National Party transport spokesman Chris Bishop has seized on the fact Twyford has signalled work won't start in 2020.
"That means there won't be enough time to get it started before the election, leaving Phil Twyford with nothing to show for his term as Transport Minster except broken promises," Bishop says. "The Twyford era of non-delivery is becoming laughable. He's already made a hash of Labour's pledge to build 100,000 KiwiBuild homes, and lost his housing portfolio as a result.
"Light rail was Labour's other big election promise. They said it could be delivered to Mt Roskill in four years but that won't be possible now," he says. "The business case was supposed to be completed by November 2018. The delay suggests the Minister can't stack up an economic argument for spending that much taxpayer cash."
Sources interest.co.nz spoke to last month suggested work on the project may even be delayed until 2022 due to the 2021 Asia-Pacific Economic Cooperation (APEC) conference, which culminates in Auckland in November 2021 with Leaders' Week.
The Ministry of Foreign Affairs and Trade (MFAT) has raised questions about the light rail project and when work on it will start because of the summit, which is being touted as the largest event ever hosted by the New Zealand Government.
According to the MFAT website 10,000 people will visit the city during the Leaders' Week from November 8-14, including ministers, world and business leaders and a large media contingent.
The fact the event is likely to be held in the central city means MFAT's ability to work around it could be limited. This means a start in 2022 might now be more likely. Other events in Auckland scheduled for 2021 include the 36th America's Cup, which will be held in March, and the 2021 Women's Rugby World Cup which will run from July 28 to August 14.