Wellington Phoenix owner Welnix left out of pocket by sponsorship deal with unlicensed forex company Fullerton Markets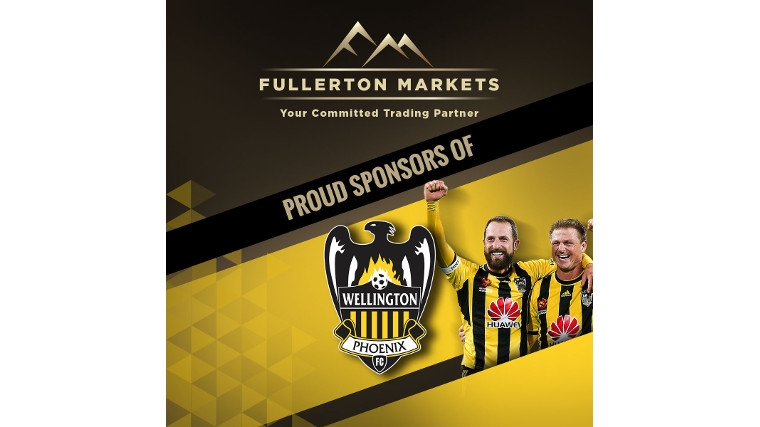 By Gareth Vaughan
The Wellington Phoenix football club has given up on getting tens of thousands of dollars it's owed by former sponsor Fullerton Markets.
As petitioning creditor Phoenix owner Welnix had a company named Nova Barclays Idea Ltd put into liquidation. Nova Barclays Idea's sole director and shareholder is Chanthrueen Sarigabani. Malaysian national Sarigabani was Fullerton Markets' man on the ground in Wellington until being forced to leave the country by Immigration New Zealand in late 2017.
Fullerton Markets' sponsorship deal with the Phoenix covered the 2016/17 and 2017/18 A-League seasons, with Fullerton owning the home team technical area, scoreboard sponsorship and purchasing some match day sponsorships.
BDO's Iain Shepherd and Jessica Kellow were appointed liquidators of Nova Barclays Idea. Shepherd and Kellow say Nova Barclays entered contracts on their client's behalf for sponsorship agreements with professional sporting organisations.
"Prominent sponsorship rights were secured, however payment was never made to the relevant clubs. The liquidators have learnt that the Director [Sarigabani] subsequently misappropriated significant sums of money from associated entities and, having left the country, has been refused entry back into New Zealand," Shepherd and Kellow say.
Wellington Phoenix general manager David Dome says the club pursued the money it's owed through the liquidators and has been told there are no further assets available through which to recoup it. Dome says some payment was received from Nova Barlcays/Fullerton for the sponsorship. However with the new A-League season starting and other projects on the go, Dome says the Nova Barclays/Fullerton issue "is over for us and [we] see no benefit from pursuing [it] any further or wasting any more time on it."
Interest.co.nz wrote several articles between 2016 and 2018 about Fullerton, an unlicensed foreign exchange, or forex, and derivatives trader that was registered on NZ's Financial Service Providers' Register. Aside from the Phoenix, Fullerton was also a sponsor of the Hurricanes rugby team, the Wellington Gold Awards and the Wellys, or Wellingtonian of the Year Awards.
Our articles detailed how Fullerton enticed then-Finance Minister Bill English to its June 2016 launch party, how Sarigabani was forced to leave NZ, how Fullerton received a formal anti-money laundering warning from the Financial Markets Authority, and that its trustee Kiwi Global Trust Ltd complained to the Police over $3 million to $4 million from its ANZ bank account being moved overseas. Although Fullerton - whose CEO Mario Singh hails from Singapore - announced last year that it was swapping NZ for Saint Vincent and the Grenadines, there's still a registered NZ company named Fullerton Markets Ltd with Singh listed as sole shareholder. See more on Fullerton here.
Interest.co.nz understands both the Police and Serious Fraud Office have looked into the missing millions, but it appears no further action is being taken. Fullerton's NZ-based director Gerald Carter declined to comment.
Shepherd and Kellow say they have liaised with many parties including IRD, the Companies Office, the New Zealand Gazette and the ACC, and completed a review of all information received. They also received company records. Meanwhile, Shepherd and Kellow list Welnix, the Accident Compensation Corporation and Inland Revenue Department as Nova Barclays' creditors. Welnix filed a claim as an unsecured creditor for $41,975, and recorded costs of $4,256. There's also an unsecured creditor claim from IRD seeking $5,102, plus a preferential claim from the taxman for $3,101.
"Where possible the Liquidators have sought confirmation of the alleged misappropriation against historic bank records. Moreover, the Liquidators have confirmed that payments intended to meet these sponsorship costs were paid by the third party clients before the Director withdrew the funds. The Liquidators have been unable to communicate with the Director, Mr. Sarigabani, following their appointment. We understand that he intends to permanently reside overseas. It is expected that the costs of recovering the overdrawn current account will be prohibitive on these facts," say Shepherd and Kellow.
"The Company ceased trading in 2017. By the time Liquidators were appointed there were no known assets that could be recovered for the benefit of creditors. All equipment listed on the balance sheet appears to have been uplifted. The Liquidators continue to consider other possible means of recovery. Any future actions will be subject to an assessment of the benefits of pursuing recoveries and additional information coming to the Liquidators' attention."
Shepherd and Kellow are also out of pocket for their costs, with no asset realisations made through the liquidation.
Hurricanes CEO Avan Lee says the Hurricanes are not a Nova Barclays creditor, and won't comment further on sponsors, either past or present ones. And Fullerton doesn't owe any money for its sponsorships of the Gold Awards or Wellys, a spokesman says.
*This article was first published in our email for paying subscribers early on Monday morning. See here for more details and how to subscribe.